Hurricane season is just around the corner and Alabama Power employees are prepared to respond. The National Oceanic and Atmospheric Administration is predicting a "near-normal or below-normal season," which begins June 1.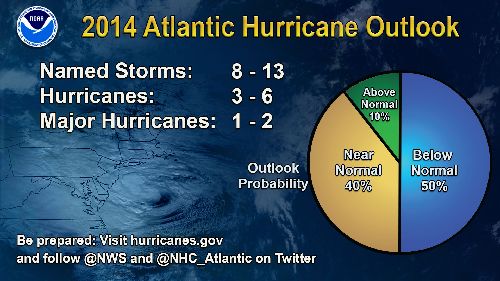 During May, Alabama Power employees across the state reviewed and updated the company's storm plans and are prepared to move quickly and safely to restore service should hurricanes strike. The company has also updated its website with outage reporting information and severe weather tips.
"Regardless of the threat level, we always work to be prepared for whatever comes," said Danny Glover, vice president of Alabama Power Distribution. "Not only are we working closely with other utilities to ensure best practices, but we provide support to one another – contributing resources and manpower to safely make sure our customers spend as little time as possible in the dark following a natural disaster," Glover said.
Training and experience have helped make Alabama Power employees among the best in the industry in responding to severe weather. The company continues to receive awards from the Edison Electric Institute for  providing swift recovery on Alabama Power's system and for assisting other electric utilities in need. Lessons learned from past events, including the extensive recovery efforts following the deadly storms of April 2011 and numerous past hurricanes in the Southeast, have helped prepare the company for the 2014 hurricane season.
Here are some other ways Alabama Power has prepared for the upcoming season:
The company has reviewed its storm plan and made adjustments in emergency storm assignments, staging area locations, logistics and communications equipment designed to improve response.
 The company has increased its inventory of materials for the season, including pre-packaged storm kits. The kits contain an assortment of supplies typically needed by crews making storm-related repairs. The company works with suppliers to ensure they are ready to quickly provide materials and supplies during storm recovery operations.
The company has continued to have frequent discussions with utility companies that comprise our mutual assistance program. Under the program, investor-owned utilities in the region pledge to provide crews to assist Alabama Power when a major storm strikes, depending on their availability, and Alabama Power pledges to assist other companies when they need help.
To learn more about how Alabama Power responds to storms and how you can prepare for the season, log on to www.alabamapower.com. Click on "About Us" and then "Storm Center."