The deadline to apply for an Alabama Power Foundation Gateway grant is quickly approaching. Cities and towns across the state have until June 20 to submit an application for up to $2,000 to help fund materials for signs to greet visitors to their communities.
See: Photo gallery of existing signs
Since 2012, when the program launched, more than $70,000 has been awarded to 37 communities across the state. And according to foundation President John Hudson, "Our investment will continue to grow as we continue to partner in helping brand communities across our state.
"The Alabama Power Foundation tries to improve the quality of life and the environment by connecting to our communities in more ways than just supplying power," Hudson said. "We have a goal of strengthening the communities we serve. Well-designed signs can play an important role in identifying communities and establishing neighborhoods. They can also help contribute to the economic and cultural well-being of our cities and towns."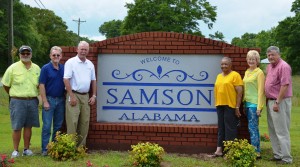 Two-time grant recipient, the City of Samson, plans to apply again. "We now have two very attractive marble and brick welcome signs coming into to our city," Mayor Clay King said. "We would like to see two more erected on the other main highways leading into our city. We appreciate the assistance the Alabama Power Gateway grant program has given us."
Grant applicants should remember that suitable locations must be highly visible and a logical entry to the community. Among other guidelines for applicants:
The funding must be used for signage only and cannot be used for landscape materials or design services
Photos of the site and a drawing or representation of the proposed sign are required
If the cost of the project exceeds $2,000, the applicant will be asked to provide sources of other funding to ensure the project is a success
Applicants may apply to have a sign refurbished
The Alabama Power Foundation awards more than 1,000 grants annually with non-ratepayer money and has assets of more than $140 million, making it one of the largest corporate foundations in the state. The foundation has given more than $135 million through more than 20,000 grants and scholarships. To learn more about the foundation and how to apply for a grant, visit www.powerofgood.com.
Photo gallery of Gateway grant signs: