This year marks a special milestone for Alabama Power as the company celebrates the first century of operation for its first dam. The dam at Lock 12 went into service in 1914, and company officials later named it Lay Dam in honor of Alabama Power founder William Patrick Lay.
Environmental compliance engineer Bill Gardner hopes to honor and preserve the history and memories of the building of the dam and life at the company village at Lay Dam. He has been working to meet FERC hydro license requirements to document the historic properties along the Coosa River, including the company village. Gardner says that they "want to illustrate the vibrancy of the village and encompass the lives of the workers and families that lived there."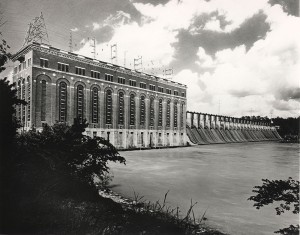 Throughout the last year, Gardner has studied maps and sketches to identify where buildings and homes were located, researched historical documents, managed archaeological testing throughout the site, and interviewed current and past employees to learn more about the dam operations and life in the company village.
"While Alabama Power had maps and architectural drawings, it has been the stories and photographs from personal collections that have been crucial in piecing together the history of life in the village," Gardner said.
As part of the documentation process, Environmental Compliance and the Alabama Power Corporate Archives have been reaching out to current and former employees to obtain photographs, artifacts, and stories about the Lay Dam and village. Corporate Archives will preserve the information that is received for future generations.
Mark your calendars for Aug 21, 2014, when the Archives opens a new exhibition titled "From Water to Watts – 100 Years at Lay Dam," showcasing the start of Alabama Power's use of hydroelectricity.
— Erin Harney