Nearly a dozen students from fishing teams at three Alabama high schools had a hands-on learning opportunity on Tuesday, July 29, at Alabama Power's General Service Complex near Calera.
They helped assemble bamboo fish attraction devices, or FADs, under the supervision of the company's stewardship team. Alabama Power partnered with the Alabama Bass Trail to host the student workshop.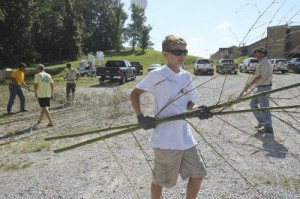 The students, from Gardendale, Hayden and Russellville high schools, created these FADs from environmentally friendly and naturally occurring materials.  Ground limestone and sand was used to create concrete, and invasive bamboo was harvested from Alabama Power property.
These FADs will be deployed to serve as artificial habitats for fish in areas lacking undercover brush, providing them with a safe environment and protection from the sun.
During the past decade, Alabama Power and community partners have built and deployed more than 56,000 FADs.
For more information about environmentally friendly efforts the company is involved in, visit www.alabamapower.com.