Alabama Power crews at work from Alabama NewsCenter on Vimeo.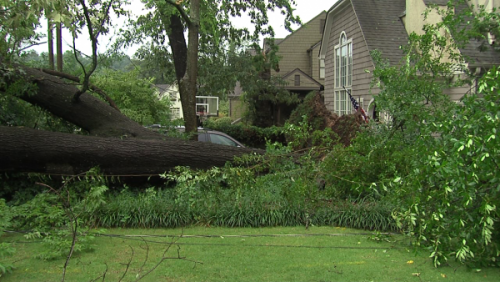 A line of severe thunderstorms moved through Alabama Tuesday night, bringing high winds, intense lightning and heavy rains.
The storm's greatest impact was felt in North-Central Alabama, including the metro Birmingham area. Downed trees and power lines, along with other damage, resulted in about 115,000 Alabama Power customers being affected at the storm's peak.
As of 3 p.m. Wednesday, Alabama Power had restored power to more than 99,000 customers. A combined force of more than 1,700 line personnel, including crews from utilities in Georgia, Mississippi, Florida and Louisiana, along with support teams, are working to restore service to those customers still without power.
As always, safety – the safety of our customers and the line crews – is a priority for Alabama Power.  Downed trees in many areas could be hiding downed power lines. ALWAYS stay away from downed lines, and warn others to do the same. Beware of lines that could be touching a vehicle. Stay away from the vehicle and the line. Do not drive over lines lying on the road, and do not drive under low hanging lines. Keep children and pets away from downed lines.  Always assume a downed power line is live.
Do not attempt to remove tree limbs or anything else caught in power lines. Call Alabama Power at 800-888-APCO(2726) or a local law enforcement agency if downed lines are spotted.