A look at Airbus Final Assembly Line in Mobile from Alabama NewsCenter on Vimeo.
With enough real estate under lease to expand at will, a locally-recruited workforce garnering high praise from veteran European employees and a $600 million final assembly line set to debut as the most efficient in the world, Airbus confirmed Sunday an unyielding commitment to Mobile and the U.S. aircraft market.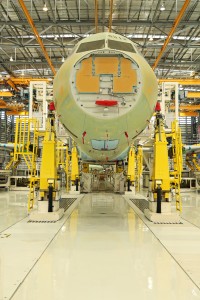 "Mobile is our industrial home in the United States … It is not likely at all that we would try to find some other state to go to," Allan McArtor, chairman and chief executive officer of Airbus Group Inc., said.
Meanwhile, Airbus Americas President Barry Eccleston touted repeatedly the integral role its Mobile operations will play in expanding the planemaker's global market share to meet escalating demand for single-aisle aircraft, and Airbus President and CEO Fabrice Bregier said the Toulouse, France-based aircraft manufacturer does not just feel welcome in Mobile but "at home."
The comments were delivered a few hours after media from across the globe were allowed sneak-peak, guided tours of the Airbus U.S. Manufacturing Facility, debuting officially at 10 a.m. Monday at an invitation-only ceremony.
The final assembly line – which actually began production quietly on its first two planes a few weeks ago at Mobile Aeroplex at Brookley – will focus solely on the commercial jetmaker's popular A320 family of aircraft.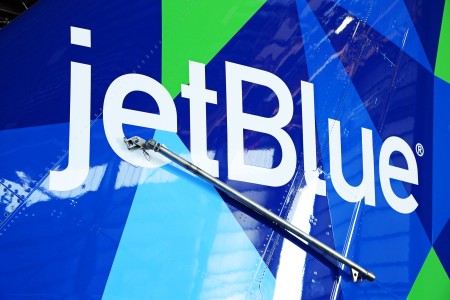 Airbus Americas spokeswoman Kristi Tucker confirmed the first of the two A321s under construction will take its first flight in the first quarter of 2016 and is slated for delivery to Jet Blue in the second quarter of 2016. The second A321 glimpsed Sunday in the sprawling final assembly hangar will be delivered to American Airways at a later date.
Frank Fahrendorf, who oversees all aircraft production at the state-of-the-art facility prior to handoff to the flight line, said Delta and Spirit airlines are next in line to receive Mobile-assembled planes with Allegiant, Frontier and Hawaiian airlines on the books to follow.
McArtor said although there is "always speculation" about the addition of tanker conversion operations and other "military derivatives" when aircraft production is discussed, Airbus is content at the moment to incorporate the Mobile facility in meeting the company's backlog of more than 5,400 aircraft worldwide.
"We do have enough real estate under lease (to add military derivatives and other industrial applications) in Mobile should we choose to do so, but we have no plans to do so at this time," McArtor said.
Eccleston noted, however, that North American aircraft traffic is slated to increase by 40 percent during the next two decades – with 90 percent of that growth resting on the expansion of existing routes – and the Mobile facility is situated perfectly to address that demand.
Consider, for instance, that single-aisle planes account for more than 80 percent of the projected demand of 5,580 aircraft globally for the next 20 years, he said.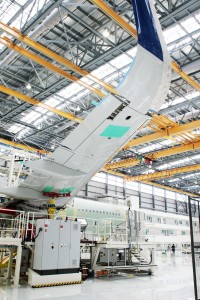 Moreover, when the Mobile facility was announced in July 2012, the plan was to focus on A320 aircraft, but demand has since shifted in favor of the larger A321, which Eccleston said is rapidly "becoming the bread and butter."
Bregier called the U.S. manufacturing facility's long-anticipated debut a "truly historic occasion for Airbus and for Mobile," noting it's opening doubles overnight aircraft production in the United States as Airbus shifts to compete more directly with archrival Boeing Co. in its long-held foothold.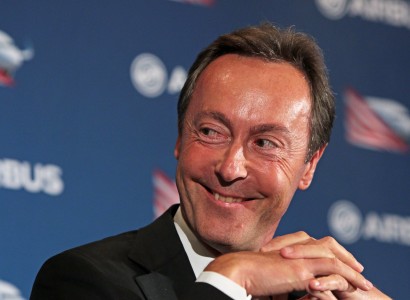 "It establishes the U.S. Gulf Coast region as a new aerospace hub," Bregier said, calling it a "nice complement" to Aribus existing assembly lines in France, Germany and China and a "strategic investment" toward addressing the mounting single-aisle backlog.
"(Mobile) is going to give us an efficient footprint in America," Bregier said.
Airbus at a glance:
The A320 family includes A318, A319, A320 and A321 aircraft.
To date Airbus has received 12,139 firm orders for the single-aisle aircraft. Of that amount, 6,700 planes have been delivered and 5,439 remain on backlog.
Airbus has already received firm orders for 4,193 new-engine-option variant A320s – representing 74 customers – expected to burn 15 percent less fuel, increase range by 15 percent and cut carbon dioxide emissions by 15 percent. The transition from current-engine-option variants to new-engine-option variants begins in 2017.
In the United States, alone, Airbus employs more than 3,800 at 38 locations in 16 states; supports more than 245,000 jobs; and contributed more than $16.5 billion to the U.S. economy in 2014.
The Airbus U.S. Manufacturing Facility in Mobile is expected to generate $409 million annually in additional gross domestic product for the state of Alabama and $172 million in annual earnings.
The facility's estimated impact on Mobile County's economy is expected to reach $348 million in annual GDP and $145 million in earnings.
Source: Airbus