Above: Tim Cook, chief executive officer of Apple Inc. and shown here during an Apple product announcement in September, said the world needs more optimism. (David Paul Morris/Bloomberg)
(Bloomberg) – Apple Chief Executive Officer Tim Cook may have put his live Internet-based television service on hold, but on Tuesday night he proved someone should sign him up to star in a series about social change.
Accepting the Ripple of Hope Award at a benefit in New York for the Robert F. Kennedy Center for Justice and Human Rights, Cook preceded civil rights veteran and U.S. Rep. John Lewis of Georgia and followed Evercore's Roger Altman and Unesco ambassador Marianna Vardinoyannis.
Speaking for almost 12 minutes, the Apple boss touched on the headlines of the day, including the Syrian refugee crisis, privacy debates related to counter-terrorism efforts, climate change and Apple's donation of products to public schools.
"Today, more than half of the states in this country still don't offer basic protections to gay or transgender people, leaving millions of people vulnerable to being fired or evicted because of who they are or who they love," Cook said.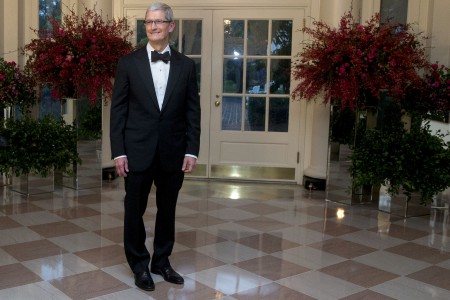 "Today, some in our country would turn away innocent men, women and children seeking refuge," Cook said, "regardless of how many background checks they may submit to, simply based on where they were born. Victims of war and now victims of fear and misunderstanding."
"Today, too many children are denied access to quality education simply because of the ZIP code they live in. They begin their lives facing strong headwinds and disadvantage they did nothing to deserve. We could do better, Robert Kennedy would say, and because we can do better, we must act."
Lloyd Blankfein appeared in a video tribute to Cook. "There's a lot of elements to Tim that I respect and admire and I like so much," the CEO of Goldman Sachs said. "He kept his humility about him, and I think that that adds to the narrative of his story, because people can relate to him."
Cook was born and raised in Alabama, which he said he will always call home. During John F. Kennedy's presidency, Robert F. Kennedy, as attorney general, had a hand in allowing black students to register at the University of Alabama.
Seven years old when Bobby Kennedy was assassinated during his 1968 presidential campaign, Cook said he has two photographs of Kennedy on his office wall that he looks at every day. "I think about his example, what it means to me as an American but also, more specifically, to my role as Apple CEO."
Citing RFK's address to Atlanta's Chamber of Commerce, in which he called on the "skills, resources and inventiveness of our private sector," Cook said that the younger Kennedy "understood business has an essential role to play in helping society solve its greatest problems."
Cook then quoted remarks Kennedy gave at the University of Cape Town in 1966: "Everywhere new technology and communications brings men and nations closer together, the concerns of one inevitably become the concerns of all."
"There's such wonderful optimism in that statement. It's that kind of spirit that drives us at Apple," Cook said.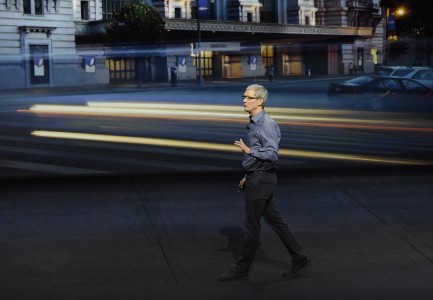 The 55-year-old executive said this spirit can be found in the company's products, "its commitment to protect the privacy of our customers by remembering that always, your information belongs to you," and in "doing the hard work to run our company entirely on renewable energy and encouraging others to do the same." It's also in the company's hiring policies, according to Cook, who last year publicly acknowledged he is gay. "Discrimination against anyone pulls everyone back."
At Apple, Cook concluded, challenges "inspire us; they do not daunt us." He added: "Like Robert Kennedy, we reject pessimism and cynicism. We see no contradiction between a hardheaded realism and an unshakable idealism that says anything is possible if we just get to work."
Cook, like the other honorees, accepted his award (a bust of RFK) from Ethel Kennedy, Robert F. Kennedy's widow, and his daughter Kerry Kennedy. He sat near celebrities who participated in the night's program, including actors Sam Waterston, Catherine Keener, Louis Gossett Jr. and Dennis Haysbert. The program highlighted the Robert F. Kennedy Center's work in the Dominican Republic, Haiti and Nigeria, as well as its support of the Black Lives Matter movement and farm worker justice in New York.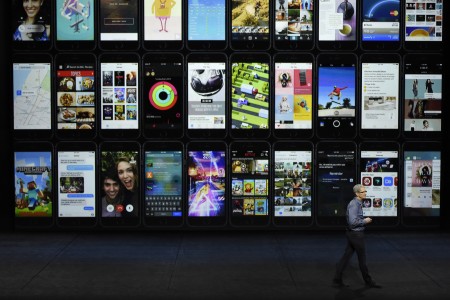 Honoree Altman spoke of working in RFK's 1968 campaign. "I think he would say that America needs to do better in healing the wounds of racism, that we have not fulfilled the promise of the great civil rights and voting rights struggles of his time," Altman said.
Altman also discussed inequities in income and taxes. "Seeing the top 1 percent of earners take home a share of the nation's income, which is so high it hasn't been seen since 1928, at the same time that so many of them pay lower tax rates than their assistants, means that something is wrong," Altman said.
Robert F. Smith, chairman and CEO of Vista Equity Partners, served as one of the primary emcees of the event. As chairman of the Robert F. Kennedy Center, he gave the assembled guests an incentive to text a pledge.
"We're going to take a tally," he said. "Whoever gives the most from the investment banking community, we're going to award deals in 2016."
To contact the reporter on this story: Amanda Gordon in New York at [email protected]