For Airbus crews, test flights can become almost routine. Its A320 is the world's best-selling single-aisle aircraft family, rolling off the company's assembly lines around the world at a clip of about one every seven hours.
But when six crew members take off today in an Airbus A321 destined for Jetblue, it will be anything but routine. It will be the first flight for a U.S. made Airbus. The plane is the first completed at the company's Mobile facility and is scheduled to take to the air from the Aeroplex at Brookley at 9:15 a.m., weather permitting.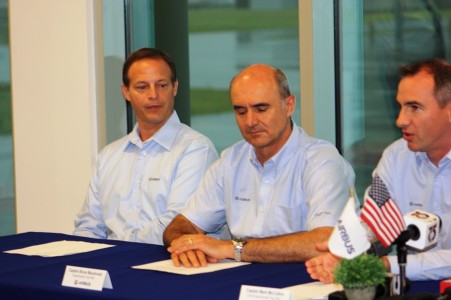 "It's been so exciting for the city of Mobile," said Thierry Cros, head of production flight test. "We're so happy to be here and we're here to stay."
The company selected Mobile for its first U.S. manufacturing facility in July 2012 and held official opening ceremonies at the plant in September. The $600 million facility is on 53 acres at the Mobile Aeroplex. It's expected to produce between 40 and 50 aircraft a year by 2018.
Among the crew members is Nick Picconi, a flight test engineer, who grew up in Mobile. He takes pride in being among the first to fly an American-made Airbus.
"It's really special to be able to move home and be around my family and see my wife around her family as well as to come in and fly an American-built airplane built in my hometown," Picconi said. "And to come to an airfield that when I was a kid, we came here for air shows – I remember coming here in 1976 when they filmed 'Close Encounters of the Third Kind.' It's really special."
Picconi has 28 years of professional aviation experience. He began his career with the U.S. Navy and served for 20 years. He has logged more than 11,000 flight hours and is a pilot in addition to being a flight engineer.
Picconi's job is to direct the tests that the crew will conduct on the aircraft and write the test orders. He determines if the tests are successful or if they have to be run again before the aircraft is delivered to the customer.
"We make sure that the aircraft is as safe as it possibly can be," Picconi said.
Airbus test pilots talk about making history with first Alabama-built A321 airplane from Alabama NewsCenter on Vimeo.
A veteran of more than 100 test flights with Airbus since joining the company in June 2015, Picconi does up to eight hours of work to prepare for test flights and another four hours of paperwork following the flight, which takes two to three hours.
Test pilot Bruce Macdonald should also feel at home on the Gulf Coast. While he was born in Scotland and served for 20 years in the Royal Air Force, Macdonald served some of his time while in the RAF at Eglin Air Force Base in Fort Walton Beach, Fla. He met his wife, Kathy, a native of Fort Walton Beach, while stationed there and is now a naturalized U.S. citizen.
Taking a jetliner through its paces on a test flight is different from the flight time he logged as an airline pilot.
"In normal operations, they'll keep it nice and smooth so that no one spills their drinks," Macdonald said with a smile.
That's not the point of a test flight. Aircraft are built with numerous backup systems that come on line when primary systems fail. Test flights help determine whether those backup systems will work when they're needed in an emergency.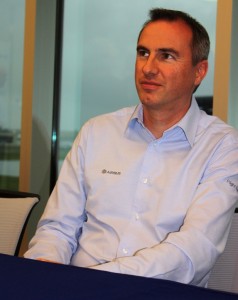 "We'll actually switch off the primary systems to see if the backup systems work," Macdonald said. "An airline wouldn't turn off these systems except in an emergency."
Anyone who has seen an airline disaster movie knows about the moment when the oxygen masks drop from the compartment above. During the test flight, the aircraft is partially depressurized to make sure the masks do indeed drop.
It's all part of pushing the plane to its limits, Macdonald said. While that might seem dangerous to some, the planes and crew can handle it.
"It's such a well-established process that the risks are minimal," he said.
The crew gets to do what few pilots ever experience, said Capt. Mark McCullins, chief test pilot, who began his career with the Royal Canadian Air Force.
"Not many pilots get a chance to go fly in an aircraft with zero hours, one that has that nice, new-plane smell," he joked.
In addition to Picconi, Macdonald, McCullins and Cros, the crew will include Michael Johns and Alexander Gentzsch, both ground test engineers and cabin specialists.