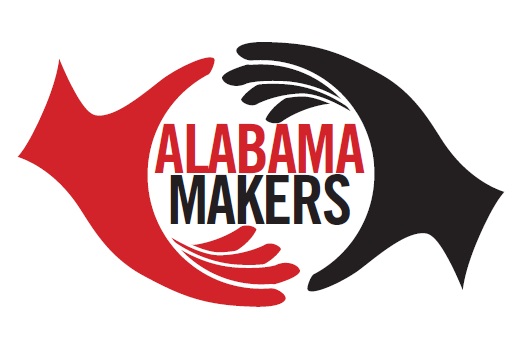 Sunheart Metalworks, Northport
The Maker: Steve Davis
The fiery forge quickly raises the temperature in Steve Davis' studio as he shapes a glowing piece of metal on the anvil. "That's why I start at 6 a.m.," he says with a smile. "It can get pretty hot in here, especially in August."
One of several resident artists who occupy the Kentuck Arts Center in Northport, Davis creates signs, sculptures, garden art and home furnishings from steel, cooper and brass.
An Ohio native, the talented blacksmith has been forging fine art for more than 40 years.
"When I was about 10, I saw a blacksmith working at the Greenfield Village outside of Detroit and that really inspired me," he says. "Then I started working in a metal shop after graduating from high school in 1969. They taught me how to shape a piece of metal like clay. I later received an education degree from Ohio State, but I kept blacksmithing. I've just always loved making something out of nothing."
Steve Davis of Sunheart Metalworks is an Alabama Maker from Alabama NewsCenter on Vimeo.
Friends persuaded Davis to come south in 1988 to visit the vibrant artistic community that was forming in downtown Northport.
"There's an artistic energy here that has inspired some amazing craftsmen," he says. "People like Larry Godwin, the artist who created Rusty, the big red dog that sits on top of the Kentuck building, and Anden Houben, who builds entire harpsichords out of rough lumber."
After "entering a few shows and winning some awards" for his pieces, Davis opened his own studio and gallery in the Arts Center. "I started out making small things like candlesticks," he says. "Then, customers started coming in asking if I could make this or that, and I'd give it a try."
As Davis' hand-forged railings, gates, weather vanes, sculptures and furniture began to fill gardens and homes around Alabama, he gained a reputation as one of the best blacksmiths in the Southeast. And he decided to expand that talent after a trip to Europe a few years ago.
"I saw all of these handmade metal signs," he says. "Signage is a real art over there — the Germans have their own style, as do the English and the French." Today, Steve's handcrafted signs adorn properties such as the University of Alabama Arboretum. He's presently working on a sign for Hotel Indigo, scheduled to open this fall in Tuscaloosa.
"But, as long as I've been doing this, I'm always learning new things," he says. "I find ideas at gatherings such as this year's Artist Blacksmith Association of North America's conference in Salt Lake City, and at conferences held by the Alabama Forge Council. I also love to visit the casting classes at Sloss Furnaces in Birmingham. That's an amazing place with a lot of metalworking history."
One thing Davis learned early on in his career — get an early start once you fire up that forge. "Better finish this up," he says as the piece on the anvil cools. "You don't want to be in here when the afternoon heat hits around 3 p.m."
---
The Product: Outdoor sculptures, garden art, signage, wall art and home furnishings.
Take Home: A hand-forged candlestick ($80-$150) or small silhouette weather vane ($200).
Davis' works will also be on display during the annual Kentuck Festival Oct. 15-16.