Everyone knows someone who has battled cancer. The assault on the disease at UAB is happening on many fronts, from petri dishes to population studies that span the globe. We will feature a special wellness series this week by Matt Windsor, taking a look at how this institution is fighting back against the ravaging effects of cancer at home and abroad.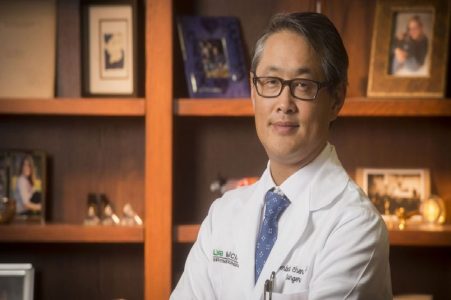 New
UAB
surgery chair Herb Chen, a renowned surgeon-scientist, brings big ideas, and major funding, to Birmingham.
Elite athletes gravitate to elite programs — organizations that will put them in a position to use their skills to maximum advantage. The same is true of top researchers and clinicians. In fact, even more so. A five-star recruit can turn a middling football school into a national power. An internationally renowned scientist can bring millions of dollars in federal funding, a steady stream of bright young trainees and dozens of ancillary jobs. If that superstar develops a new treatment, or procedure, she or he can improve the lives of countless others in the local community and beyond.
In 1966, the famous Mayo Clinic surgeon John Kirklin, M.D., shocked the medical world by announcing that he was moving to Birmingham to lead the Department of Surgery at upstart UAB. A half-century later, Herbert Chen, M.D., an internationally recognized surgeon-scientist at the University of Wisconsin, did the same. Last year, Chen moved to Birmingham to become the chair of the UAB Department of Surgery, Surgeon-in-Chief of UAB Hospital and senior advisor to the director at the UAB Comprehensive Cancer Center.
A big deal
His arrival is as important to the Cancer Center, to UAB, and to the people of Alabama, as a major recruit is to the national championship hopes of a major college football team, says Edward Partridge, M.D., director of the UAB Comprehensive Cancer Center. "Herb Chen is a very progressive thinker," Partridge explained. "He is a big deal and will help us make significant strides against cancer."
Chen is an unusual surgeon — skilled in removing tumors, and figuring out how they got there in the first place. He has his own basic science lab, which he brought from Wisconsin (along with three staff members) and set up in the Cancer Center's headquarters at the Wallace Tumor Institute. Chen's team is focused on cellular signaling, "understanding the pathways that allow endocrine and neuroendocrine cancers to grow, secrete hormones and metastasize," he said. (The most common endocrine cancer, thyroid cancer, is the most rapidly growing cancer in terms of incidence in the United States, Chen notes.)
For more than 15 years, Chen's lab has explored the Notch signaling pathway, which is centrally important in life and death decisions by cells. "It is inactive in our cancers," Chen explained. "Turning it on slows tumor growth, so we've been focusing on small molecules that can do that." The lab has identified several promising compounds, which have progressed to clinical trials. They will continue to maintain collaborations with existing partners in Wisconsin, and are actively seeking new collaborations at UAB, Chen said.
The power of a comprehensive cancer center
UAB and the Cancer Center have invested in several mechanisms and partnerships to speed drug development, including the Alabama Drug Discovery Alliance, which taps into the drug discovery technology and expertise at Birmingham's Southern Research, and an expanded, dedicated Phase 1 Clinical Trials Unit at the Cancer Center, which helps investigators move promising therapies into the clinic.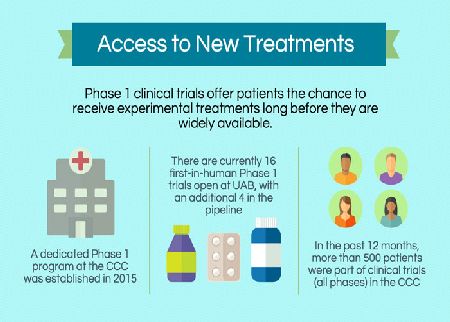 "I was certainly attracted by all that UAB has to offer, from both a research and clinical perspective," Chen said. "I have always worked at institutions with comprehensive cancer centers, and I always will. There are huge advantages, from research to clinical care to education."
The Cancer Center's historic focus on cancer disparities was another draw, Chen said. In many cancers, nationwide statistics show that African-Americans have worse post-surgical outcomes than non-African-Americans. "At UAB, that is not the case," he said. "There's something about what we're doing here that eliminates disparities. We're looking at methods to understand and communicate those protocols widely."
For instance, "there's been great work by Drs. Dan Chu and Melanie Morris at UAB in colorectal cancer" in using enhanced recovery pathways, or ERAS, to reduce differences in outcomes among patients, Chen said. These protocols, which make changes in everything from operating room techniques to a patient's fluid restrictions, "make a big difference," he said.
"The spirit of this place is that we deliver the best care, and we are constantly working to solve problems, to move the field forward, to make things better."
Setting the standard in surgery
Chen's vision is to make the Department of Surgery the nation's preeminent innovator, in both research and in the operating room. UAB's new Xenotransplantation Program, which combines cutting edge genetics with new surgical techniques to allow transplant of animal organs into humans, is a perfect example of the potential, Chen says. "The things we learn about the immune response will be tremendously applicable to cancer," he said. "The spirit of this place is that we deliver the best care, and we are constantly working to solve problems, to move the field forward, to make things better."
Monday: UAB fight against cancer happening across many fronts.
Tuesday: Big Epidemiology: Detective work with millions of lives at stake.
Wednesday: Cancer answers: Patient Care Connect Program sheds light on dark.
Friday: The economic impact of cancer research.