October is Breast Cancer Awareness Month. Each Tuesday this month, Alabama NewsCenter will present a story of survival focusing on people who have inspired others as they strived to overcome the disease.
The series continues with an update about Montgomery County Commissioner Ronda Walker, who continued in her role as a public servant for District 3 while fighting stage 3 breast cancer. Walker has been a mentor and friend to hundreds of women who find hope and solace through her blog.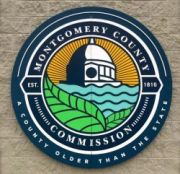 Ronda Walker is jubilant after receiving a clean bill of health from her oncologist – most fittingly, during Breast Cancer Awareness Month. Her face glows with vitality and, with a bounce to her step, most people wouldn't guess that Walker battled breast cancer for two years.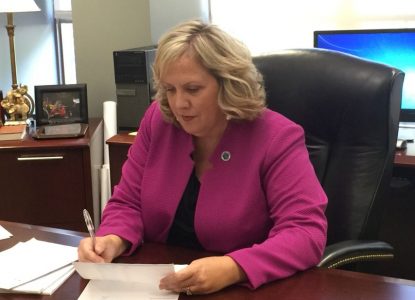 This busy Montgomery County commissioner, wife and mother of four said she feels better now than before her diagnosis. Noticing a lump while dressing for a Christmas party, Walker soon saw her doctor and learned that she had stage 3 breast cancer. Her first chemo treatment was on Dec. 29, 2014. Six months later, she had a mastectomy and then two months of radiation treatments.
A week before Thanksgiving 2015, Walker completed her treatment with a mastectomy and bilateral reconstruction at UAB Hospital.
"When I first got diagnosed, I was in shock," Walker said. "Now I'm just far enough out that I have a lot of questions. I've done as well as I could possibly do.
Montgomery County Commissioner Ronda Walker on support in the fight against breast cancer from Alabama NewsCenter on Vimeo.
"With my type of cancer, if it were to return, the stats say 80 percent of the time it will return in the first two years," she noted after having a PET scan (positron emission tomography) this month. "April 2017 will mark two years for me. Then of course, once you complete five years with no recurrence the odds improve greatly that this particular cancer will never return."
Walker is uncontested for re-election of her county commissioner seat in November.
"That was a huge blessing because I had surgery this year," she said. "It was a March 1 primary, and I didn't have to be concerned. God took care of all that."
After the dark night comes joy: Moving toward full recovery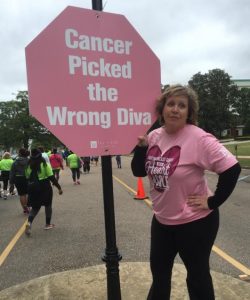 Walker's journey toward wellness has included many bumps along the way, one that she has shared in her public blog with help and advice to hundreds of women who find themselves with similar diagnoses. She doesn't downplay the realities of surgery or chemotherapy.
"I speak to about one woman a week newly diagnosed with breast cancer, and give them advice and encouragement," she said about patients from throughout the country seeking information. "It's not the ministry I would have chosen, but it is the ministry God has given me and I embrace it fully."
On Nov. 20, Walker underwent reconstructive surgery, during which she was under anesthesia for 14 hours. She opted for flap surgery, in which skin is taken from the stomach in reconstruction of the breast. The results are more natural, Walker noted, without the need for implants. She is immensely pleased with the results.
"I had a great experience at UAB Hospital," Walker said. "We are fortunate to have Dr. Jobe Fix here in Alabama. My breasts are made of my own tissue and my own blood vessels, and they look and feel like my body. I'm done with surgery."
Walker was at UAB Hospital for three days after surgery.
"The first 48 hours were nightmarish," Walker said, describing the pain. "The first 24 hours, I wanted to die. But you have to know you're coming out on the other side of this."
Returning home the week of Thanksgiving 2015, she had to contend with six drains from her incisions: "Dealing with the drains is the worst part. It's incredibly hard. A young nursing student stayed with me. I couldn't drive for three weeks afterward."
That was then. Walker has regained her strength, though she plans for future physical therapy to improve her range of movement.
"After the mastectomy on my right side, I don't have the full range of motion in my shoulder, arms and hands," Walker said. "I am going to go to physical therapy. It's strictly a range of motion problem – it just doesn't work. But I've heard a lot of stories from other cancer survivors, and I really can't complain."
Moving toward full recovery, Walker works to keep a positive attitude.
"I am going to move on and not let this hold me back in any way," she said. I have four kids, two jobs and a busy life. All is well."
Protecting personal and family health
With a renewed vigor and strength, Walker feels healthy and wants to stay that way. She has rethought her diet, the kinds of household cleansers and detergents she uses – even her makeup.
For housecleaning and laundry, for example, Walker has begun using a product line without hazardous chemicals. She avoids cosmetics and beauty products that contain talc, since the American Cancer Society has unveiled information linking talc to possible dangers to health.
"Different people are affected differently by environmental factors such as lifestyle, diet, exercises and even stress levels," Walker said. "We're all different physiologically, and we all have different triggers. Some people can do all the wrong things and come through OK."
"I have to learn to control my stress," she said. "In the midst of all that – the chemotherapy and the treatments – you want to focus on other people. I have changed so much, lifestyle-wise."
To ensure she's getting the right nutrients, Walker takes vitamins and supplements, and tries to buy healthy foods.
"You just start to look at everything differently," she said. "We, as a nation, must start focusing on prevention. How do we prevent cancer in the first place? We are pumping so much junk into our foods and products, and big pharmacy for medicine.
"As individuals, we can say, 'I can control a lot my family is exposed to.' You can't live a life of paranoia, but when you're told at 42 that you have stage 3 breast cancer, well, I'm willing to never do some things again … that may be all that I need to hear, is to avoid some things for the good of my health."
Working for the greater good through the Montgomery County Commission
In her role as a county commissioner, Walker is looking to improve Montgomery County's educational system. The problems that her county faces are not new or unique: indeed, communities across the nation face similar issues, she noted.
"In Montgomery and other cities, the problem is leadership and accountability, Walker said. "We are not doing a good enough job thinking outside the box in regards to public education and, as a result, we are failing our children. Leadership that isn't embracing new ideas needs to step aside. Those in our boards of education, on the local level must be willing do what it takes and make the hard choices."
Walker wants to see all Montgomery residents achieve a brighter economic future and much of that can be accomplished through educational avenues.
"Let's improve education, jobs and the economy, and create a stronger, safer place to live," Walker said. "Our problems are hugely economic, but a rising tide lifts all ships. We have to give every ounce of effort to solve problems, and it starts with personal relationships. That's the game-changer."
As in every area of her life, Walker's focus is on the positive. It's a trait she has worked hard to instill in each of her children.
"Your whole outlook changes when you've been sick," she said. "I don't sweat the small stuff."
"I tell my children, 'Let's focus on the things that are good,'" Walker said. "Let's make things better. That's what I want for Montgomery, for my community. Let's improve education and improve our citizens' futures, develop relationships and move forward."