Sprinkle Nets, Bayou La Batre
The Maker: Steve Sprinkle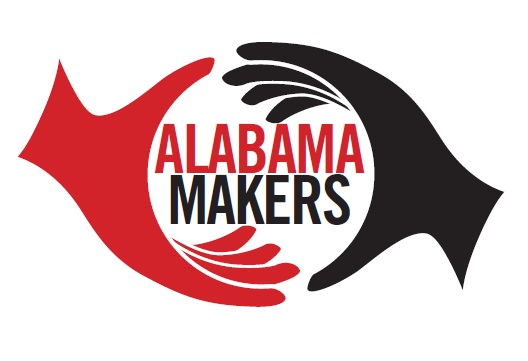 Steve Sprinkle still makes his shrimp nets in Bayou La Batre by hand, an art that has all but disappeared from the American scene.
His small shop is full of character and age-old bits and pieces of what is needed for the ancient craft. Inside, you might spot Sprinkle seated and driving needles around green string over and over. Some things have to be made by hand if they are to stand the test of time and the test of the rough, deep Gulf.
"It started in the early 1900s when rowboats would drop a net and catch shrimp; then they came out with combustion engines and started towing the net through the water to pick up the shrimp," Sprinkle said. "My family was on Dauphin Island over 200 years ago. My great-grandfather would shrimp on his own feet wading in the water and pulling a net with his hands."
Alabama Maker Steve Sprinkle's handmade nets are a prize catch for shrimpers from Alabama NewsCenter on Vimeo.
Outside Sprinkle's shop, huge green nets hang to dry. They start white but then are dyed different shades of green. The process is laborious and takes much talent along with strong will and an age-old work ethic, according to Sprinkle.
"Since I was a little kid, I've had a needle in my hand watching my dad and granddad making nets," he said. "Back in the early days, there weren't any net shops; if you were a shrimper, you had to make your own nets."
Bayou La Batre is called "Alabama's Seafood Capital," and a large reason is the shrimping industry. Hundreds of boats hit the water each season to catch the tasty crustaceans, favored by chefs all over the country. But major events like the BP oil spill and Hurricane Katrina have affected shrimping in the area. The number of boats is down, but Spinkle believes there will always be a need for his products.
"The key to making a good net is getting it out on time when the shrimpers need it," he said. "A good net hugs the bottom of the Gulf. There are certain things you can do to keep them from scraping the bottom, like the way you hang the line and the types of weights you add to it. If you do it right, that net will catch way more shrimp than the next guy."
Sprinkle loves being one of the few still making shrimp nets by hand.
"The apostles were mending their nets when Jesus approached them," net-maker Henry Barnes said. "Net-making and fishing are some of the oldest professions in the world."
---
The Product: Handmade shrimp nets; prices vary depending on size.
Sprinkle Nets, 14300 Shell Belt Road, Bayou La Batre
Hours vary.