Click here to view or print the entire monthly report compliments of the ACRE Corporate Cabinet.
Sales: According to the Multiple Listing Service of the Shoals Area Association of Realtors, Shoals area residential sales totaled 135 units during November, up 48 percent from the same period in 2015. Another resource to review is the Annual Report. Year to date, sales through November were up 4.5 percent from the same period of 2015.
For all Shoals-area real estate data, click here.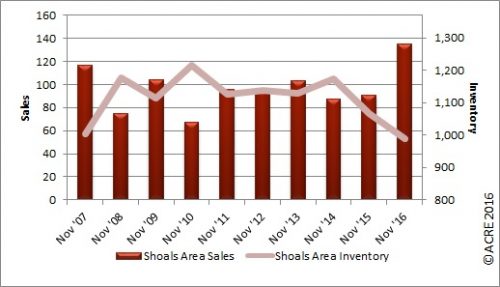 Forecast: November's 135 home sales were 27 units or 25 percent above the Alabama Center for Real Estate's monthly forecast. ACRE's year-to-date sales forecast through November projected 1,414 closed transactions, and actual closed sales were at 1,521, a 7 percent positive difference.
Supply: Shoals area housing inventory totaled 990 units, a decrease of 7 percent from November 2015. Inventory has favorably declined 18 percent from the November peak of 1,215 units in 2010.
The inventory-to-sales ratio in November was 7.3 months of housing supply, a decrease of 37 percent from November 2015. Restated, at the November sales pace, it would take 7.3 months to absorb the current inventory for sale. The market equilibrium (balance between supply and demand) is considered to be approximately 6 months during November.
Demand: November sales increased 9 percent from the prior month. Historical data from 2011-15 indicate sales typically decrease 11.4 percent from October to November.
Pricing: The Shoals area median sales price in November was $133,000, a 13 percent increase from $118,000 in November 2015. The median sales price increased 5.3 percent from the prior month. This direction contrasts with historical data indicating that the November median sales price on average (2011-15) decreases by 0.4 percent from October. Pricing can fluctuate from month to month as the sample size of data (closed transactions) is subject to seasonal buying patterns. ACRE recommends contacting a local real estate professional for additional market pricing information.
Industry perspective: "The HPSI (home purchase sentiment index) fell in October for the third straight month from its record high in July, reaching the lowest level since March. Recent erosion in sentiment likely reflects, in part, enhanced uncertainty facing consumers today," said Doug Duncan, senior vice president and chief economist at Fannie Mae. "Since July, more consumers, on net, have steadily expected mortgage rates to rise and home price appreciation to moderate. Furthermore, consumers' perception of their income over the past year deteriorated sharply in October to the worst showing since early 2013, weighing on the index. However, this component of the HPSI is volatile from month to month, and the firming trend in wage gains from the October jobs report, if sustained, may foreshadow an improving view in the near future."
Click here to generate more graphs from the Shoals November Housing Report, including Total Sales, Average Sales Price, Days on the Market, Total Inventory and Months of Supply. 
The Shoals Area Residential Monthly Report is developed in conjunction with the Shoals Area Association of Realtors to better serve its area consumers.