Click here to view or print the entire new home monthly report compliments of the ACRE Corporate Cabinet.
Demand: New home sales, totaling 376 units in November for Alabama's five major markets, increased 51 percent from 2015. November new home sales were 29 percent below the previous month. The average of 80 days on the market in November represents a 30.7 percent decrease from November 2015.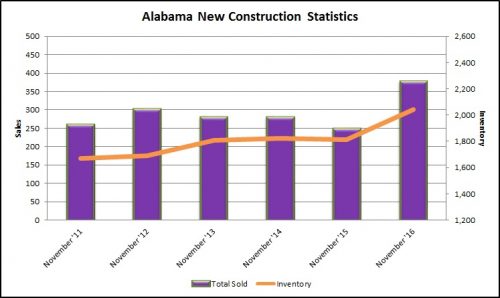 Supply: Months of new home supply in November was 5.4 months. Statewide new construction inventory is approximately 13 percent above November 2015 and up 1.5 percent from October.
Pricing: Alabama's metro median new home sales price during November was $247,382, an increase of 1.7 percent from November 2015 and an increase of 1.7 percent from the prior month.
New home pipeline: November statewide housing starts were down 2 percent from 2015 and down 4.9 percent from October. Statewide building permits in November were down 0.3 percent from November 2015 and were up 1.8 percent from the prior month.
Residential construction employment: According to the Alabama Department of Industrial Relations, statewide related residential construction employment in November decreased 3.5 percent to 78,100 from the same period in 2015 and was down 2.3 percent from the previous month.
Local results: Twelve of the 27 associations (44 percent) reported building permit gains from November 2015, while 11 associations (40 percent) experienced gains in housing starts. Ten associations experienced an increase from their October 2016 monthly housing starts.
Industry perspective: From Robert Dietz, National Association of Home Builders chief economist: "Sales of newly built single-family homes grew 5.2 percent on a monthly basis in August to a 592,000 seasonally adjusted annual rate, according to estimates from the Census Bureau and HUD. The growth in November is consistent with rising home-builder confidence and an expectation of sales growth in 2017. The November rate was the second-highest sales pace since the end of the recession. New home sales for November, on a year-to-date basis, were 12.7 percent higher than this time last year. Inventory remains tight at a 5.1 months' supply, mirroring ongoing limited inventory conditions in the existing home market."
The ACRE New Construction Monthly Report stems from a partnership with the Home Builders Association of Alabama Foundation. The Alabama Center for Real Estate's core purpose is to advance the industry by providing relevant research, education and outreach.