The Maker: Bradey Baxter
After Press, Homewood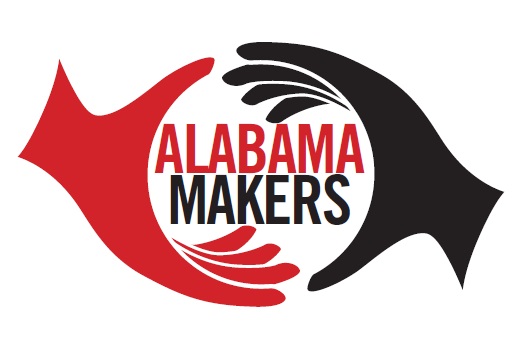 Bradey Baxter was considering going to the University of Alabama when she got a phone call that changed her mind.
"I had studied graphic design at Samford and, as part of the program, they offered classes in letterpress printing. I took a couple of those and loved them," Baxter said. "After graduation I was thinking about going to the University of Alabama's Book Arts program — until Brian called."
Brian Authement, owner of the Birmingham graphic design and branding firm Odie and Partners, was looking for someone with an artistic eye who could also operate a letterpress.
"Many of our clients need custom-printed items like business cards, letterhead and posters. We were outsourcing so much of that, I thought it only made sense to own a printing shop, and I wanted someone who could design and print beautiful things," he said. "More importantly, we wanted to give Birmingham a print shop that seriously cares about and understands design — and serves designers well."
Bradey Baxter and After Press keep the beauty of letterpress printing alive from Alabama NewsCenter on Vimeo.
Authement had recently purchased all of the equipment — including a vintage 1950s Vandercook No. 4 letterpress — from a local printing company. "All I needed was someone to run the shop. A friend suggested I contact the design professors at Samford University. Without hesitation, they recommended Bradey. Now she does just about everything."
Last spring, Authement and Baxter moved paper, press and their unusual business plan into a studio in the Birmingham suburb of Homewood, and opened After Press.
"I've always loved working with my hands as opposed to sitting at a computer all day," Baxter said. "And a letterpress is certainly a hands-on piece of equipment. I get to design and print a little of everything, from wedding invitations and Christmas cards to entire rebranding packages for companies that include new logos and designs for their annual reports, letterhead, envelopes and posters. I've even done limited-edition art prints."
Clients either send Baxter the designs they want, "or I meet with them and we work on it together," she said. "A lot of times people don't know exactly what they need, so I show them what can be done. They can look on our website for ideas, and even get a quote on what it's going to cost."
Hand-printing envelopes for letterhead or stationery is especially challenging. "But that's what makes this so much fun — it's a problem-solving sort of thing," Baxter said. "We want our printed items to be more than just pieces of paper. We want them to be the most beautiful version of what you have in mind."
---
The Product: Letterpress paper products from professional supplies such as business cards, letterhead and envelopes to wedding invitations, holiday cards and posters.
Take Home: A limited-edition print by Birmingham artist Catherine Booker Jones ($65).
After Press, 2758 B.M. Montgomery St., Birmingham 35209
205-774-8462