Daimler AG rolled through another month with the top-selling luxury auto brand in the U.S. In addition to drawing more customers, Mercedes-Benz is getting buyers to pay more.
Mercedes-Benz sold 24,522 cars and sport utility vehicles in the U.S. last month, a 6.9 percent increase from a year earlier. BMW AG's namesake brand rose 0.3 percent to 22,558 and Toyota Motor Corp.'s Lexus line tumbled 21 percent to 18,338.
After snatching the luxury sales crown from BMW last year, Mercedes looks poised to clinch the title again. Deliveries of the redesigned E-Class sedan surged 29 percent, while the GLS full-size SUV more than doubled. Daimler also boosted its average transaction price by about $4,700, according to TrueCar Inc.'s ALG.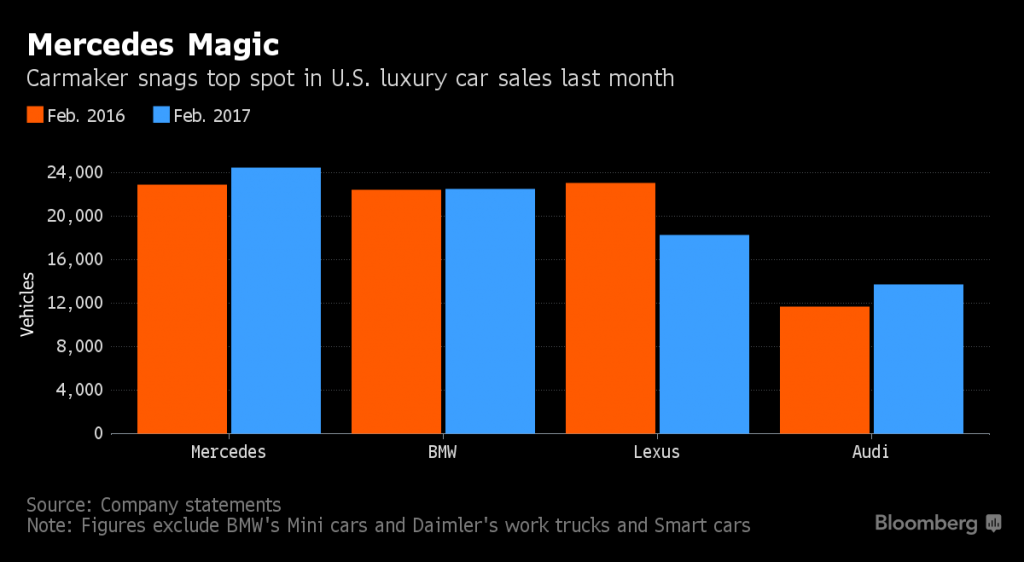 Along with Volkswagen AG's Audi, Mercedes has "done more to drive demand for its utility portfolio than BMW or Lexus have done," ALG's chief analyst Eric Lyman said. With the Alabama-built GLS, Mercedes is "the only automaker that seems to have a legitimate competition with the Escalade" sold by General Motors Co.'s Cadillac brand.
The jump in prices consumers paid for Mercedes models last month far exceeded the $661 more spent on incentives per vehicle. The pricing figures include Daimler's Smart small cars and some of its work trucks, which aren't part of Daimler's luxury sales tally. The delivery counts exclude BMW's Mini brand.
While sales of the Escalade slid 21 percent last month to 1,434, GLS deliveries surged to 2,467. GM sold 1,012 extra-long Escalade ESV models last month, 3.3 percent fewer than a year earlier.
Audi deliveries jumped 17 percent to 13,741, boosted by a 36 percent increase in SUV sales.
(Contact the reporter at [email protected].)