Click here to view or print the entire monthly report compliments of the ACRE Corporate Cabinet.
Sales: Lake Martin area residential sales totaled 32 units during January, up 68 percent or 13 units from the same month in 2016, when sales in the area totaled 19. Another resource to review is the Annual Report.
For all of Lake Martin's area housing data, click here.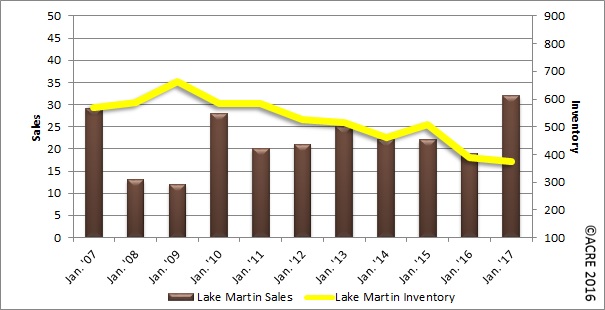 Forecast: January sales were seven units or 28 percent above the Alabama Center for Real Estate's monthly forecast. ACRE's sales forecast for January projected 25 closed transactions, while the actual sales were 32 units.
Supply: The Lake Martin area housing inventory in January was 374 units, a decrease of 4 percent from a year earlier. January inventory increased by 12 percent from the prior month. This direction is consistent with historical data indicating that January inventory on average (2012-16) increases from December by 8 percent. There were 11.7 months of housing supply in January (6 months is considered equilibrium in January), a decrease of 43 percent from last January's 20.5 months of supply.
Demand: Residential sales decreased 18 percent from the prior month. This direction is consistent with seasonal patterns and historical data indicating January sales on average (2012-16) decrease 19 percent from December.
Pricing: The Lake Martin area median sales price in January was $265,000, a decrease of 11 percent from January 2016. Pricing can and will fluctuate from month to month because of changing composition of actual sales (lakefront vs. non-lakefront) and the sample size of data (closed transactions) being subject to seasonal buying patterns. ACRE recommends contacting a local real estate professional for additional market pricing information.
Industry perspective: "We expect housing to remain resilient and continue its recovery in 2017, with affordability standing out as the industry's greatest obstacle, particularly for first-time homeowners," said Fannie Mae Chief Economist Doug Duncan. "Demographic factors, however, are positive. Our research shows that older millennials have begun to buy homes and close the homeownership attainment gap with their predecessors."
Click here to generate more graphs from the Lake Martin area January Housing Report, including Total Sales, Average Sales Price, Days on the Market, Total Inventory and Months of Supply. 
The Lake Martin Residential Monthly Report is developed in conjunction with the Lake Martin Area Association of Realtors to better serve area consumers.