Happy St. Patrick's Day!

The 33rd Annual St. Patrick's Parade
The Five Points South celebration is underway through March 17 in Birmingham. The 33rd Annual St. Patrick's Parade and St. Pat's Day events feature Irish ceremonies, dinner, a parade and more. Click here for the complete schedule or visit the website. Follow them on Facebook. The Five Points South Historic District is on 20th Street South.
Callaghans 71st Annual St Patricks Street Party
The recently proclaimed "The South's Best Bar" by Southern Living, Callaghan's Irish Social Club is giving the green light to its annual St. Patrick's Day party that is too big to contain inside the pub at 916 Charleston St. in Mobile. The free, two-day event will take place March 17-18 featuring performances by PEEK and the Modern Eldorados on Friday and the Mulligan Brothers, Paw Paw's Medicine Cabinet and Sweet Crude on Saturday.
Downtown Cajun Cook-off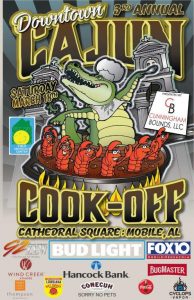 Mobile's Downtown Cajun Cook-off is Saturday March 18 from 10 a.m. to 2 p.m.  A variety of Cajun cuisine samples will be available. The proceeds will benefit the Child Advocacy Center. Entertainment includes live music. Click for tickets. The event is at Cathedral Square located at 300 Conti St., Mobile, AL 36602. Call 251-432-1101 or visit here for more information.
"Exit Laughing"
Martha Moore Sykes Studio Theatre presents "Exit Laughing" March 16-26 at the Virginia Samford Theatre in Birmingham. To find out more about the performance, click here or call 205-251-1206. The shows are Thursday through Saturday at 8 p.m. and Sundays at 3 p.m. Virginia Samford Theatre is located at 1116 26th St. S.
Fairhope Arts and Crafts Festival
There is something for everyone at the Fairhope Arts and Crafts Festival March 17-19. See more than 230 exhibits from across the country showcased. The festival is Friday and Saturday from 10 a.m. to 6 p.m. and Sunday from 10 a.m. to 5 p.m. Admission is free. Follow them on Facebook. For more information call 251-928-6387 or 251-229-1874 or visit http://fairhopeartsandcraftsfestival.com/.
Sam Bush in concert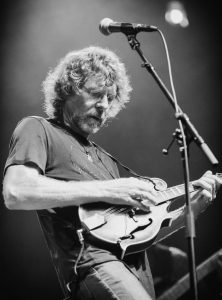 Grammy Award-winning multi-instrumentalist Sam Bush will perform at Birmingham's Lyric Theatre Friday, March 17 from 8:30 p.m. to 10:30 p.m. Bush is known as the King of Telluride and Newgrass music. Bush has played with Emmylou Harris, Lyle Lovett, Garth Brooks and others. The Lyric Theatre is located at 1800 Third Ave. N.. Click here for tickets or visit the website.
Festival of Tulips
The American Village Festival of Tulips is through April 15. Choose from more than 70,000 tulips as you stroll through the field. The event will offer colonial games and other family-friendly entertainment. Tulips and bulbs are $1.50. Cameras are welcome. Click for tickets and directions. The American Village is located at 3727 Highway 119 in Montevallo. For inclement weather, visit the website. Call 1-877-811-1776 for details.