Huntsville home sales through the year's first three months rose 11 percent over 2016's first-quarter sales. There were 1,410 homes sold in the Huntsville area during the first quarter.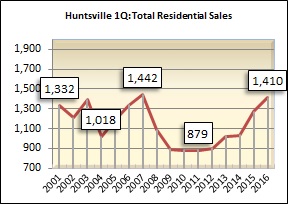 This number was just 32 units shy of the 2007 first-quarter peak of 1,442 homes and was 60 percent higher than the 2011 low of 879 units.
Closed transactions during the first quarter were 195 units above the Alabama Center for Real Estate's quarterly forecast. ACRE's 2017 sales forecast through March projected 1,215 closed transactions, while the actual sales were 1,410 units.
The median sales price in Huntsville also rose to $179,154, a 5 percent increase from last year.
Homes sold during the first quarter spent an average of 88 days on the market, selling 15 percent faster than 2016's 103 days.
Inventory continued its decline in the area to 2,272 units, a 14 percent drop from a year ago.
There were 5 months of housing supply on the market in Huntsville during the first quarter. The market is considered to be in balance at approximately 6 months.
Click here to generate graphs from the Huntsville March Housing Report, including Total Sales, Average Sales Price, Days on the Market, Total Inventory and Months of Supply. 
The Huntsville/Madison County Residential Monthly Report is developed in conjunction with the Huntsville Area Association of Realtors to better serve North Alabama consumers.