Click here to view or print the entire monthly report compliments of the ACRE Corporate Cabinet.
Sales: According to the Lee County Association of Realtors Multiple Listing Service, Lee County area residential sales totaled 157 units during April, a decrease of 0.6 percent or one unit from the same month in 2016, when sales totaled 158 units. Two more resources to review: Quarterly Report and Annual Report.
Click here for all of the Alabama Center for Real Estate's Lee County residential data.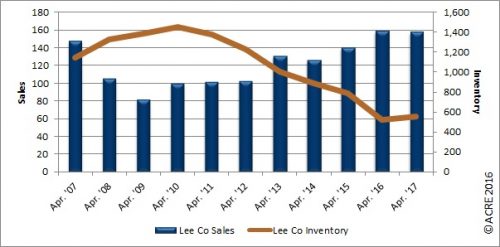 Forecast: April sales were three units or 2 percent below ACRE's monthly forecast. ACRE's 2017 sales forecast through April projected 514 closed transactions, while the actual sales were 547 units.
Supply: The Lee County housing inventory in April was 552 units, an increase of 5 percent from April 2016 and a 62 percent decrease from the April inventory peak in 2010 (1,456 units). April inventory in Lee County increased 5 percent from March. This direction is consistent with historical data indicating that April inventory on average (2012-16) increases from March by 11 percent.
The inventory-to-sales ratio in April was 3.5 months of housing supply. Restated, at the April sales pace, it would take 3.5 months to absorb the current inventory for sale. The market equilibrium (balance between supply and demand) is considered to be approximately 6 months during April. Lee County was one of Alabama's most balanced markets in April, especially compared to April 2009's 16.9 months of supply.
Demand: April residential sales decreased 9 percent from March. This direction contrasts with seasonal buying patterns and historical data indicating that April sales on average (2012-16) increase by 0.6 percent from March.
Pricing: The Lee County median sales price during April was $202,855, up 10 percent from April 2016. The April median sales price was down 14 percent compared to the March median sales price. Historical data (2012-16) indicate that the April median sales price on average decreases from the March price by 2.4 percent. Pricing can fluctuate from month to month as the sample size of data (closed transactions) is subject to seasonal buying patterns. ACRE recommends contacting a local real estate professional to discuss the latest pricing trends.
Industry perspective: "The Home Purchase Sentiment Index returned to its longer-term trend line after reclaiming ground lost last month. This is aligned with our market forecast of about 3 percent sales growth in 2017," said Doug Duncan, senior vice president and chief economist at Fannie Mae. "Historically strong inflation-adjusted house price gains are tempering consumer sentiment, whereas consumer optimism regarding the ease of getting a mortgage reached a survey high. On balance, housing continues on a gradual growth track."
Click here to generate more graphs from the Lee County April Housing Report, including Total Sales, Average Sales Price, Days on the Market, Total Inventory and Months of Supply. 
The Lee County Residential Monthly Report is developed in conjunction with the Lee County Association of Realtors to better serve Opelika/Auburn consumers.