Performer: Nowhere Squares
Type of music: Punk rock with a "nerdy" flair
About:  Through their high-energy, frenzied sound, Birmingham rockers Nowhere Squares unashamedly embrace their "nerdiness," proving to the world that it's cool to be different.
The band's signature "nerdcore" style goes deeper than the music or the message. It centers on the group's attitude and philosophy of life, said lead singer Paul Wilm.
"In the early days, it became clear after a few performances that nerdiness and geekdom were indeed an integral part of our band persona," Wilm said. "We began to accentuate this and thrive on it, using it more as a weapon than a weakness."
"There's a small part of us all that feels geeky or embarrassed," Wilm continued. "Our music and lyrics speak to that part in everyone, saying, 'It's OK not to be cool and hip 24 hours a day. Who cares if you don't look your best or have odd little quirks that are exposed from time to time for all the world to see. Be proud of them. Show them off.'"
Along with Wilm, the band includes Justin Cordes (guitar and vocals), Spencer Shoults (drums), Andy Sizemore (bass and vocals) and Jennifer Freehling (keyboards).
In 1996, Wilm and Cordes met at the University of Montevallo, where they discovered a shared love of the pre-punk sounds of the Kinks and the Who, and '60s garage rock music. That led the two to form their own band.
"Justin and I were mulling around names when he picked up a Xeroxed book of poems I had written called 'Nowhere Square,'" said Wilm. "The title was sort of a marriage of 'Nowhere Man' by the Beatles, a song that brought tears to my eyes, and a Billy Childish song called, 'Squaresville,' which is kind of an anthem for misfits. Justin said, 'Why don't we just declare ourselves Nowhere Squares?'"
Over the years, the group's sound has moved from its garage band roots, evolving into a more "raucous, punk, new wave monster," said Wilm. His "goofy and spastic" dancing onstage truly livens up performances and accentuates the band's nerdcore persona.
Since 1996, the band has recorded 12 albums. Their most recent, "Tambourine Carnage," was released in 2016 by Step Pepper Records. The group released in April the single, "Unstoppable, Unremarkable," as a preview of their forthcoming album, "The Cavemen We Become."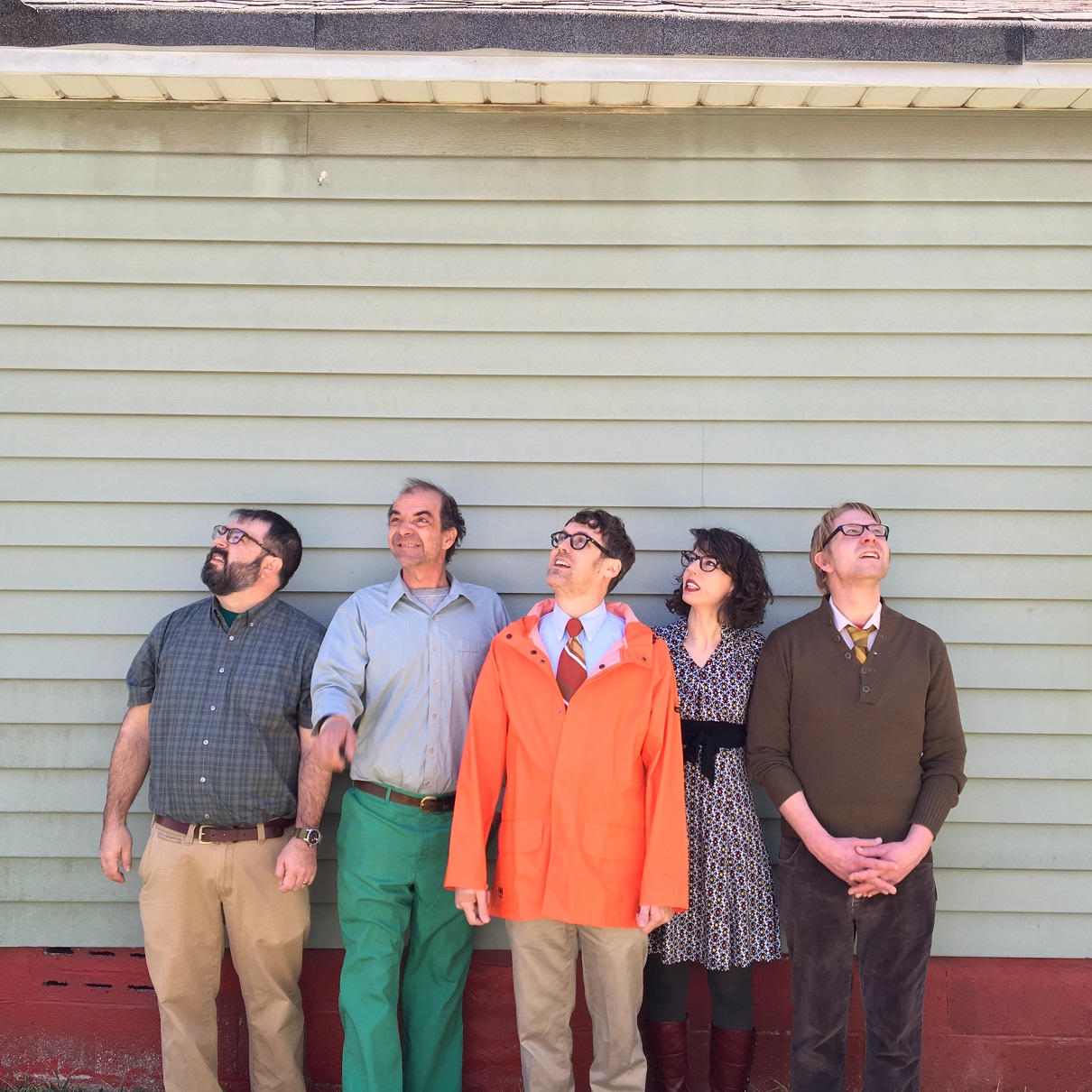 Wilm said the album reflects the times, focusing on issues prevalent in today's society.
"In an off-the-wall way, 'The Cavemen We Become' is our most political album," he said. "Musically, we found ourselves breaking into new territory, while lyrically the various characters and protagonists of each song struggle with issues of internet privacy, self-image, smartphone culture – the list goes on."
Wilm said for all the band members, music is a form of therapy and catharsis.
"I think that mentality spills out, not just through the lyrics, but through our energetic, frenzied sound as well," he said. "We want our listeners to forget what other people think about them and just dance their problems away."
Follow Nowhere Squares on FaceBook and YouTube.
Discography: "Stereo" (1996), "I Am Yer Neighbor" (1997), "All Freaked Out" (1998), "My School" (2000), "Girls Who Work Alone" (2003), "Evil Fiction" (2006), "How to Become Someone Else" (2007), "Feeling in the Dark" (2007), "Let's Not" (2012), "Raised by Girls" (2015) and "Tambourine Carnage" (2016).
You may have heard: "Don't Fit In," "Escape Plan," "Too Stuck Up," and "Unstoppable, Unremarkable."

Playing at SlossFest: Nowhere Squares will perform on the Seasick Records Stage Saturday, July 15 from 6 p.m. to 6:30 p.m.
Sloss Music and Arts Festival takes place at the historic Sloss Furnaces in Birmingham July 15-16 and features 40 performers on four stages. Tickets can be purchased here.