Hoover's Peggy Seibert had her heart set on attending a formative meeting of the Birmingham Bulls Booster Club.
The pro hockey team's inaugural schedule would have been the primary talking point. A power outage at the Pelham restaurant that was to host the meeting postponed the gathering and put Seibert on the phone to wave off would-be attendees.
But the rain that drenched her Thursday evening and postponed the meeting could do nothing to dampen Seibert's enthusiasm for the return of Birmingham's pro hockey squad.
"Oh no, no, no, no, no," she said. "You can't dampen my enthusiasm for Alabama football or hockey. We would have been there if it wasn't for the power. It may work out better because we were going to have some of the old players come tonight, but they're out of town. Everything happens for a reason."
The Bulls released their complete 2017-18 schedule this week. Birmingham's season in the Southern Professional Hockey League begins with a Saturday game on Oct. 21 at Mississippi.
The home opener at the Pelham Civic Complex is Friday, Nov. 3, against Knoxville.
General partner Art Clarkson said the release of the schedule makes the pending season feel even more real.
"Every time you do something, it becomes more real," he said, adding that the team has signed nine players. "The most difficult work has not been done. Obviously our sales are very important. That's No. 1. But No. 2 is logistics. We have to order equipment, merchandise. We have to get a new mascot. And we're starting to put together promotions along that line."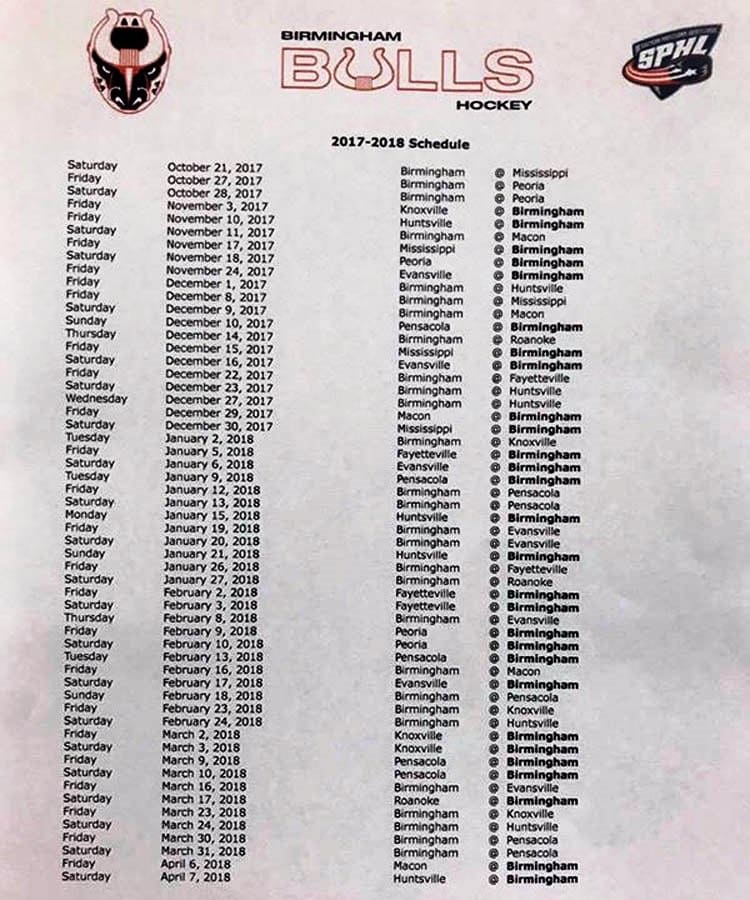 The Nov. 17 game against Mississippi has been tabbed Military Appreciation Night. The game on March 17 is tied to St. Patrick's Day.
"We've got 28 home dates, and of the 28 home dates, 23 are Fridays and Saturdays," Clarkson said. "You couldn't ask for anything better than that."
Seibert is looking forward to the Dec. 30 home game against Mississippi.
"That's exciting to me," she said. "Some of the best memories we ever had was playing a home game on New Year's Eve. It's not really New Year's Eve; it's the day before. When it's that close, we'll just go ahead and have a party."
Pelham City Council President Rick Hayes said the final details have been set on planned upgrades to the Pelham Civic Complex.
"Everything's been worked out with all the different vendors and all," he said. "It's scheduled for completion in October so they can be ready for the first (home) game on Nov. 3."
The civic complex will largely remain open as the work takes place.
"The only area that's really affected is the main arena," he said. "All the other components will still be operable. The main arena, for the most part, will be out of operation for the next four months.
"The ice (in that arena) is almost always down this time of year," Hicks said. "We run the other arena. The other ice will still be up and we will use that for all the various ice sports and training during this time of year."
Walter Caron is co-owner of Nino's Italian Restaurant with former Birmingham Bulls radio announcer Eli Gold. Caron and others sat outside the darkened restaurant Thursday to alert would-be patrons that the power was out.
Caron said he is not yet a member of the booster club, but he will be.
"Right now, yes, we are the home of the Birmingham Bulls Booster Club," said Caron, a native of the Bronx. "We've been a sponsor of the (University of Alabama) Frozen Tide (hockey team) and still are. We're very involved with hockey.
"I'll do anything that the Bulls need – feed the players, whatever it takes," he continued. "They'll be a hometown team and there will be a hometown restaurant for them right here in Pelham."
Alesia Snead of Vestavia Hills recalled attending Bulls games years ago with her son Nick, who was 3 years old then.
"He started playing hockey when he was 4," she recalled. "We were season ticket-holders and were in the club. He was raised with it and he continued to play."
Nick Snead is 25 now and living in Tuscaloosa.
"He played one year at Alabama," his mother said. "He wants to buy his own season ticket. And he's converted a lot of his friends to hockey slowly."