Click here to view or print the entire monthly report compliments of the ACRE Corporate Cabinet.
Sales: According to the Tuscaloosa MLS, Tuscaloosa-area residential sales totaled 282 units during May, up from 251 homes sold during May 2016. Two more resources to review: Quarterly Report and Annual Report.
For all of the Tuscaloosa area's housing data, click here.
Forecast: May results were 32 units or 13 percent above the Alabama Center for Real Estate's monthly forecast. ACRE's 2017 sales forecast through May projected 1,002 closed transactions, while the actual sales were 1,048 units.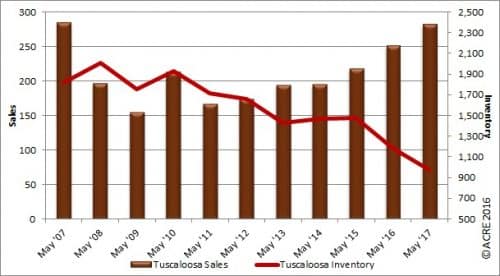 Supply: Tuscaloosa May housing inventory totaled 976 units, a decrease of 17 percent from May 2016. May inventory rose by 5 percent compared to April. Historical data indicate that May inventory on average (2012-16) decreases from April by 1.4 percent. Inventory has now declined 51 percent from the May peak (2,008 units) reached in 2008.
Seeking balance: The inventory-to-sales ratio declined 26 percent year-over-year during May to 3.5 months. Restated, at the May sales pace, it would take 3.5 months to absorb the current inventory for sale. The market equilibrium (balance between supply and demand on a non-seasonally adjusted basis) is considered to be approximately 6 months during May.
Demand: May residential sales were 38 percent above the prior month. This is consistent with seasonal buying patterns and historical data indicating that May sales on average (2012-16) increase from April by 12.5 percent. Existing single-family home sales accounted for 81 percent of total sales (down from 83 percent in May 2016), while 10 percent were new home sales (down from 11 percent) and 9 percent were condo sales (up from 6 percent).
Pricing: The Tuscaloosa median sales price in May was $167,243, a decrease of 2 percent compared to May 2016. The median sales price was up 1.4 percent from April's price. Historical data (2012-16) indicate that the median sales price in May typically increases from April by 6.4 percent. It should be noted that differing sample size (number of residential sales of comparative months) can contribute to statistical volatility, including pricing. Consult with a real estate professional to discuss pricing, as it will vary from neighborhood to neighborhood.
Industry perspective: "Once again, our full-year growth forecast remains intact as the economy grinds along, with the prospect of material policy changes appearing to be delayed," said Fannie Mae Chief Economist Doug Duncan. "We expect consumer spending to resume its role as the biggest driver of growth in the second quarter amid improvements in the labor market. Positive demographic factors should continue to reshape the housing market, as rising employment and incomes appear to be positively influencing millennial homeownership rates. However, the tight supply of homes for sale continues to act as both a boon to home prices and an impediment to affordability."
Click here to generate more graphs from the Tuscaloosa May Housing Report, including Total Sales, Average Sales Price, Days on the Market, Total Inventory and Months of Supply. 
The Tuscaloosa Residential Monthly Report is developed in conjunction with the Tuscaloosa Association of Realtors to better serve West Alabama consumers.