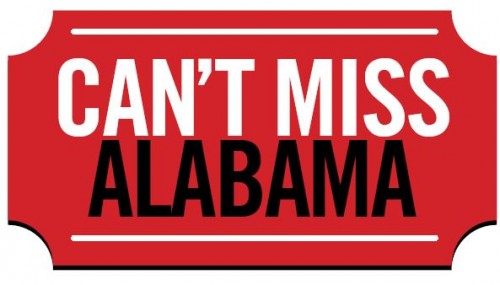 Take your pick of some of the best music festivals and shows around the state.
Sloss Music Festival
Pull out your sunscreen, hats and sunglasses and take them to the Sloss Music and Arts Festival July 15-16. Hear a variety of music performances by Alabama Shakes, Widespread Panic, Odesza, Sturgill Simpson, Run the Jewels, Nathaniel Rateliff and the Night Sweats, Spoon and other artists. For the complete lineup, click here. Entertainment includes arts and crafts, live iron-pouring demonstrations and more. Cameras are allowed, but cannot have detachable lenses.
Follow SlossFest on Facebook.
Go here for ticket information.
Rock the River
Gadsden's 4th annual Rock the River music festival is set for Friday, July 14 at 6 p.m. at Coosa Landing on the banks of the Coosa River. Performances by Soul Survivor and Alice Martin will begin at 6:30 p.m. The Grammy Award-winning Rebirth Brass Band will take the stage at 8 p.m. Hit songs by the New Orleans brass band include, "Do Whatcha Wanna" and "Exactly Like You." Proceeds from the event will go to the Hardin Center.
Follow Rock the River on Facebook. General admission tickets are $25.
Click here for tickets. Coosa Landing is located at the Gadsden's boat launch facility on the east side of the Coosa River between Memorial Bridge and the railroad trestle at 2 Huff Drive in Gadsden.
In the event of rain, the concert will move to 210 at the Tracks on Locust Street.
Disney's "Mary Poppins"
The Broadway musical "Mary Poppins" is underway through July 30 at the Alabama Shakespeare Festival in Montgomery. It's the story of children of a wealthy family who are surprised to have a new nanny take them on a magical adventure. The classic performance will entertain the entire family.
For ticket information, click here or call 800-841-4273.
Follow the event on Facebook.
Jazz in the Park 
Listeners of all ages will enjoy the Jazz in the Park concert series Sunday, July 16 from 6 p.m. to 9 p.m. at Wiggins Park. The concert series is traveling across the state featuring a variety of concerts. C. LaFaye and Kenneth Williams are the featured musicians for this event. Admission is free.
Click here for the complete schedule. Call 205-616-1735 or visit magiccitysmoothjazz.com/.
Follow Facebook for inclement weather and other notifications.
July Jamz
Have a night out with the family at the July Jamz each Thursday from 6 p.m. to 9 p.m. in July at the Springdale Estate in downtown Andalusia. Local artists will perform a variety of music. Admission is free.
Follow July Jamz on Facebook.
The event is at 505 E. 3 Notch St. in Andalusia.
Crape Myrtle Show
Enjoy Jasmine Hill's Crape Myrtle Show through July 30. The 22-acre garden will showcase an array of vibrant crape myrtles. The hours are Friday and Saturday from 9 a.m. to 5 p.m. and Sunday from noon to 5 p.m. Tickets for adults are $10, for children ages 3 to 12 $6 and children 3 and under are free. Photos are allowed.
For more information, email [email protected] or call 334-263-5713.
Click here for ticket information.
Follow the show on Facebook.
Jasmine Hill is located at 3001 Jasmine Hill Road in Wetumpka.
"Hairspray The Broadway Musical"
"Hairspray" is underway through Saturday, July 29 at Prattville's Way Off Broadway Theatre (WOBT). The Broadway musical is based on John Waters' film and Mark O'Donnell's and Thomas Meehan's book, which includes 1960s-style dance music. Weekly performances are Friday and Saturday at 7:30 p.m. and Sunday at 2 p.m. The final performance is Saturday, July 29 at 2 p.m. and 7:30 p.m. Tickets are $12 in advance and $14 if purchased at the door.
For more details, call 334-595-0851.
The WOBT is located at 203 W. Fourth St. in Prattville.