Coaches, players, writers and broadcasters have gone home and the college football season is just 48 days away.
SEC Media Days at the Hyatt Regency – Wynfrey Hotel in Hoover had an estimated economic impact of more than half a million dollars on the area economy, according to the Greater Birmingham Convention and Visitors Bureau.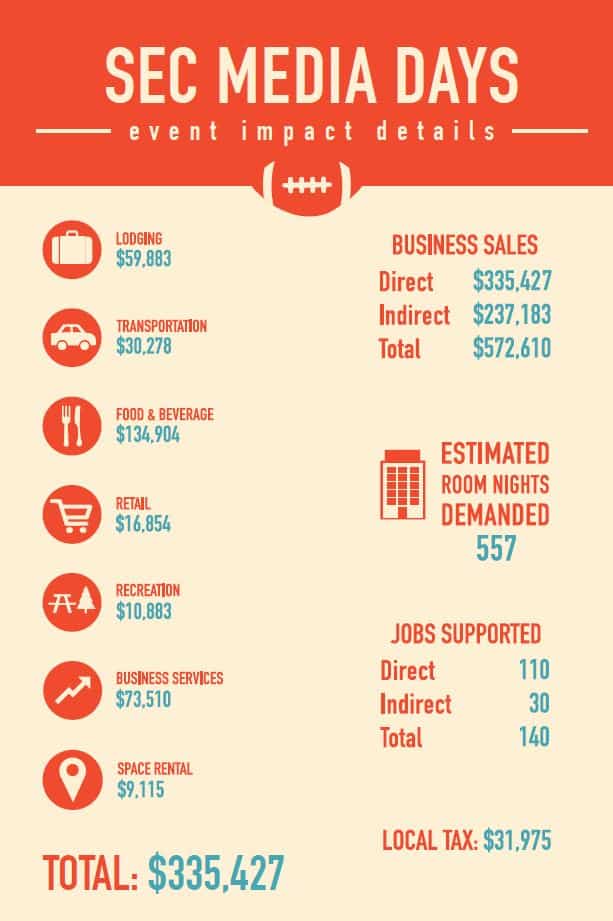 Here's an alphabetical look back at SEC Media Days 2017:
A is for Alabama, runaway favorite to win the SEC title … and maybe more?
B is for Beat. As Gus Malzahn put it, "To win this league you've got to beat Alabama."
C is for Chick-Fil-A Kickoff Game in Atlanta on Sept. 2, Alabama vs. Florida State. SEC vs. ACC to make a statement in the conference debate.
D is for Defense. Every team needs it, not every team has it.
E is for Exciting. SEC football amps up fans like nothing else.
F is for Florida, seeking a third straight trip to the SEC Championship Game.
G is for Georgia. The Bulldogs could pose the biggest challenge to the Gators and were chosen by the media to win the SEC East.
H is for Hot Seat. Look out, Butch Jones and Kevin Sumlin.
I is for Injuries. Every team will have them.
J is for Jones, as in Butch Jones, who may need a big season to keep his job.
K is for Kicker, as in Daniel Carlson is an All-American kicker.
L is for Leadership. Every team needs it.
M is for Missouri, struggling to get back on track in the SEC East.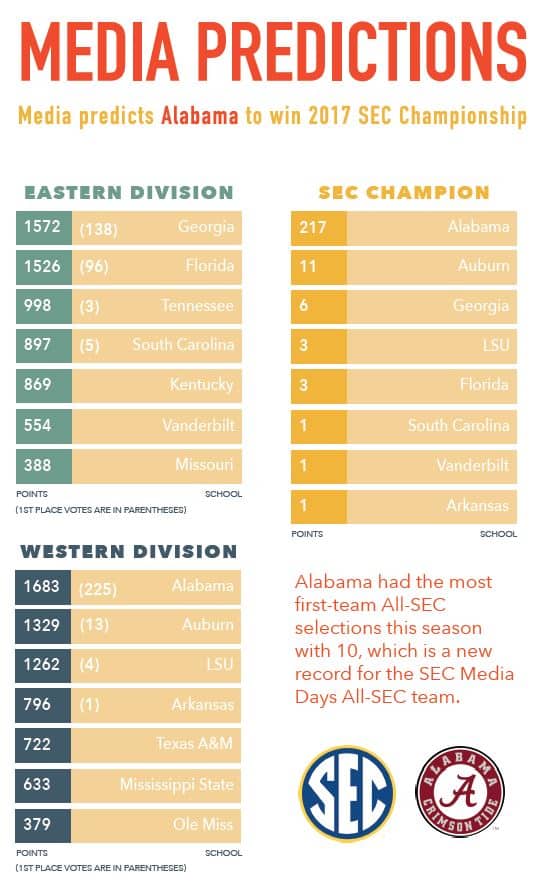 N is for Nessler, as in Brad Nessler, the man who will replace Verne Lundquist in the booth for CBS.
O is for Odom, as in Missouri coach Barry Odom.
P is for Punt. Gus Malzahn said, "Probably the biggest question mark about our team is who is going to be the punter."
Q is for Quality. Every team needs quality players to win.
R is for Running. The league is once again full of star running backs and teams that want to establish the run.
S is for Stidham, as in quarterback Jarrett Stidham, and S is also for Sean, as in quarterback Sean White. Fall camp could be interesting at Auburn.
T is for Twelve. There are only a dozen seniors on the Mississippi State roster.
U is for Up Front, as in "Our defense will be solid up front."
V is for Verne. Some loved him, some loathed him. What will it be like without Verne Lundquist calling SEC football for the first time in 17 years?
W is for Win. When asked about what it takes to stay at a school like Alabama for 11 years in the modern era, Nick Saban's one word answer: "Win."
X is for diagramming plays with Xs and Os.
Y is for Yearning. SEC Media Days is the unofficial start to the football season and fans can't wait until fall practice and the start of the season.
Z is for Zebras, as in officials who hear a lot of boos but never cheers. One new rule this year will flag coaches who come on the field to argue a call.