A dozen ducks sleep with their heads curled into their back feathers in the early morning near the banks of the Coosa River, having made their home in Gold Star Park. One by one they awaken and waddle to the river, eventually floating near the ramp where 20 vehicles were parked earlier by fishermen who beat the big birds to the punch.
The picturesque public recreation area dedicated to fallen American heroes is a gem in downtown Wetumpka, transforming block after block of formerly rugged riverside into a playground frequented by friendly squirrels and parents with their kids and pets. People walk and jog along the winding sidewalk lined by tall streetlamps with flower pots hanging from each. Some folks are content to sit on benches and take in the view. A huge deck with a tree reaching through the middle hangs over the riverside. A long wooden walkway with periodic observation porches crosses beneath the famous Bibb Graves Bridge that is a symbol of the town of 7,000 residents.
The park seems endless, with picnic tables surrounding a large playground, bathrooms, a gazebo with tables, two stages with bleachers, pedestrian bridges crossing small creeks, a tire swing, slides and a log cabin. A tall marble monument honors John, Charles, Henry, Richard and Quentin Crommelin, local brothers dubbed by Time magazine in 1944 the "Indestructibles" for their heroic efforts in World War II (Charles and Richard later died in battle).
Two young girls run ahead of their mother pushing their baby sister in a stroller. They try to look inside the stained glass windows of a 6-foot-wide, 10-foot-long steeple-topped white chapel that is inside a picket fence. They knock on the locked door but "no one is home," says the older one as they run back to the pathway.
The prized local park is home to some of Wetumpka's top events: Christmas on the Coosa, the River and Blues Music & Arts Festival, the Coosa River Challenge Adventure Race, the Oct. 21 Alabama Kayak Fishing Classic. It is part of the Piedmont Birding Trail, the Alabama Bass Trail, the Alabama Scenic River Trail and the Kayak Bass Fishing Trail.
The old downtown, which in 2016 joined the Main Street Alabama program, backs up to the park, as most businesses stand within easy walking distance. "The Kelly" art gallery is nearby. The Elmore County Museum is steps away. Just across a second street stands the 1932 Elmore County Courthouse, which will soon boast a $2.75 million, 11,000-square-foot expansion.
Wetumpkans may head to Coaches Corner or Grumpy Dog or Smokin' S Bar-B-Que for lunch, then move down Company Street for dinner at Our Place Café. Locals have been reading The Wetumpka Herald for 119 years.
The Main Street program is headed by Jenny Stubbs, who left her hometown for 15 years before returning in 2010 with her husband, Troy, who heads the Elmore County Commission. She notes that downtown has "maintained its charm but not its vivacity," but the overall look and appeal will be changing quickly as the streets are made more pedestrian-friendly with improved parking and increased greenspace.
"It's really exciting what we're doing. It will change our community for the better and make us even more close-knit," Stubbs says. "Wetumpka is unique. We're moving forward on capitalizing on all of these unique aspects of our town."
Highlights on the west side of town across the river include the Museum of Black History, the Alabama River Region Arts Center, Fain Park – with a playground, riverwalk and senior citizen center – and the Wetumpka Sports Complex featuring sports fields and fishing ponds that draw people from across the region.
Just outside of town are Alabama Power's Jordan and Bouldin dams, generating a total of 325,000 kilowatts of clean energy. The two facilities have a 6,807-acre reservoir that provides recreation for thousands of visitors annually.
Space oddity
One hundred and twenty-six years ago, Alabama's state geologist found that the foothills of the Appalachians bordering Wetumpka were "structurally disturbed." Seventy-eight years later, another geologist noted the dramatically bent rock layers and other odd features, eventually theorizing that the "mountains" of Elmore County were actually a "star wound." Tony Neathery's scientific paper was met with widespread skepticism, but David King in 2002 revealed findings of an Auburn University team investigation, shocking the world some 85 million years after the really big shocker.
"This place is the center of Alabama's greatest natural disaster," King says of the 5-mile-wide, now semi-circular remnant of a 1,100-foot-diameter meteor. King is the top authority on one of the world's best preserved marine impact craters. It is a "marine" crater because scientists believe when it struck during the days of dinosaurs, Wetumpka was 100 feet underwater near the shoreline of the current Gulf of Mexico that covered more than half of Alabama.
"It's our Disney World," says Marilee Tankersley, a retired educator who leads tours of the crater. "People are coming from all over the world to see it."
King believes the asteroid vaporized as it blasted 1,000 feet into the ground beneath the prehistoric ocean with 175,000 times the energy of the Hiroshima bomb in World War II. Flash-fires would have disintegrated everything for 3,000 square miles, including modern-day Montgomery, Auburn, Clanton and some of Birmingham. A shock wave flattened the middle of today's Alabama and Georgia, killing most animal life and blinding all survivors. If it happened now, King estimates 400,000 people would die in the resulting blast, hurricane, flooding, fires and magnitude 9 earthquake.
In addition to deep core drillings that contained traces of the meteorite, researchers found bedrock on the crater surface that should be thousands of feet beneath the earth. Cliffs have layers of sediment that were moved in seconds from one side of the crater to the other by a tsunami wave that caused a portion of the southern wall to collapse. Blocks of bedrock the size of houses are found tossed within the crater. "Shocked quartz," recognized worldwide as proof of a meteor strike, is spread across the crater.
Today, 3,000 families live within the huge hole now filled with upscale homes and gardens. Many of the best sites that excite scientists, unfortunately, are on private property. King and others get advance permission for research and education events. In March, 161 people, including faculty and students from colleges in Florida and Georgia, took the tour promoted by the Wetumpka Impact Crater Commission. Several signs on roads around the crater guide tourists on self-tours.
"It's hard to relate to 85 million years ago," Tankersley says. "I tell the kids to think of your sofa at home. About 1 inch of it would represent how long man has lived on Earth. This crater is the oldest thing in the state of Alabama that you can put your hands on."
Tours begin in the Crater Room on the second floor of the City Administration Building, where paintings depict what might have happened to Appalachiosaurus montgomeriensis – the dinosaur discovered by King and displayed at Birmingham's McWane Science Center – when the meteor struck. Bald Knob, which is 450 feet higher than nearby Main Street, is the prime viewing area open only to guided tours. When funding is available, the former welcome center on 26 acres donated by the state along U.S. Highway 231 will be reopened as the Wetumpka Crater Science and Interpretive Center.
"It's a huge undertaking. It's still a long ways off," Tankersley says of the future headquarters, as she looks at depictive murals by well-known artist/lecturer Karen Carr. "Karen said our crater is an environment you can't find anywhere else. She was so mesmerized by the whole thing when she visited."
In the Jasmine Hill Gardens
Don't ever expect to hear Jim Inscoe utter "It's all Greek to me." On the other hand, that phrase literally could be his motto.
Since 1971, Inscoe and his wife, Elmore, have frequently visited Greece. They may know more about Greek mythology, architecture and traditions than anyone in the county that shares his wife's name. They certainly know more than anyone else about one of the nation's premier gardens, Jasmine Hill.
The 20 acres of year-round floral beauty started by Benjamin and Mary Fitzpatrick nearly 90 years ago was eventually sold to the Inscoes, who had befriended the widow while caring for the gardens and its vast collection of marble, bronze, porcelain and terra-cotta Greek and Roman statues. One of several statues of Nike is admired for various reasons by the 20,000 annual visitors.
"Kids always say she looks like she was in a wet T-shirt contest," Jim Inscoe says of the goddess wearing a clinging garment.
Another statue of a maiden of Acropolis garnered the attention of a famous visitor.
"Whoopi Goldberg was here filming and said she liked her because the maiden's hair looked like her dreadlocks," Inscoe says.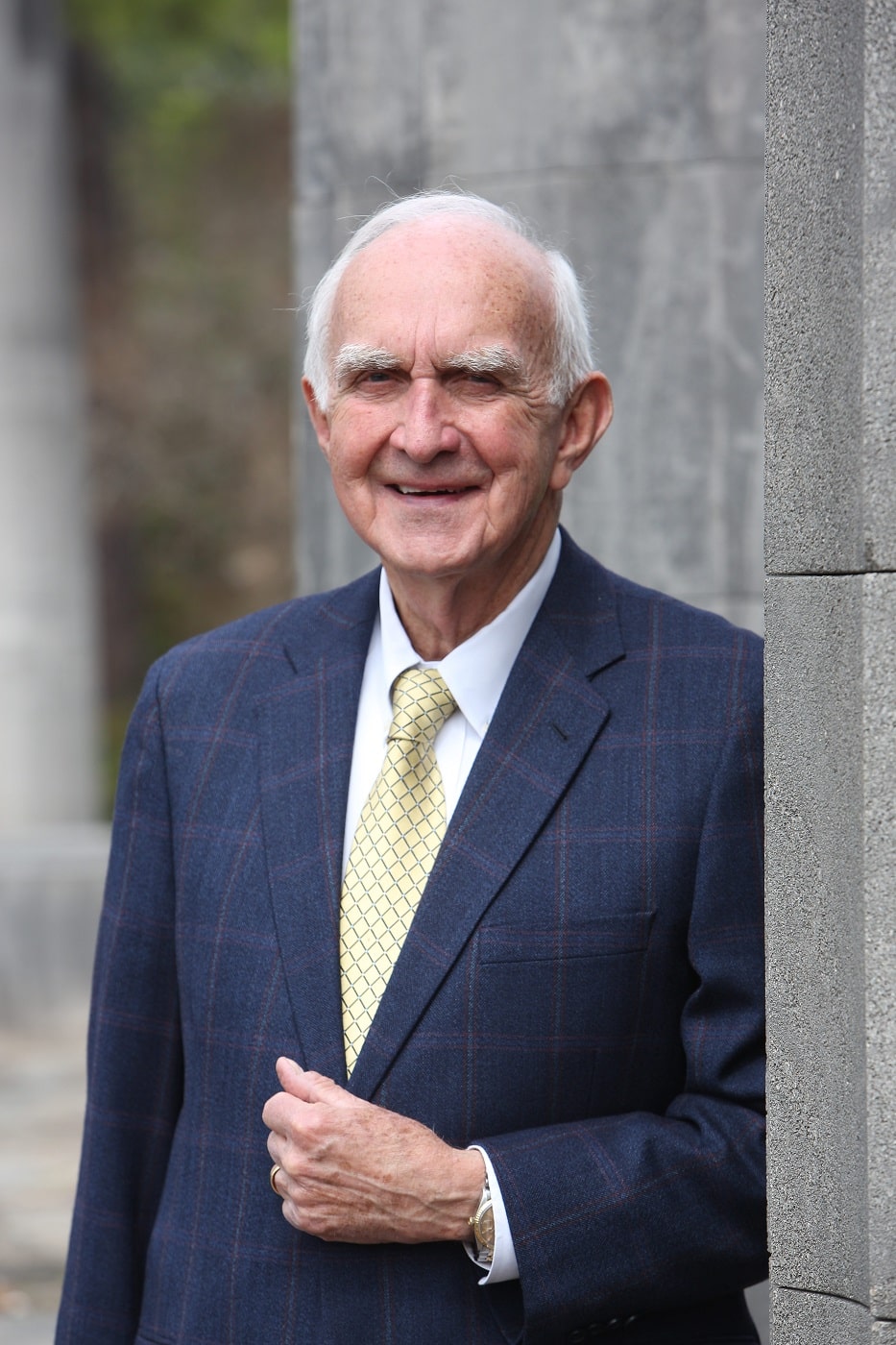 Inscoe doesn't hide his pride as he walks along the wide stone pathways that weave around more than 40 museum-quality statues and seven fountains and pools. The stones were blasted and hand-crafted onsite by Civilian Conservation Corps workers during the Depression. "We've had garden experts say Jasmine Hill probably has more stone incorporated than any garden in the country," he says.
The garden foundation president admires the hundreds of kale recently planted by the dedicated three-man staff in beds along the winding walkways, intermingled with tulips, digitalis, daffodils and other spring plants. He holds a larkspur and points to the "little rabbit" on each bloom. He squeezes a snapdragon to show how the flower got its name.
In 2016, Jasmine Hill didn't suffer the drought that plagued amateur gardens statewide. Fitzpatrick built an elaborate reservoir system that still collects and sends water throughout the gardens on a downward spiraling path that is pumped back up when it reaches the lowest level of the property.
On the average 90-minute guided tour, Inscoe notes that the mock orange shrub is similar to the crown of thorns. There are Aldridge hydrangea from the sister garden in Birmingham. There are so many varieties of camellias they have not all been cataloged. And there are hundreds of trees, from oaks to cypress to dogwoods, including a long corridor of pines that mimic the "whistling sound" the Fitzpatricks heard during more than 20 trips to Europe to buy statues for the gardens.
Jasmine Hill is home to the world's only full-scale reproduction of the Temple of Hera ruins in Olympia, Greece, which has been the garden's calling card for generations of visitors.
"This is what people usually remember more than anything else about Jasmine Hill," Inscoe says.
Before the 1996 Summer Olympics in Atlanta, Jasmine Hill used its Greek connections to bring the Olympic flame through Wetumpka. The Olympian Centre, the gardens' largest building, was built to welcome visitors with a gift shop and information, hold meetings for up to 500 people with a kitchen and restrooms, and house new statues before the flame arrived.
Jasmine Hill Gardens is open Friday through Sunday, and by appointment for large groups on other days. Visitors drop in from across the country and around the world for a little glimpse of Greece provided by the Inscoes and the foundation they originated to keep the operation going.
"If you want to lose money, go into the public garden business," says Inscoe, a longtime successful real estate business owner. "But we've been fortunate to be part of a wonderful and unique garden for many years. We encourage people to bring a picnic basket, a bottle of wine and some cheese, and just relax in these beautiful surroundings."
Take me to the river
Two big dogs raise their heads from the wood-plank wrap-around porch of Coosa River Adventures' rustic headquarters, eventually wandering down the short stairs to sniff a visitor. There appears little that is rapid about this operation on a weekday morning. A sign between six standing kayaks, a totem pole and a tall wooden alligator implores customers to "Honk or Holler or Ring Bell, Then Be Patient … as dogs bark." There's also a number to call "If All Else Fails," but co-owner Therese Carter soon appears at the front door.
To be sure, this doesn't resemble a tourist trap on the Colorado or Nantahala or Ocoee rivers. The late-1800s home stuffed with canoes, kayaks, life jackets and most any accessory needed to paddle down a river is where the "adventure" begins. A small white senior dog seems stuffed, too, but eventually comes to life, stretching, rising and walking over beside the old glass display cases in front of Carter, who stands next to a vintage fireplace. There are wide, handhewn heart pine floorboards and thin ones on the ceiling of the old Stoddard House that Chris and Therese Carter bought in 1999 alongside the Coosa River shoals in town.
Almost a decade earlier, Chris began bringing Air Force buddies back and forth for kayaking the Class 1 and 2 rapids when he was stationed at Gunter in Montgomery. One of them said, "I'd pay someone to do this," and Carter decided he was just the man for the job. He bought a blue van – which is now a relic parked alongside the Adventures building – and began waiting with canoes and paddles for customers at the downtown Wetumpka boat ramps.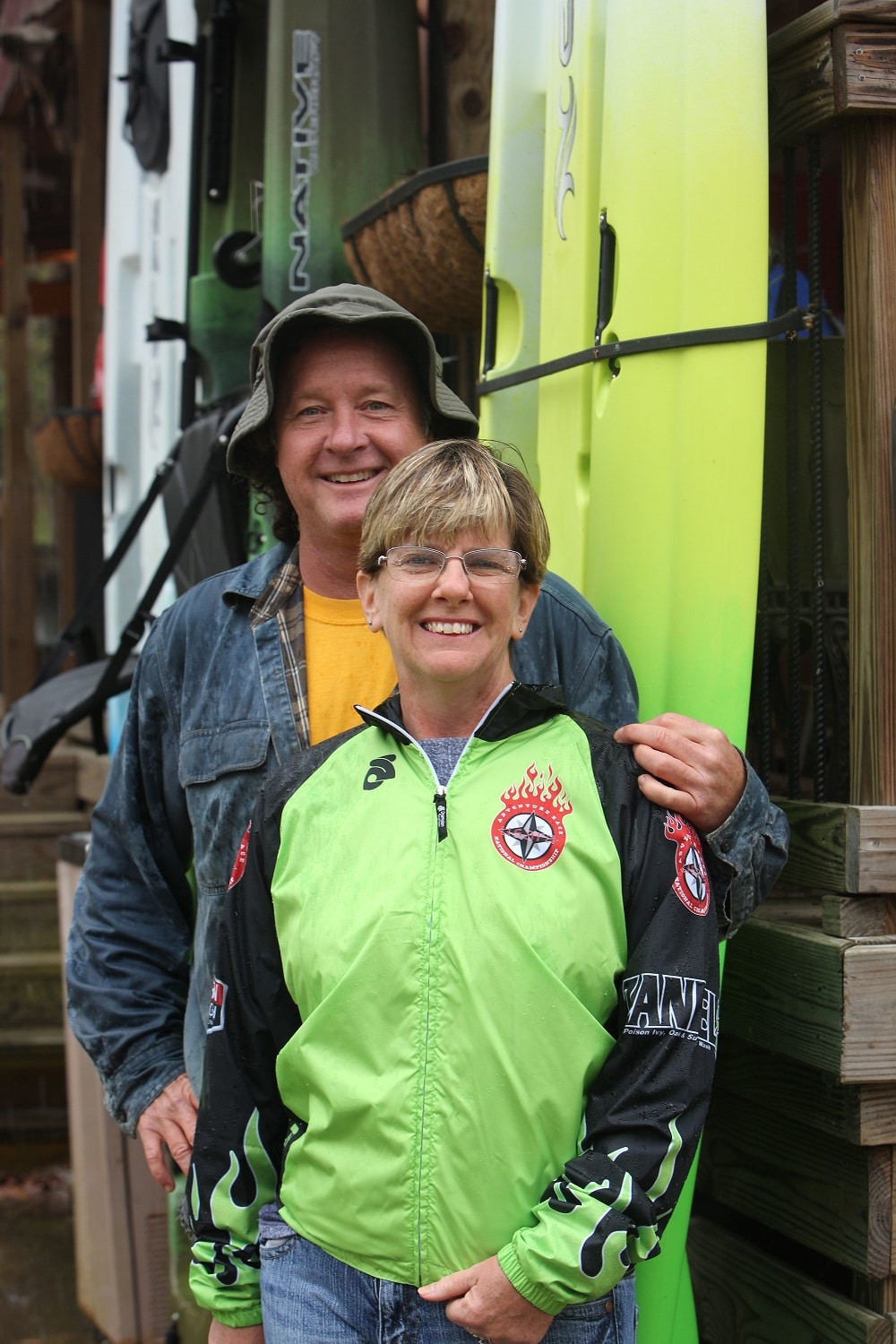 Carter soon built a nest egg and started looking for a more permanent base. When he first spied the Stoddard property, it was so overgrown he didn't realize there was a house in the woods. He considered tearing down the six-room cabin but decided to remove most of the interior walls and restore it. Carter was glad he did when two of the aging Stoddard sisters showed up one day and said, "We were born in that front room."
Within a short time, Carter had customers arriving early, lining up all the way down the steps and into the yard and driveway. Twenty-two years later, tens of thousands of people have taken a ride down the river thanks to the Carters.
"The majority of our customers have never paddled before they paddle with us," Therese says. "Chris spends 15 to 20 minutes talking before each person or group goes out to explain the equipment, safety rules and how to keep our environment clean. We're kind of proud of that."
Coosa River Adventures sells new and used water equipment year-round, but the paddling tours are generally closed from Christmas to February, with business beginning to pick up at Spring Break and remaining steady until students return to school in the fall. Therese notes that even when the Coosa River is 55-60 degrees in early spring, it is as warm as many of the nation's most popular rapids will be all year. The Coosa can reach 75-80 degrees in the summer.
During their prime season, the Carters run kayaking shuttles at 9 a.m., 11 a.m. and 1 p.m. daily. A one-person kayak is $29, two-person kayak $49 and two-person canoe $59 per trip, life jacket and paddles included. If a customer brings his own kayak, the shuttle charge is $12. Each person is provided a trash bag and transported to the base of Jordan Dam, which is about 6 river miles from the Adventures building, where they'll end up three or four hours later. There is a limit of about 150 kayakers each day, age 6 and over, so "scheduling is a must," as the business card says.
"During peak season, we'll book up for a week or two in advance," she says in mid-March. "My books are already filling up, so it's never too early to call."
Down by the river
In a 200-year-old one-time trading post near the banks of the Coosa River, Carole Jean Boyd carefully carves cypress knees into gnomes, old men and Santa Clauses. Her skill with sharp steel hand tools and power chisels has brought widespread acclaim the past three decades as Boyd's artwork has earned countless accolades. Customers pay $65 to $1,700 for her originals. Students spend $150 or more to study a couple of days under Boyd in classes across the country.
"You can look back at your life and see where God was trying to guide you," she says. "I knew very shortly after starting wood carving that this is what I was supposed to be doing."
Growing up "a country girl" on a farm in Elmore County didn't dampen Boyd's uptown dreams. Sixty years ago, all the students in her high school were given an aptitude test: hers said she should stick to ag and art.
"Our school didn't have art and girls didn't take agriculture," she says. "They wanted me to take ag with the boys. I would have been the first girl but I didn't do it because I knew they would all make fun of me."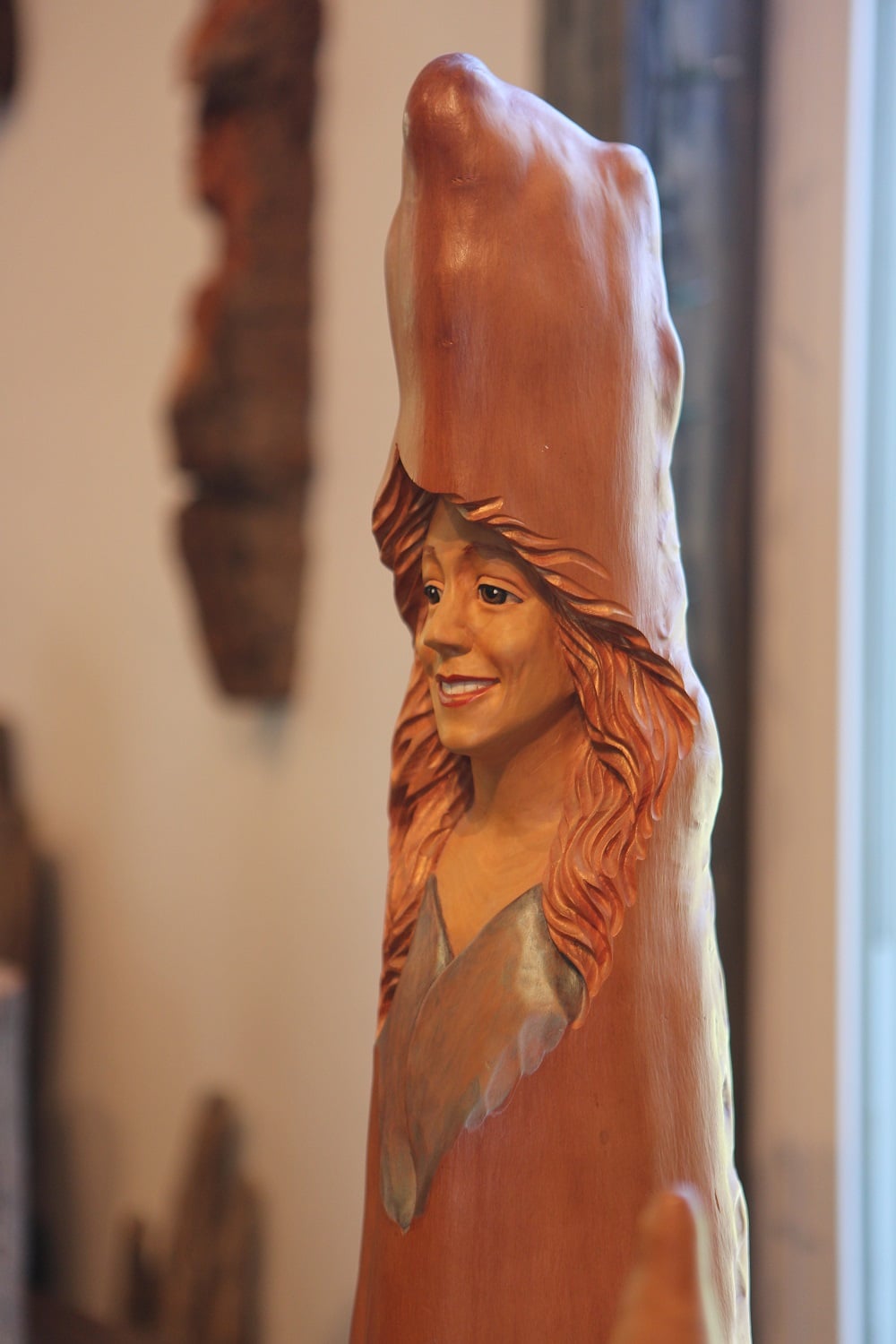 Instead, divine intervention delivered her to Leon Loard, one of the premier portrait photographers in the South. She began training with him after school in his Montgomery studios, which would establish her career as a portrait artist for the next quarter-century.
In the late 1960s, Gov. Lurleen Wallace chose Boyd to produce 16 identical oil paintings. It took two years to complete the portraits, one of which still hangs in the Tuscaloosa County Courthouse. Alabama's first female governor died of cancer in office before the paintings were shown to her husband, former Gov. George Wallace.
"I'd never seen him so sad," Boyd says. "He walked over and just wanted to touch her portrait."
Upon their request, she later painted portraits of Gov. Albert Brewer and George Wallace, during the widower's subsequent terms as governor. Business was booming until Boyd's husband, David, died in 1986 and she lost the desire to paint.
Out of the blue, someone suggested woodworking, and within three years she was being asked to share her carving secrets, so often that she quit her painting job. In 2005 Boyd wrote "Carving Cypress Knees; Creating Whimsical Characters from one of Nature's Most Unique Woods." The book remains a top-reviewed paperback, selling for $17.95 on Amazon and other sites.
Boyd began volunteering at Old Alabama Town in Montgomery, selling her statues as she showed schoolchildren and tourists how to carve wood. A huge black walnut tree stump she fashioned into a man's face and hair caught the attention of one visitor, who mentioned it to Wetumpka Mayor Jerry Willis. He enticed Boyd to move to the trading post that had been empty for 13 years but was primed for renovation as an art school and gallery.
Boyd has teamed since 2013 with local artists Mary Beck, Allen Carmichael and Christine Drost in the Rumbling Water Studios and Gallery on Wharf Street, open from 10 a.m. until 5 p.m. Tuesday through Saturday. Boyd has gotten beyond the days when she thought a high price would keep admirers from purchasing her favorite carvings.
"A man in overalls asked the price of an Indian carving and I said $1,000 because I didn't think he could afford it," she says. "He pulled a big roll of $100s out of the bib and peeled off 10 of them. When he walked out with it, I cried like a baby. Then I told myself, 'If you're going to do this for a living, you just have to get used to it that they're not really yours.'"
Up on Ivy Creek
Chef Gary Garner is accustomed to preparing haute cuisine in popular restaurants, having created delicious delicacies for diners at Garrett's, Vintage Year, Young House, Magnolia Cafe and the Montgomery Country Club in central Alabama during the past 30 years. He feels at home catering lobster for a fashion show or prime rib for a chamber of commerce banquet.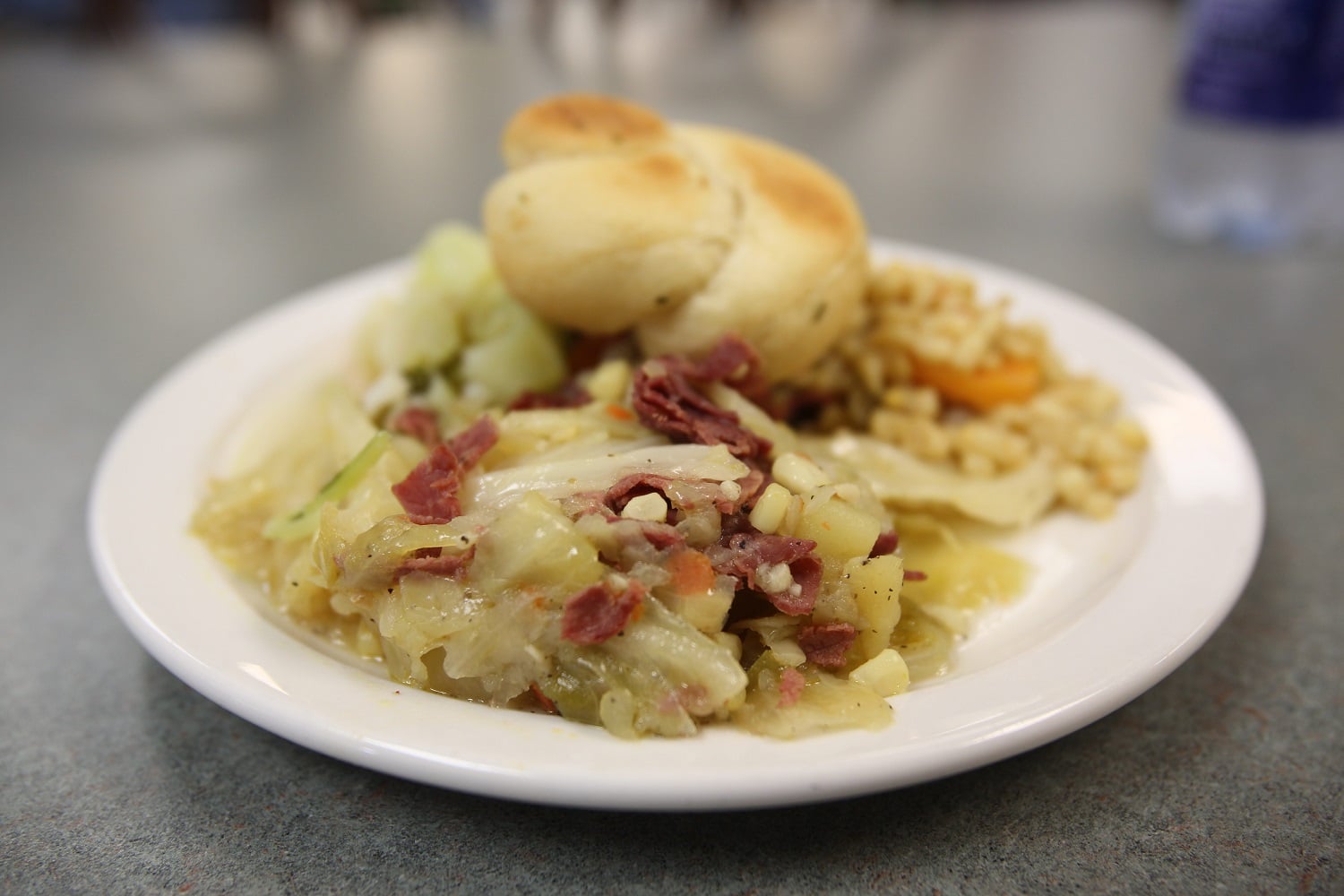 Until a year ago, Garner's experience with "hospital food" stemmed almost solely from infrequent visits to friends and relatives who were ailing. But he couldn't turn down a challenge that one of his former servers had cooked up: open a high-quality restaurant in a hospital. Today, Ivy Creek restaurant is recommended by locals as a top spot for an inexpensive breakfast and lunch. Garner's latest eatery excursion is at the Elmore Community Hospital.
In 2016, Chief Operations Officer Michael Ritzus sought out his former Vintage Year restaurant boss to turn the typical hospital cafeteria into something special that could also ease the burden on employees who were rushing back and forth downtown for meals. Garner, with manager Amanda Teasley, buffet coordinator Lyn Golden and six kitchen employees, began reshaping the facility to serve not only the hospital's rehab patients and staff, but visitors and catering requests.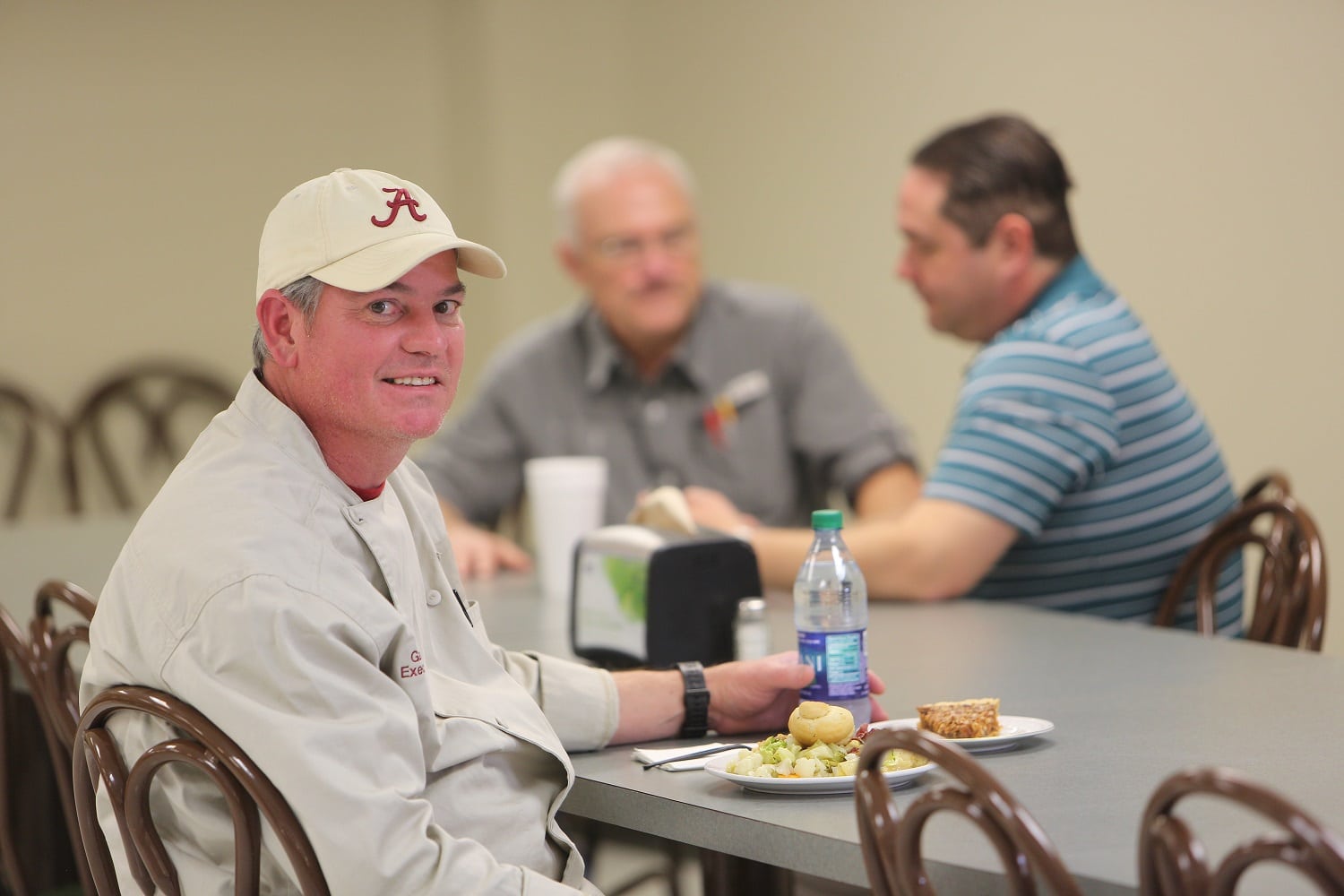 The lunch menu changes daily, from tacos to fried chicken or catfish, to New Orleans-style or Asian entrees, which follow the full breakfast buffet added this year that includes eggs, grits, bacon, sausage and toast. Breakfast from 6 a.m. to 8 a.m. is $6.25; lunch from 11 a.m. to 1 p.m. is $8.95. Military and first-responders get a discount.
"We're serving fresh local vegetables and other ingredients; nothing is canned," Garner says. "The police love coming in here; they're here every morning. It's cheaper than going to a fast-food place."
Garner has made friends and loyal customers through his willingness to stray from the buffet or daily menu. He cooks to order on request, just as he does when he volunteers to serve the homeless on weekends or take Meals on Wheels to the elderly, as he's done for 25 years. He continues catering University of Alabama functions – he has Terry Saban's cellphone number – and enjoys filling unusual food requests for special occasions.
"To me, every customer is special," Garner says.
"Everything I make, I put my heart and soul into. I take a lot of pride in making every dish perfect."
There's no business like show business
It was perfect casting a decade ago putting Kristy Meanor in the role of artistic director of the Wetumpka Depot Players. After all, she'd been part of the amateur group since her high school days, performing in plays going back to 1983 after her dancing teacher choreographed a new step.
"She pulled me aside and said, 'You're not much of a dancer, but you're funny and would be great onstage," Meanor says with a laugh inside the renovated Main Street grocery store that became the permanent theater and offices in 2000.
Now in their 37th season, the Depot Players have become the most acclaimed community theater in the state under Meanor's guidance, winning best annual performance trophies five times in the past eight years. The actors and production personnel – some of them professionally trained – are from "all over the river region," volunteering their time and talents for the craft they love, and sold-out audiences love to watch.
"We have regular customers who come from all over the South," Meanor says of the four main stage shows that between 10 and 40 Depot Players produce annually involving practicing and performing for two months or more. They put on a couple of smaller shows each year, including a holiday performance for kids, who are really the impetus for everything about the theater group.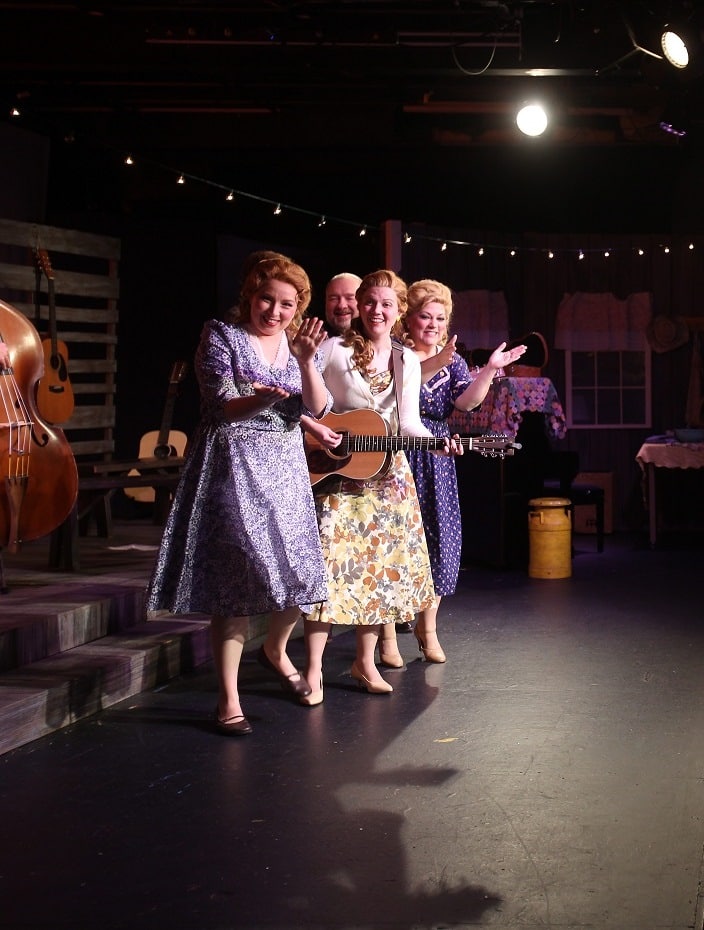 "We have a great collaboration with our school system," Meanor says. "We work to bridge the gap of funding for the arts programs."
About 5,000 schoolchildren each year watch plays or participate in workshops at the Depot, much in the fashion of Meanor, who went on to perform in theater at Auburn University at Montgomery and in regional productions. Summer camps are tuition-based, but scholarships funded by businesses like Alabama Power and arts groups are offered to children who can't afford to pay. Plays for students are discounted from the normal $12 advance/$15 at-the-door tickets.
"Our goal is to never turn a child away," Meanor says. "We tell the schools, don't leave anyone behind."
Three seasons ago, Meanor launched the Encore Players for the retired community. She says most of the actors are women, including former nurses, teachers and bankers. They perform at nursing homes, churches and other places that are convenient for the intended audience.
"Not only do we feel like we're reaching out to them, but they're reaching out to the community, too," Meanor says.
The lobby wall outside the 160-seat auditorium is lined with photos of most every cast since 1980, including shots of Meanor. Some communities boast of dinner theaters, but the Depot Players are pleased to offer only soft drinks, candy and "the world's best popcorn" for their performances. "Ring of Fire: The Music of Johnny Cash" was a big success to open this year, followed by "Last of the Red Hot Lovers" April 27-May 13, "Southern Fried Funeral" July 13-29 and "I Do! I Do!" Sept. 14-30.
"We joke that we're probably the most laid-back theater around," Meanor says. "We're not the stuffy theater; people come here casually dressed. When I go to a big venue, I feel disconnected. I think our audience feels connected to whatever show we're doing."
Ride like the Wind Creek
The surroundings scream Vegas: Bright lights flash, loud music intermingles with the sounds of 2,500 gaming machines and a like number of patrons pulling levers and pushing buttons, as waitresses serve drinks while winners and losers shout for varied reasons. In the center of this dazzling scene, hundreds of tropical fish swim around re-created coral and plants in a 16,000-gallon saltwater world. Steps away are a luxurious hotel and high-end restaurant.
Wind Creek Casino and Hotel Wetumpka welcomes 660,000 guests each year into the middle of rural Alabama, small-town America, to experience the high life once reserved for visitors to the internationally known Nevada town nearly 2,000 miles away. The 20-story hotel with the signature swooping roof stands starkly separated from its Coosa River surroundings. It is one of 11 AAA-rated four-diamond resorts in Alabama, considered in the top 5.9 percent of all hotels in the world.
There is no typical customer. They are of every adult age and income. Last year they came from 47 states and 14 nations to the 490,000-square-foot facility that opened in 2013. They arrive in cars and buses to a five-story garage with more than 2,500 spaces. On weekends and holidays, customers will fill the 80,000-square-foot gaming floor, spilling over into the five restaurants, gift shop and manicured grounds. On a recent Senior Day, the biggest single payout was $146,000.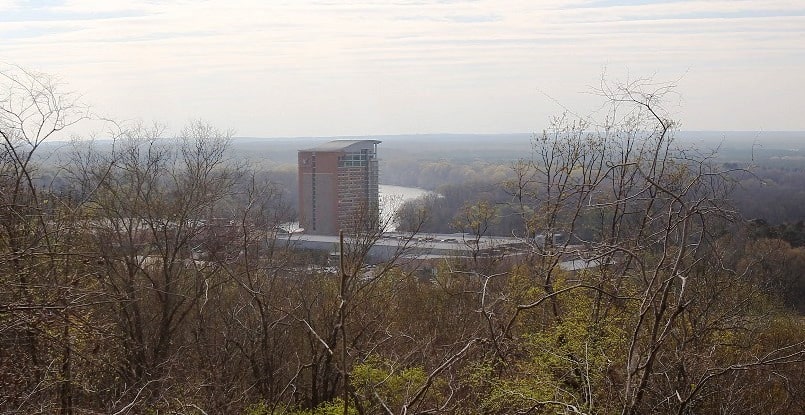 Owned by the Poarch Band of Creek Indians, Wind Creek Wetumpka employs 900 people, mostly from the Wetumpka area, paying them nearly $26 million and taxes and benefits totaling another $7.6 million in 2016. Last year, Wind Creek spent nearly $10 million on food for its restaurants, another $2.7 million for utilities and provided community sponsorships of about $250,000. The buffet is free to active military and veterans Monday through Wednesday.
The Poarch Band of Creek Indians of about 3,000 people also has casino-hotels in Atmore and Montgomery. Tribal member Kay Simmons is the first female property manager at Wetumpka, having moved from Wind Creek Atmore a year ago. She said it's a common misconception that all employees at Wind Creek are Creek Indians; the actual number is less than 6 percent, most of them at Atmore.
"The number of employees at our three casinos is greater than the tribe," Simmons says. "But we do business with a lot of tribal vendors. These properties were built by tribal vendors. We purchase many of our products from them. It has really benefited our tribe tremendously."
Simmons has no reservation about comparing Wind Creek casino to any other. Patti LaBelle, Smokey Robinson and LeAnn Rimes recently performed in the 1,500-seat theater at Wetumpka. The hotel has seven meeting rooms to accommodate groups from 25 to 1,200 people.
And nothing says Vegas like the $5,000-per-night penthouse that fills two stories beneath the curved roof. Twelve-times larger than each of the 240 large standard rooms, Wind Creek's top accommodation includes 2,000 feet of deck overlooking the Coosa River bend to impress 200 of your closest friends. The glass-walled decks have hanging widescreen TVs, a fountain Jacuzzi, sofas and fireplaces. An elevator takes guests to the two bedrooms, three baths, full kitchen, wet bar, living, dining, exercise and pool table rooms.
The penthouse is frequently a perk for high-rollers, but will be provided free for a local fundraiser in June.
"It's pretty spectacular," Simmons says as she walks beneath one of many chandeliers suspended above walls lined with original artwork. "We're trying to stay ahead of the industry. We're doing everything we can to make this the best possible experience for our guests."
APC office knows when to hold them
Since Wind Creek Casino is within walking distance, it's probably a good thing the Alabama Power Office staff includes no gamblers. With more than a century of combined service to their customers, the Wetumpka employees are dedicated to the needs of the many people who each day pay their bills, seek account assistance or ask advice about appliances.
Business Office Manager Paul Blake took his position a year ago, after two decades with the company. The Montgomery native said that while he doesn't gamble at Wind Creek, "we do appreciate their business," which totals more than 3 megawatts of power each month to the huge facility next door.
Customer Service Representative (CSR) Jan Guy has been with Alabama Power 37 years, 18 of them in the Wetumpka Office. CSR Gail Armstrong has been in the Wetumpka Office six years and with the company a total of 16 years. CSR Wendy Barnes worked for 10 years in several Montgomery Division offices before moving four years ago to the Wetumpka Office. CSR Kormeshia Peake has worked for Alabama Power five years, all of that time in Wetumpka. Field Service Representative Roosevelt Shannon has been with the company for 33 years. Market Specialist Kent Lisle has worked for APC for 18 years. Line Clearing Specialist Ladon Glover has been with the company for 38 years, working out of the Wetumpka Office the past decade.
"I have not ever stepped a foot in the casino, but it has increased foot traffic in our office," Armstrong says. "We even get Birmingham customers who will stop and pay their bills on the way to the casino."
This story originally appeared in Alabama Power's Powergrams.