This week people across the country are showing extra support to their local farmers for National Farmers Market Week, including the farmers and vendors of the Tuscaloosa Farmers' Market.
National Farmers Market Week, a Department of Agriculture (USDA) initiative lasting until Aug. 12, encourages families to meet and buy from local producers at farmers markets. For the farmers and vendors at the Tuscaloosa Farmers' Market, this week's market will be celebratory, providing another busy day for sales and friendship.
As one of the city's only standing weekly events, the Tuscaloosa Farmers' Market is open every Saturday morning at the Tuscaloosa River Market, seeing up to 2,000 visitors.
Between 30 and 50 farmers, artisans and vendors from all over the state gather to sell their newly harvested produce or handmade products, as well as catch up with the customers they see every week.
"It's not your everyday grocery store. You get to actually make relationships with the people who farm and bring your food to the market," said Alexis Clark, the Tuscaloosa River Market's City Venue Operations manager. "People are getting nutritious food that is grown locally and helping the economic development of local farmers."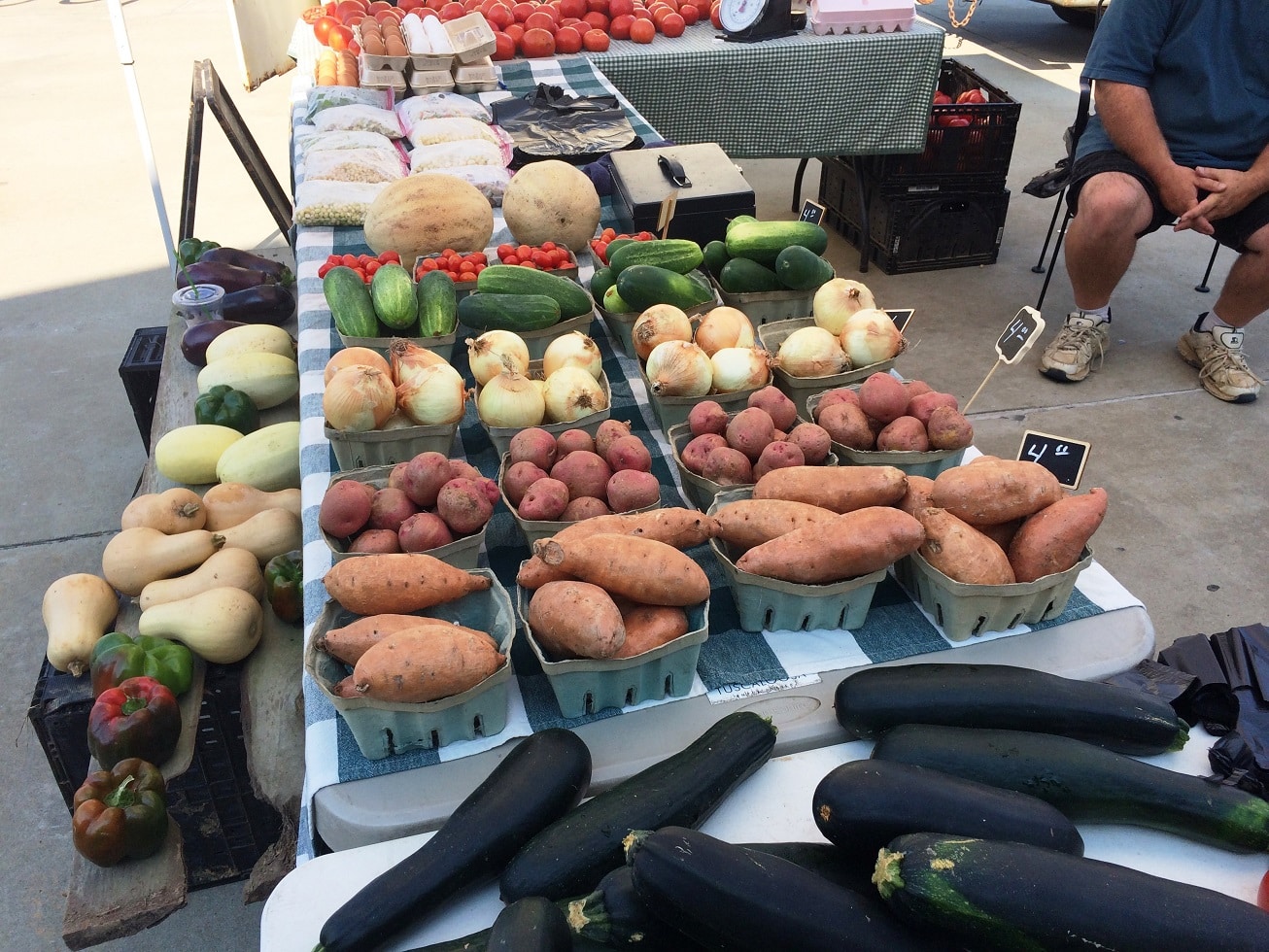 According to the USDA National Farmers Market Week proclamation signed by Agriculture Secretary Sonny Perdue, farmers markets and similar outlets contribute around $9 billion to the U.S. economy every year.
"There is no end to the economic impact that the farmers market makes. It puts people to work," Clark said. "It is local citizens, entrepreneurs and restaurants who are supporting local farmers and developing those relationships. This just pours the dollars back into our local economy."
For Jim Hudson, owner of Hudson Farms, the farmers market is a way of life. He has been farming since he was 5 years old, and now that he is retired, the market continues to provide him with a source of income and an outlet to sell his fruits and vegetables.
"To me, it's a way to make money. Majority of our money comes from here," Hudson said. "It's a great place to bring your family and get good food."
This is the farmer market's fifth year at the Tuscaloosa River Market located along the Black Warrior River in the heart of the downtown. With participation from local food truck vendors, musicians and performers, the market's festival-like atmosphere showcases Tuscaloosa .
"We are a hub for Tuscaloosa culture. You get a cross-section of a little bit of everything in just a quick little snapshot," Clark said. "Even if you just come down to pick up your cinnamon rolls from Wayside Bakery, it's a great, enjoyable place for the community to count on to be here."
During the summer and fall when produce is in full bloom, the market opens on Tuesday mornings to give farmers another opportunity to sell and move their products. Some of the most popular products are tomatoes, strawberries and pork.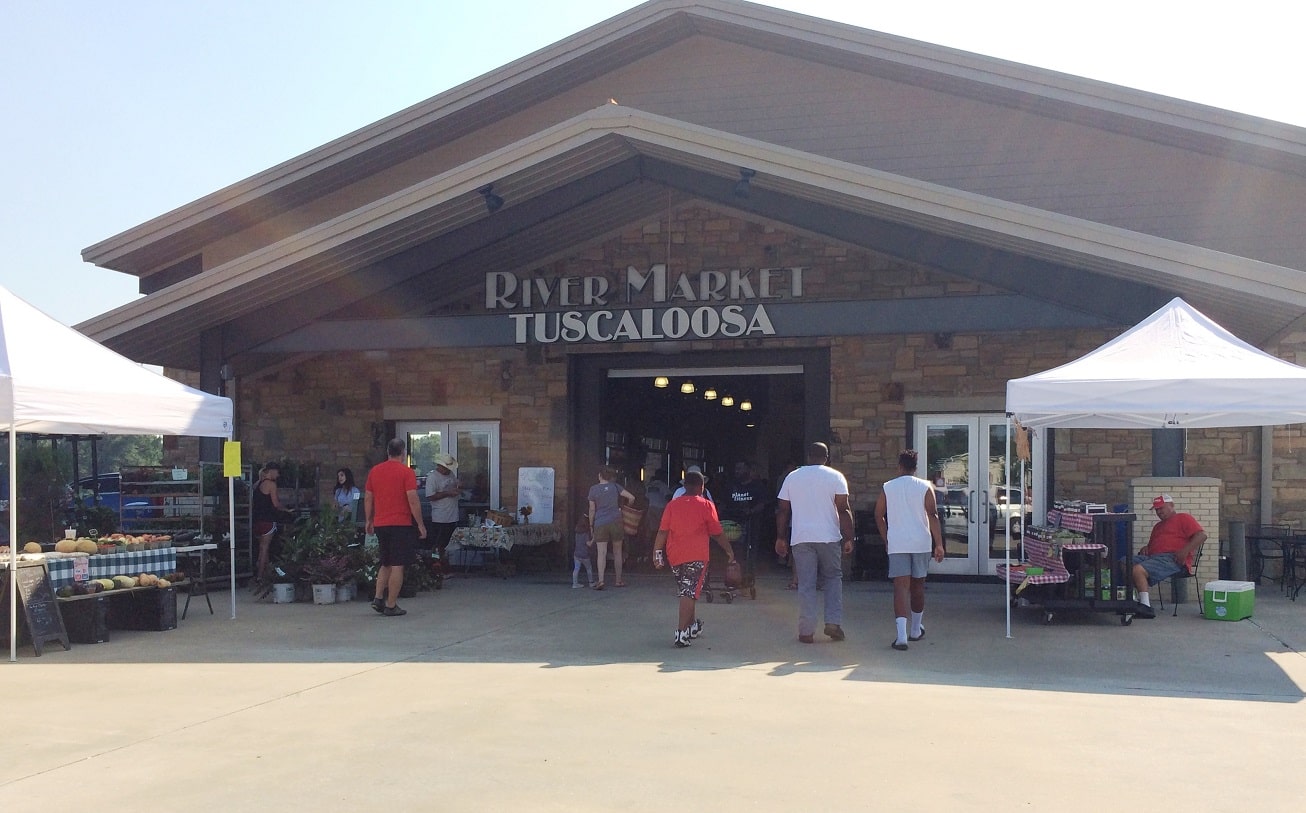 Johnny Nuckols, the market's pork vendor from Buhl, sells Berkshire pork, smoked sausage and bacon. The only thing that Nuckols' customers seem to appreciate more than the flavor of the pork, is its farm-raised quality.
"People want to know where their food comes from," Nuckols said. "I can offer a service where they can come buy the pork and I can tell them how I raise it, what I feed it and how they've been treated."
As part of the Farmers Market Authority, the Tuscaloosa Farmers' Market requires its artisans and vendors to make homemade  products only. This includes bakers, coffee roasters, and jewelry and soap makers.
When Linda Barry and her husband started making honey in 2011, she knew their wide variety of gallberry, wild-flower clover and other honey would be a unique product to offer the public. This is their third year selling Barry's Bees raw honey at the market.
"You can't buy raw honey in the grocery store. There are a lot of things here that you can't get in the grocery store, and you know where they are coming from," Barry said.
"People in the community, I think, need to know that the farmers are their neighbors and friends that are working hard to bring nutritious, locally produced farm products to the market for them to purchase," Clark said. "Additionally, it's a fun atmosphere. You can always count on something interesting going on."
Tuscaloosa Farmers' Market is open on Saturdays from 8 a.m. to noon at the Tuscaloosa River Market, 1900 Jack Warner Parkway.