Click here to view or print the full quarterly report compliments of the Alabama Housing Finance Authority.
Alabama home sales reached a near peak for the second quarter from April through June of 2017.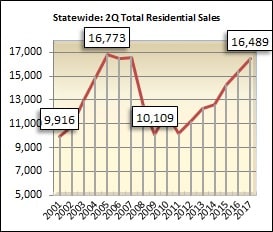 Home sales across the state, at 16,489, were less than 2 percent shy of the 2005 peak of 16,773 for the year's second quarter.
Alabama residential sales rose 7.2 percent over last year's 15,381 sales during the same period, an increase of 1,108 transactions.
Inventory dropped 15 percent from the second quarter of last year to 25,623 homes listed on the market statewide. There were 4.7 months of housing supply on the market during the second quarter, down from 5.9 months of supply a year ago. The market is considered to be in balance at approximately 6 months of housing supply.
Pricing has gone up in Alabama from the second quarter in 2016 to $154,704, a 7 percent rise year-over-year and a new peak in pricing for the state over the last 15 years.
Homes that sold during the second quarter spent an average of 129 days on the market, down 11 percent from last year's 144-day average.
The Alabama Housing Finance Authority was created in 1980 by Act No. 80-585 of the Alabama Legislature. AHFA is a public corporation and instrument of the State of Alabama dedicated to serving the housing needs of low- and moderate-income Alabamians. AHFA creates housing opportunities for low- and moderate-income Alabamians through the affordable financing of single-family and multifamily housing. Its programs have helped more than 122,000 families find homes they could afford.
The Alabama Association of Realtors serves as the voice of the real estate industry in Alabama. AAR is the largest statewide organization of real estate professionals who sale, lease, appraise and develop residential, commercial, rural and resort properties.