Click here to view or print the entire monthly report compliments of the ACRE Corporate Cabinet.
Sales: According to the Cullman MLS, Cullman County area residential sales totaled 65 units during July, down 1.5 percent from the same month a year earlier. Two more resources to review: Quarterly Report and Annual Report.
For all of Cullman's real estate data, click here.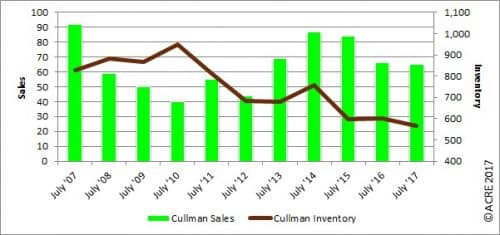 Demand: July residential sales decreased 11 percent from the prior month. This direction contrasts with historical data indicating that July sales on average (2012-16) increase from June by 9.8 percent.
Forecast: July sales were 16 units or 20 percent below the Alabama Center for Real Estate's monthly forecast. ACRE's 2017 sales forecast through July projected 474 closed transactions, while the actual sales were 478.
Supply: Cullman County area housing inventory totaled 566 units, 6 percent below the supply in July 2016. The inventory-to-sales ratio in July was 8.7 months of housing supply. Restated, at the July sales pace, it would take 8.7 months to absorb the current inventory for sale. This is 63 percent lower than the 2010 peak (23.7 months of supply). The market equilibrium (balance between supply and demand) for July is approximately 6 months.
Pricing: The Cullman County median sales price in July was $139,000, an increase of 1.1 percent from July 2016 ($137,450). The median sales price was 3 percent above the prior month. This direction contrasts with historical data (2012-16) reflecting that the July median sales price on average decreases from June by 16.3 percent. Pricing can fluctuate from month to month as the sample size of data (closed transactions) is subject to seasonal buying patterns. ACRE recommends consulting a local real estate professional.
Industry perspective: "We are keeping our full-year economic growth outlook at 2 percent as risks to our forecast are roughly balanced," said Fannie Mae Chief Economist Doug Duncan. "On the upside, consumer spending growth might not moderate as much as we have accounted for in our forecast. A build-up in inventory also should be positive for growth this quarter, and nonresidential investment in structures will likely continue to improve as oil prices stabilize."
Click here to generate more graphs from the Cullman July Housing Report, including Total Sales, Average Sales Price, Days on the Market, Total Inventory and Months of Supply. 
The Cullman County Residential Monthly Report is developed in conjunction with the Cullman Association of Realtors to better serve Cullman-area consumers.