FEELS LIKE FALL: A refreshing air mass has dropped into Alabama today, and we project sunny, pleasant days and clear, cool nights through the weekend. Highs will be in the upper 80s tomorrow and low 80s over the weekend. Lows will be mostly in the 50s, but cooler pockets will see mid to upper 40s tomorrow and Friday morning.
FOOTBALL WEATHER: Looks like a perfect night for high school football games Friday night — a clear sky with temperatures falling through the 60s.
Alabama will host Fresno State in Tuscaloosa Saturday afternoon (2:30 p.m. kickoff). The sky will be sunny with temperatures falling from near 83 degrees at kickoff to near 80 by the end of the game.
Auburn is on the road, taking on Clemson in South Carolina Saturday evening (6 p.m. Central kickoff). The sky will be clear with temperatures falling from 77 degrees at kickoff to near 70 by the final whistle. The weather will be dry Sunday for those traveling back to Alabama; any impact from Hurricane Irma in South Carolina will come late Monday into Tuesday.
UAB will be in Muncie, Indiana, playing Ball State Saturday afternoon (2 p.m. kickoff). We are forecasting a clear sky with temperatures in the 68- to 71-degree range during the game.
NEXT WEEK: Mostly dry, pleasant weather continues. Some rain is possible over far east or northeast Alabama Tuesday on the far western periphery of Irma, but the main impact will be well east of our state. Highs will be in the upper 70s and low 80s most of next week.
IRMA STILL A MONSTER: Hurricane Irma has now maintained 185 mph winds for 24 hours – no Atlantic or eastern Pacific hurricane has ever stayed this strong for so long.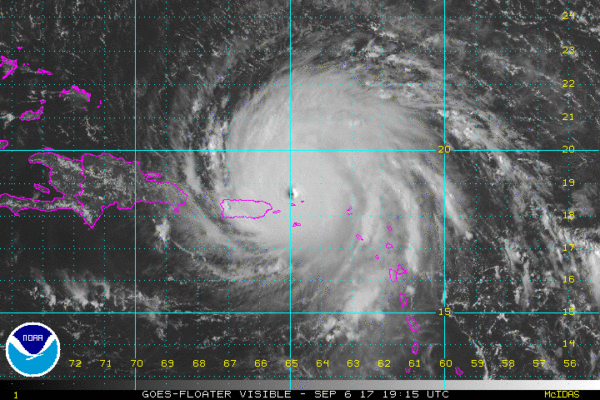 The extremely dangerous core of Irma will continue to move over portions of the Virgin Islands during the next couple of hours, pass near or just north of Puerto Rico this afternoon or tonight, pass near or just north of the coast of the Dominican Republic Thursday, and be near the Turks and Caicos and southeastern Bahamas late Thursday.
Irma is a category 5 hurricane on the Saffir-Simpson Hurricane Wind Scale. Some fluctuations in intensity are likely during the next day or two, but Irma is forecast to remain a powerful category 4 or 5 hurricane during the next couple of days.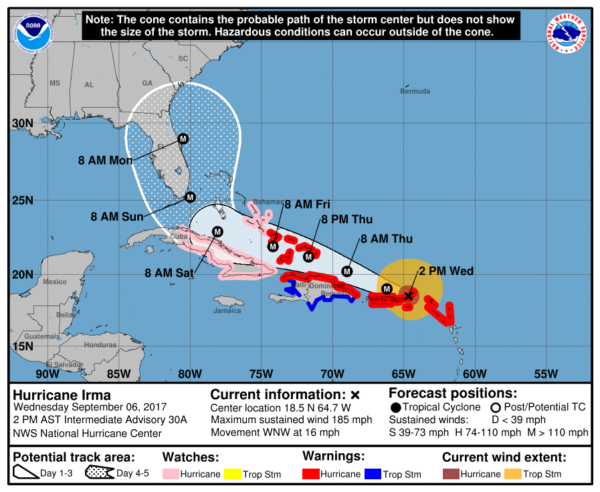 Models are now tightly clustered, giving a fairly high confidence forecast through five days. The center of the hurricane should be very close to Miami/Fort Lauderdale Sunday morning; then it moves near the Florida Peninsula Atlantic coast Sunday afternoon. A landfall on either the Georgia or South Carolina coast is likely Monday afternoon or Monday night.
Some important points:
Forecast changes are still possible, of course. The average National Hurricane Center track errors at days 4 and 5 are about 175 and 225 statute miles, respectively.
Everyone in the Florida Peninsula (not the panhandle) needs to continue preparations for a major hurricane, especially those on the Atlantic coast — cities like Miami, Fort Lauderdale, West Palm Beach, Daytona Beach and Jacksonville.
It is likely that Irma will be a category 4 hurricane at the time of landfall; slight weakening is possible because of interaction with land and some shear, but the overall impact will still be very serious.
It is still a little too early to forecast specific impacts at any point in Florida. We should be able to do that by early Friday. But most on the Florida East Coast should see 6 to 12 inches of rain, with very significant storm surge and extreme winds Sunday. Tropical-storm-force winds could reach the southern tip of Florida late Friday night or Saturday night.
If you are in the Florida Peninsula, heed advice from local government officials concerning evacuations. This is a serious storm.
Irma is not expected to enter the Gulf of Mexico. There is no direct impact on Alabama or the central Gulf Coast — places like Gulf Shores, Pensacola, Navarre Beach, Destin and Panama City Beach. Sunday will be windy at times, but the rain shield and main impact of Irma will be well to the east.
KATIA: The tropical storm in the far southwest Gulf of Mexico could become a hurricane within the next 24 hours, but it is expected to weaken by the weekend and drift into Mexico. No threat to Texas.
JOSE: The system trailing Irma in the Atlantic is also forecast to become a hurricane; it will gain latitude and should be well north of Puerto Rico in five days. Steering currents collapse, and it will meander around the open water for days. No threat to land anytime soon.
BEACH FORECAST: Click here to see the AlabamaWx Beach Forecast Center page.
WEATHER BRAINS: You can listen to our weekly 90-minute netcast anytime on the web, or on iTunes. This is the show all about weather featuring many familiar voices, including meteorologists at ABC 33/40.
CONNECT: You can find me on all of the major social networks:
Facebook
Twitter
Google Plus
Instagram
Pinterest
Snapchat: spannwx
For more weather news and information from James Spann and his weather team, visit Alabama Wx.