James Spann: Irma track shifts west, may bring Alabama some rain from Alabama NewsCenter on Vimeo.
BEAUTIFUL WEATHER FOR ALABAMA THROUGH SUNDAY: Let's get the easy part of the forecast out of the way… spectacular September weather will continue through Sunday with sunny pleasant days and clear cool nights. Highs around 80 today, followed by low 80s tomorrow and Sunday.
FOOTBALL WEATHER: A perfect night for high school football games tonight; a clear sky with temperatures falling into the 60s.
Alabama will host Fresno State in Tuscaloosa tomorrow afternoon (2:30p CT kickoff)… the sky will be sunny with temperatures falling from near 82 degrees at kickoff to near 78 by the end of the game.
Auburn is on the road; they will take on Clemson in South Carolina tomorrow evening (6:00p CT kickoff)… the sky will be clear with temperatures falling from 77 degrees at kickoff to near 70 by the final whistle. We should note the weather will be dry Sunday for those traveling back to Alabama; any impact from Hurricane Irma in South Carolina will come Monday into Tuesday.
UAB will be in Muncie, Indiana… they play Ball State tomorrow afternoon (2:00p CT kickoff). We are forecasting a clear sky with temperatures in the 68-71 degree range during the game.
IRMA REMAINS VERY DANGEROUS: Nobody should be using words like "weakened" or "downgraded" when it comes Hurricane Irma; it is a powerful category four hurricane with sustained winds of 155 mph.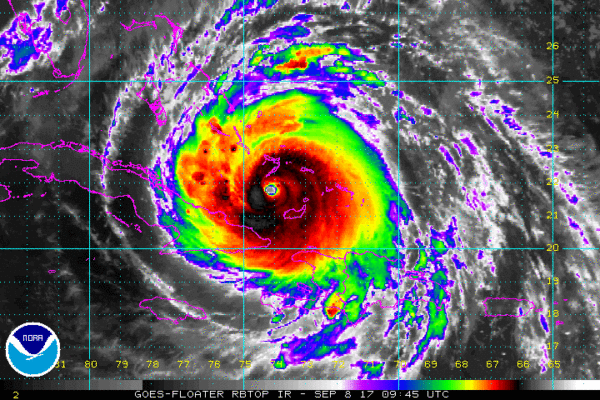 The eye of Irma should continue to move westward away from the Turks and Caicos Islands and toward the
southeastern Bahamas this morning. The core of the hurricane will then move between the north coast of Cuba and the Bahamas during the next day or two, and be near the Florida Keys and the southern Florida Peninsula Sunday morning.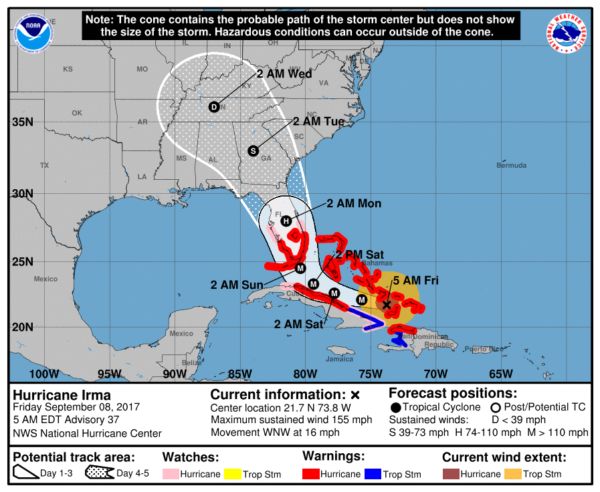 Unfortunately the NHC track takes Irma right up through the spine of Florida. Here are some important notes..
FLORIDA EAST COAST: The most severe storm surge and wind damage will be along Florida's East Coast… from Miami up to Jacksonville. Structural damage is likely along with storm surge flooding. Widespread power outages are expected as well. Evacuation orders have been issued for much of the coast, people need to heed those orders.
ORLANDO: Hurricane force winds are likely in Orlando Sunday and Sunday night. This could bring some structural damage and widespread power outages. The weather improves Monday, but keep in mind there could be infrastructure damage from the storm. If you have a trip planned to Disney World next week, keep an eye on their Twitter feed or FB page.
FLORIDA WEST COAST: Cities like St Petersburg, Tampa, Sarasota, Fort Myers, and Naples will have lots of wind and rain Sunday. There is potential for scattered structural damage and widespread power outages. But, the most severe damage will be over on the Atlantic coast.
FLORIDA PANHANDLE/ALABAMA COAST: While it will be windy Sunday night and Monday (a north, offshore wind), places like Gulf Shores, Pensacola, Navarre Beach, and Destin should be dry. Winds will be higher at Panama City Beach Monday, in the 25-40 mph range, with some rain possible, but the main impact of Irma will remain to the east. Winds will diminish Tuesday and the weather looks great for the rest of the week. If I had a vacation trip planned to Panama City Beach, I would go without hesitation.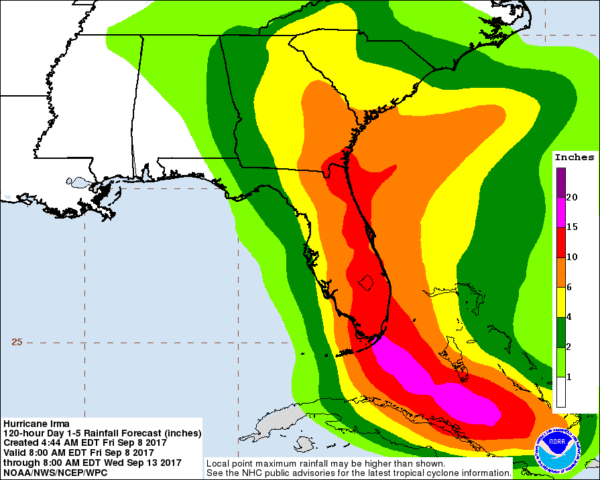 ALABAMA: The circulation center of Irma is expected to move through North Georgia, and perhaps through the northeast tip of Alabama Tuesday as a tropical depression. We will remain on the "good" west side, but it will be windy with rain at times Monday afternoon through Tuesday over the northern and eastern counties of the state. Rain amounts of 1-2″ are likely, and winds will be in the 20-30 mph, with occasional higher gusts.
We don't expect any flooding issues, and there is no risk of tornadoes. Southwest Alabama (the broad area from Demopolis down to Mobile) will see no rain at all.
GEORGIA/SOUTH CAROLINA: Atlanta could see winds in the 30-40 mph range late Monday night and Tuesday as the circulation center passes pretty much over the city; there could be some trees blown down and scattered power outages, but noting widespread is expected. A few isolated tornadoes are possible Tuesday over East Georgia and South Carolina.
Lots of wind and rain for the Georgia and lower South Carolina coast Monday, but Irma will not make a landfall on the the coast there based on the latest NHC forecast.
REMEMBER: There is a flood of weather information floating around social media… some good, some bad. Stick with a reliable source, or the official products from NHC. And, if you are using a forecast that is more than six hours old, it is bad information. Use the most current update.
KATIA: The hurricane in the Southwest Gulf of Mexico will drift into the Mexican coast tonight; no threat to Texas or any part of the U.S.
JOSE: The hurricane east of Irma will meander around in the open Atlantic for the next 7-10 days. Too early to know if it will impact any part of the U.S.
WEATHER BRAINS: Don't forget you can listen to our weekly 90 minute netcast anytime on the web, or on iTunes. This is the show all about weather featuring many familiar voices, including our meteorologists here at ABC 33/40.
CONNECT: You can find me on all of the major social networks…
Facebook
Twitter
Google Plus
Instagram
Pinterest
Snapchat: spannwx
For more weather news and information from James Spann and his weather team, visit Alabama Wx.