Brian Peters: Irma set to slam Florida Sunday, will send Alabama some rain next week from Alabama NewsCenter on Vimeo.
TODAY: We're starting the day out with clear skies across the Southeast as all interests remain focused on Irma. Look for another very nice day with highs in the lower and middle 80s in central Alabama.
FOOTBALL WEATHER: Heading to a football game? Alabama will host Fresno State in Tuscaloosa this afternoon with a 2:30 p.m. kickoff. The sky will be sunny with temperatures falling from near 84 degrees at kickoff to near 77 by the end of the game. Auburn is on the road to take on Clemson in South Carolina this evening with a 6 p.m. kickoff. The sky will be clear with temperatures falling from 70 degrees at kickoff to near 65 by the final whistle. The weather will be dry Sunday for those traveling back to Alabama; any impact from Hurricane Irma in South Carolina will come Monday into Tuesday. UAB will be in Muncie, Indiana, playing Ball State this afternoon with a 2 p.m. kickoff. We are forecasting a clear sky with temperatures in the 65- to 68-degree range during the game.
BEACH FORECAST: Be sure to keep up to date with the detailed forecasts from Fort Morgan over to Panama City Beach with the AlabamaWx Beach Forecast Center page.
TROPICS: Katia is down to a tropical storm and should continue to diminish over Mexico. Jose is producing hurricane conditions again in the northern Leeward Islands and the Virgin Islands. Jose should continue northwestward for the next several days before becoming almost stationary east of the northern Bahamas and south-southwest of Bermuda.
IRMA WATCH: Irma is forecast to move along the west coast of Florida Sunday and Monday. Irma was visible on the Miami National Weather Service radar this morning as the eye of the hurricane was moving along the northern coast of central Cuba. It is forecast to turn more northward as a category 4 storm and will move directly over the southern portion of the Florida Keys. Southwest Florida is going to take a walloping from Irma as it moves near Tampa around 2 a.m. Monday. During the day Monday Irma should begin to lose some of its strength as it continues northward into west central Georgia by 2 a.m. Tuesday.
Remember, there is a flood of weather information floating around social media — some good, some really bad. Stick with a reliable source, or the official products from the National Hurricane Center. And if you are using a forecast that is more than six hours old, it is bad information. Use the most current update, since events will be changing rapidly. Florida residents coming into Alabama, if you're looking for information, call 211 or 888-421-1266.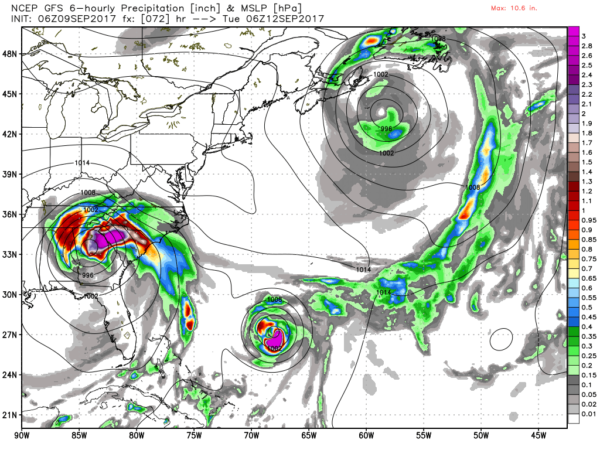 EFFECT ON ALABAMA: The circulation center of Irma is expected to move through northeast Alabama during the day Tuesday as a tropical depression. Central Alabama will remain on the west side of the track, but it will be windy with rain at times Monday afternoon through Tuesday over the northern and eastern counties of the state. Rain amounts of 1 to 3 inches are likely, with the heavier totals near the Georgia border. The wind over much of the northern half of the state will be in the 25 to 35 mph range with occasional higher gusts, especially on ridgetops. I don't expect any flooding issues since we've been dry for much of September. The risk of tornadoes in our state is low, with the primary tornado risk over parts of Georgia and the Carolinas. Southwest Alabama in the broad area from Demopolis south to Mobile will see very little rain at all.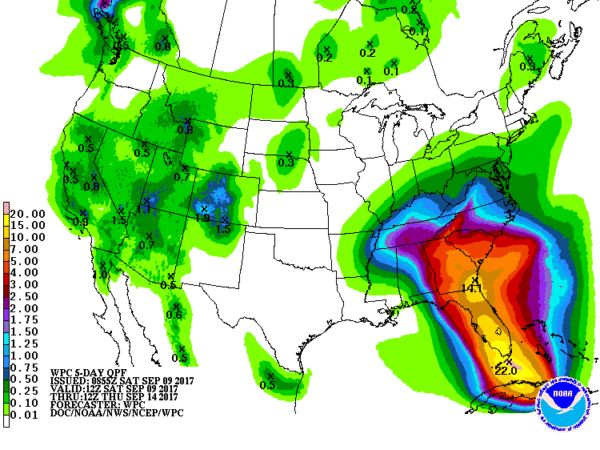 GEORGIA/SOUTH CAROLINA: The Atlanta area could see winds in the 35 to 45 mph range late Monday night and Tuesday as the circulation center passes pretty much just west of the city; there could be some trees blown down and scattered power outages, but nothing widespread is expected. A few isolated tornadoes are possible Tuesday over central and east Georgia and South Carolina. There will be lots of wind and rain for the Georgia and lower South Carolina coast Monday, but Irma will not be making landfall on the coast there, based on the latest National Hurricane Center forecast.
NEXT WEEK: Beginning Wednesday and continuing into the weekend, the upper reflection of Irma will be moving northeast toward southern New England. Rain will remain likely into Wednesday and Thursday. By Friday, the whole kit and caboodle will have moved off enough to bring improving weather here along with some warmer temperatures. High temperatures Tuesday through Wednesday will be primarily in the 70s, though Tuesday we may not be able to get out of the 60s. By Friday and into the weekend, temperatures will recover into the lower half of the 80s.
VOODOO COUNTRY: Alabama will be on the edge of an upper-level ridge by Sept. 18, but the influence of the ridge won't last long as a strong upper trough will once again dig into the eastern half of the country, establishing a fairly deep trough along the eastern seaboard. Jose is forecast to eventually make it northward by Sept. 20 with the potential for landfall in New England. Jose may be working on the record for the longest-lived hurricane.
By Sept. 23, weak ridging is in place across the Southeast, suggesting a warm period for us. In WeatherBrains last Tuesday, James Spann made a comment about having seen our last 90-degree weather. I hope he didn't jinx us.
With Irma closing in on Florida and forecast to track into the Southeast, Alabama Wx will continue to have updates on what is happening. Enjoy the nice weather here. Please pray for all the people who will be affected by Irma, including all of those who have evacuated as they worry about what is happening back home. Godspeed.