Alabama Gov. Kay Ivey prepared the state's response to Hurricane Irma today by opening the State Emergency Operations Center (SEOC) in Clanton and activating members of the Alabama National Guard.
"Folks, this is an all-hands-on-deck event and all of our state agencies are working together to ensure the safety of all Alabamians and of those who have recently sought refuge in our state," Ivey said at a press conference from the SEOC today.
The governor said she has also stood up four regional emergency operations centers in the state and has offered National Guard support to Florida as the neighboring state takes the brunt of the hurricane.
Many of those Floridians are staying at hotels and camp sites in Alabama thinking they were out of the storm's path. Forecasts for that path, however, have shifted more to the west over the weekend.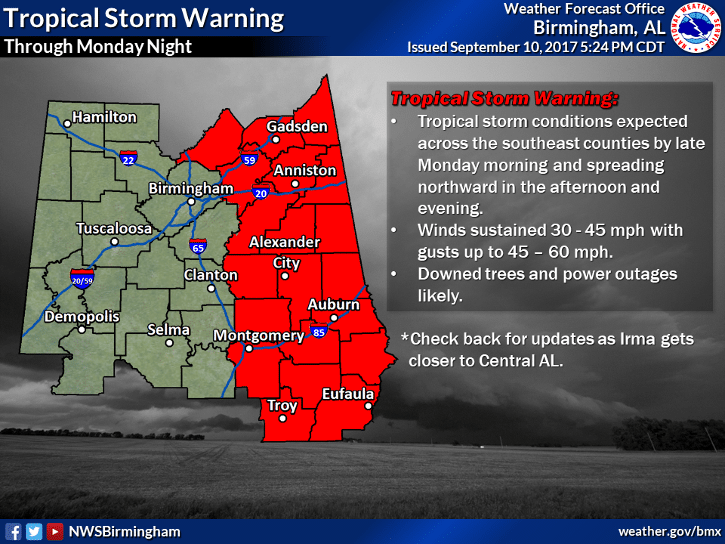 The preparations in Alabama come as the National Weather Service has issued a Tropical Storm Warning for portions of the state and a Tropical Storm Watch for others. Heavy wins and rains could bring down trees, knock out power and cause structural damage in parts of the state.
Alabama Power officials said they are monitoring the weather closely and have alerted crews as they put their own response plan in place.
Alabama Power is also directing customers to its Storm Safety website where they can find a wide-range of information from packing an emergency kit to how the company restores power.
Ivey said the impact of Hurricane Harvey in Texas last month and the destruction Hurricane Irma has caused has helped Alabamians take notice of this warning.
"As a result of the events over the past few weeks, many of my fellow Alabamians, understandably, are concerned and anxious about what lies ahead. That is normal," she said. "But regardless of our fears, we can always remember the truth: That Alabamians can depend on each other, that we place our faith in the Lord and that we are willing to face head-on whatever may be thrown at us."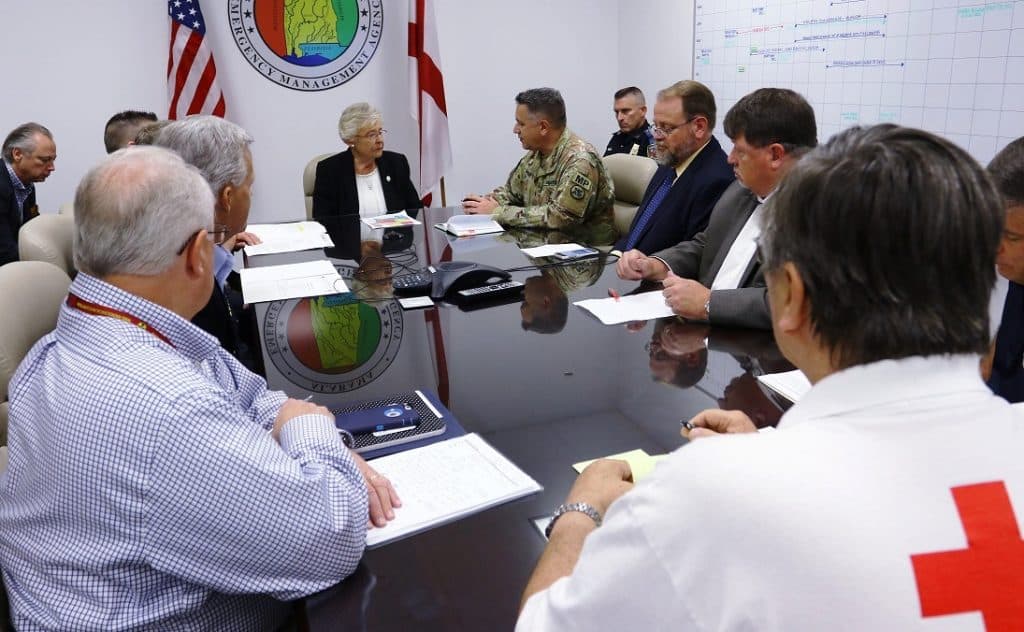 Still, Ivey urged those in the eastern portion of the state to prepare for tropical storm conditions and for everyone in the state to take the storm seriously.
"Certainly I cannot say for sure what will happen. Storms like this one are very unpredictable," she said. "But I am proud to say that we are ready to respond to the people of Alabama, we are ready to protect the people of Alabama."
The SEOC is now in 24-hour operations as new Alabama Emergency Management Agency Director Brian Hastings leads his first significant event with the EMA.
"We have been tracking the path of Hurricane Irma for several days," Hastings said. "As the track started to shift more westward and pose a greater threat to Alabama, we have in turn adjusted the necessary staff and resources to ensure the greatest level of preparedness. In Alabama, our primary threat continues to be the potential for damaging winds and likely power outages and down trees."
Ivey said the National Guard is pre-positioning personnel and equipment to quickly respond where needed in the state. This emergency is also the first significant one since new Alabama Adjutant General Sheryl Gordon took command of the Guard.
"We are taking all prudent steps to plan and posture forces and resources to support the governor and the Alabama Emergency Management Agency in advance of the possible storm effects on the state of Alabama," Gordon said. "Providing defense support to civilian authorities is a core mission for the Alabama National Guard. Our soldiers and airmen are highly trained, well equipped and ready to respond to assist our fellow citizens in Alabama."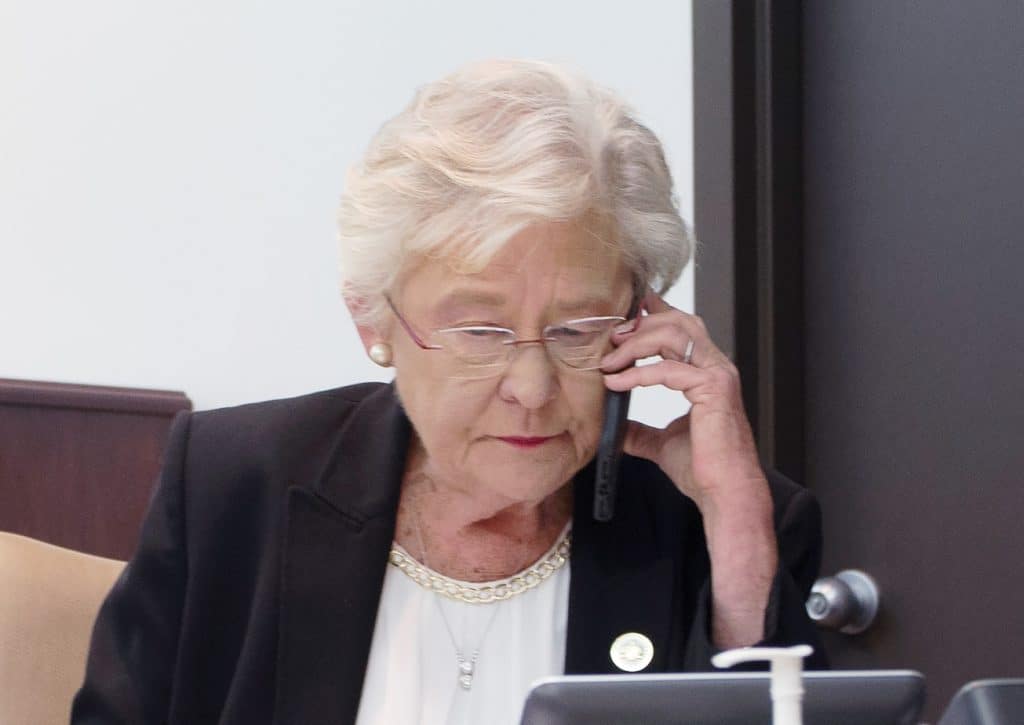 Ivey said she heard from Pres. Donald Trump twice this morning.
"My team is in place, we've got Alabama covered," Ivey said was Trump's message to her and the state.
Several schools and some businesses have announced closings for Monday. Ivey also said state offices in Barbour, Blount, Bullock, Calhoun, Chambers, Cherokee, Clay, Cleburne, Coffee, Coosa, Dale, Elmore, Etowah, Geneva, Henry, Houston, Lee, Macon, Montgomery, Pike, Randolph, Russell, St. Clair, Talladega, Tallapoosa, and any other county hereafter placed under a Tropical Storm Warning by the National Weather Service will be closed Monday.
Gov. Ivey's office has established a website that will have all of the information and updates for citizens and Hurricane Irma evacuees in the state: http://governor.alabama.gov/Irma.