Brian Peters: Alabama stays mostly dry this weekend from Alabama NewsCenter on Vimeo.
TODAY: At daybreak, much of Alabama and the Southeast remained clear with just some patchy fog in places reducing visibility to 4 to 5 miles. It was also mild, with morning lows dipping to around the 70-degree mark. We should see plenty of sunshine today with highs climbing to near 90 once again and only the outside chance for an isolated shower or thunderstorm. Most of us will remain dry.
FOOTBALL WEATHER: Most Alabama teams are playing away this weekend. Alabama will be in Nashville to take on the Vanderbilt Commodores with a 2:30 p.m. kickoff. The sky will be mostly sunny with a kickoff temperature near 88 degrees, falling into the mid 80s by the fourth quarter. The Nashville area should be dry. Auburn goes head-to-head with Missouri in Columbia this evening. Weather for the 6:30 kickoff should be clear with temperatures falling from 85 degrees at kickoff into the upper 70s by the final whistle. And UAB plays North Texas, with a 5:30 p.m. kickoff in Denton, Texas. The weather will be dry with a fair sky, about 90 degrees at kickoff falling through the 80s during the game. Jacksonville State is playing in Alabama, kicking off its home opener with Liberty University at 6 p.m. Isolated showers will be possible in the Jacksonville area, with temperatures falling from around 85 at kickoff into the lower 70s by game end.
AT THE BEACH: Beach weather will be somewhat wet through the first of the week before the weather improves. Highs will be mainly in the middle 80s with the water temperature running around 84 degrees. Click here to see the AlabamaWx Beach Forecast Center page.
TROPICS: As we continue to move away from the peak of hurricane season, we have two storms in the Atlantic Basin: Maria, remaining a major hurricane just east of the Bahamas, and Lee, nearly dead center of the Atlantic Ocean as barely a tropical storm meandering there. Maria is forecast to remain a major hurricane into Monday as it tracks northward between Bermuda and the U.S. East Coast. Tuesday we should see some loss of intensity as it moves over cooler water. Wednesday it will be making its closest approach to the United States as it turns northeastward. Swells along the East Coast from Florida all the way to New York will present a danger until Maria begins moving away.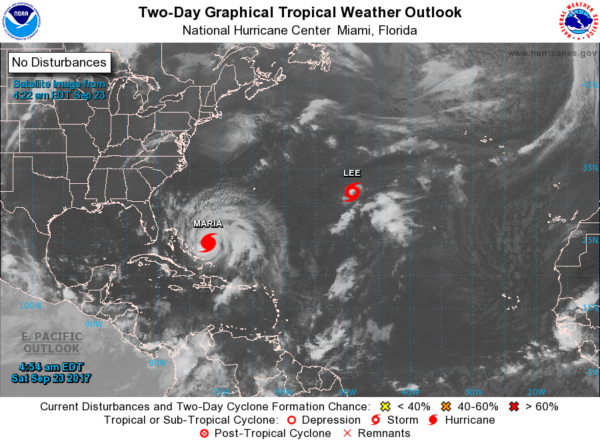 NEXT WEEK: The weather pattern over the Southeast features an inverted trough along the Northeast Gulf Coast today that will gradually retrograde and weaken. By Tuesday it will be washing out over the Lower Mississippi River Valley. This kind of feature would typically present with some pretty good chances of showers or storms; however, precipitable water values across much of the Southeast, with the exception of the Gulf Coast, remain relatively low, so showers and storms should remain confined primarily to the immediate coastal area through Tuesday. Highs for Central Alabama should remain in the middle to upper 80s.
Tuesday and Wednesday we see a strong trough move into the Great Lakes, where it will be reinforced Thursday and Friday, resulting in a fairly deep trough along the coast of the eastern U.S. While we are likely to see a weak front move into and across the Southeast at the end of the week, the air mass is likely to remain fairly dry, so it does not look likely that we'll see any showers with this front. But with a surface high pressure system settling into the Central U.S., we should see a nice downturn in temperatures, with highs by Friday and Saturday reaching only near 80 degrees and lows in the 50s. Ah, the feeling of fall in the air.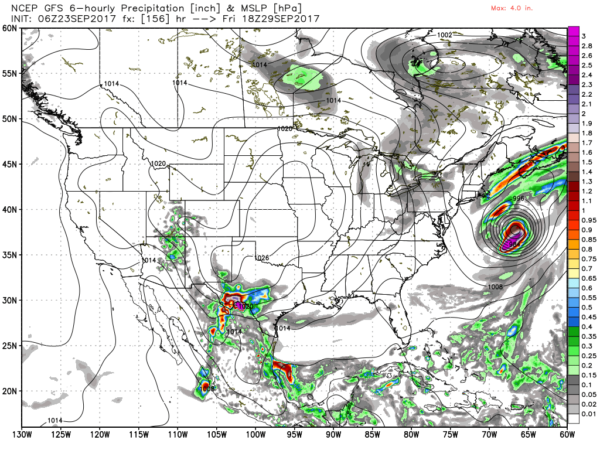 LONG TERM: Looking into voodoo country, the Global Forecast System is insisting that we'll see another substantial ridge around Oct. 3 for some warm weather to start October. A weak trough sneaks into the picture coming under the ridge around Oct. 5 and sticking around until Oct. 8. This could spell some wet weather; however, the air mass is forecast to stay dry, so it is unlikely this feature will result in much, if any, precipitation.
WEATHER BRAINS: You can listen to our weekly 90-minute netcast anytime on the web, or on iTunes. This is the show all about weather featuring many familiar voices, including meteorologists at ABC 33/40.
Have a great day and Godspeed.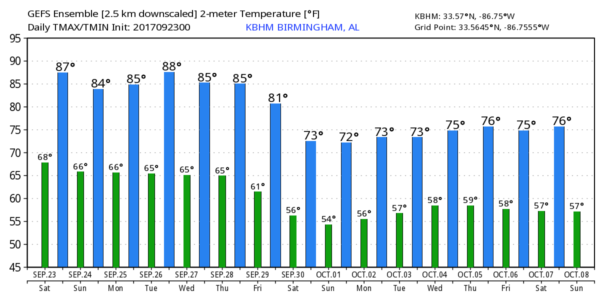 For more weather news and information from Brian Peters and other members of the James Spann team, visit Alabama Wx.