As the new fall TV season begins to unfold, there are a lot of things to look for.
The cast of "Will & Grace" is reuniting, Kyra Sedgwick and Jeremy Piven are returning with new series, and stalwarts such as "Grey's Anatomy," "Scandal" and "Modern Family" are all coming back.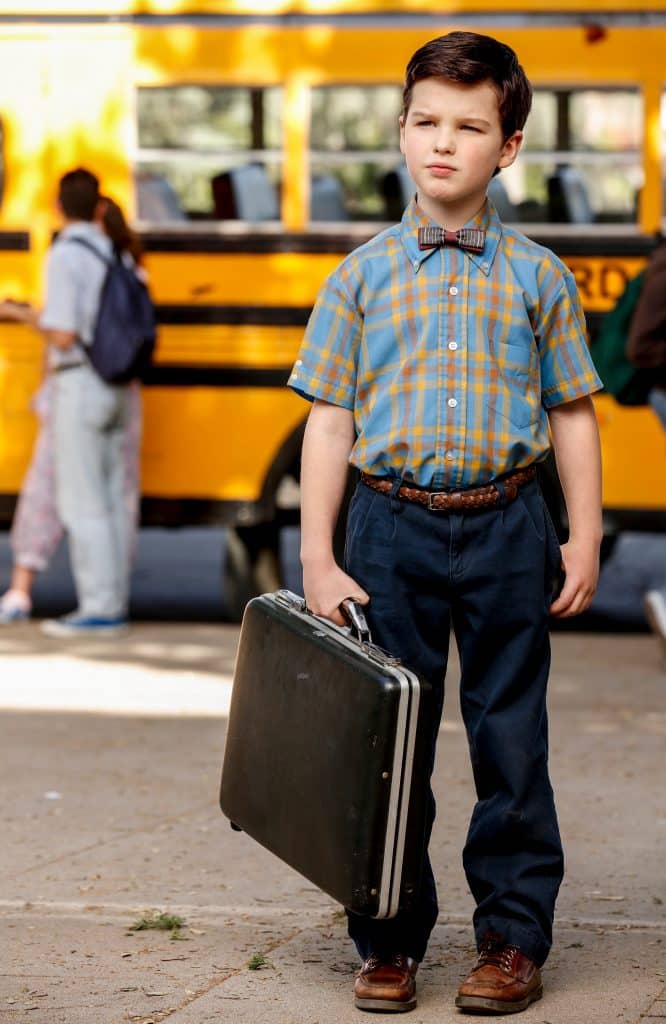 But few shows have the amount of positive buzz that "Young Sheldon" has had, and the 9-year-old star of that "Big Bang Theory" spinoff has strong Birmingham ties.
Iain Armitage is the great-grandson of Virginia Samford Donovan, namesake of the Virginia Samford Theatre on Birmingham's Southside. Iain, who called her Ginna, met her before she died in 2011.
"Ginna died when I was 2, so I don't remember a lot about her, but I know that when she first met me she said she could see my blue eyes," he says. "I'm not sure how she could see them, because she had lost most of her vision by then, but she said she could, and I believe her."
He's also keenly aware of her impact on the theater community in Birmingham.
"I'm proud that there is a theater named after her in Birmingham," he says. "I'm sure my love of acting came from her, and also my love of dressing up nice. She always liked people to dress up. Some people in my family are very casual, but I enjoy dressing up."
That family includes great aunt Mae Samford Robertson, who still lives in Birmingham, and grandmother Laura Armitage, who now lives in Richmond Hill, Georgia, near Savannah.
Both say it was evident from an early age that Iain had his great-grandmother's acting genes.
"Iain recited a Shakespearian sonnet at my son's wedding when he was only 4 years old," recalls Robertson, whose brothers Frank and John live in Georgia. "He always enjoyed going to the theater and watching other people act."
In fact, Iain (whose mother is Laura's daughter Lee and father is Tony nominee Euan Morton, now appearing as King George in Broadway's "Hamilton") was "discovered" while doing video reviews of Broadway shows.
"That's where people noticed him," Laura Armitage says. "That's where the agent noticed him."
Since then, Iain has filmed an episode of "Law & Order: Special Victims Unit" and starred as Shailene Woodley's son in the acclaimed miniseries "Big Little Lies."
But none of those has had the hype of "Young Sheldon," which delves into the East Texas childhood of Sheldon Cooper, one of the scientists on "The Big Bang Theory." Iain is Sheldon as a child, while Jim Parsons, an Emmy winner for playing Sheldon on "The Big Bang Theory," provides the narration.
"I met Jim Parsons in New York, and we went out with him," Laura Armitage says. "He couldn't be nicer or more down to Earth. All of the people that Iain has worked with have been so nice."
For his part, Iain says working on "Young Sheldon" is "so much fun."
"It's a lot of work, but it is fun work," he says. "I like having a brother and a sister, and I enjoy everything about the crew."
Mae Robertson says Iain shares some traits with the character of Sheldon Cooper, a smart man known for his quirks and his awkward interaction with other people.
"Iain is bright and curious like Sheldon, but he is a very social kid who enjoys interacting with other people, so that part is a stretch," she says. "He is also really a kind young man. My grandson, who is 3, adores him, and it is a beautiful thing to see how sweet he is with him."
Whether "Young Sheldon" is a hit is irrelevant right now, Iain's grandmother says.
"He's having the time of his life," Laura Armitage says. "He's having a blast whatever happens. He doesn't care."
"Young Sheldon" previews tonight, September 25, at 7:30  on CBS.