Click here to view or print the entire monthly report compliments of the ACRE Corporate Cabinet.
Sales: Lake Martin waterfront sales totaled 37 units during August, a 23.2 percent increase from the same period in 2016. Sales for August 2016 on Lake Martin's waterfront totaled 30 units. It is important to note that even single-digit changes in the home sales total can cause double-digit percentage changes.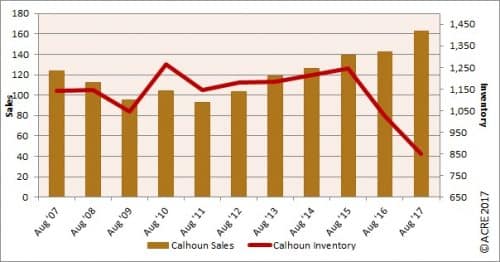 Supply: The Lake Martin waterfront housing inventory in August was 247 units, a decrease of 6.8 percent from August 2016 and 44.7 percent below the July peak in 2010 of 447 units. August inventory decreased by 33.2 percent from July. There were 6.7 months of housing supply in August (6 months is considered equilibrium).
Pricing: The Lake Martin waterfront median sales price during August was $421,000, an increase of 15.3 percent from August 2016 and 4.3 percent below the prior month. Pricing will fluctuate from month to month because of changing composition of actual sales (lakefront vs. non-lakefront) and the sample size of data (closed transactions) being subject to seasonal buying patterns. ACRE recommends contacting a local real estate professional for additional market pricing information.
Industry analysis: "For the first time in 2017, we have increased our full-year growth outlook. The upgrade reflects economic activity gaining momentum at the end of the second quarter, though we see a great deal of uncertainty surrounding the forecast," said Fannie Mae Chief Economist Doug Duncan. "The list of uncertainties now extends beyond the geopolitical and legislative, as the effects of Hurricanes Harvey and Irma will require time to untangle. Historically, natural disasters that hit heavily populated areas led to substantial near-term declines in economic activity but meaningful rebounds in subsequent quarters due to rebuilding efforts. Thus, economic growth in the second half of 2017 could still average a slightly stronger pace than the first half. Unfortunately, we continue to expect home sales to be flat during the second half of the year compared to the first half due to strong home price appreciation and lean inventories."
The Lake Martin Waterfront Residential Monthly Report is developed in conjunction with the Lake Martin Area Association of Realtors to better serve area consumers.