While fall Saturdays in Alabama typically mean watching college football, Gov. Kay Ivey today urged Alabamians to pay attention to the fast-moving Hurricane Nate.
"Saturdays are important in Alabama because this is college football season," Ivey said at a 2 p.m. news conference of state officials. "While we know that football is important and we wish our teams well, today our focus must shift."
Ivey warned that Nate is expected to make landfall near the Alabama-Mississippi border at midnight as a Category 2 hurricane.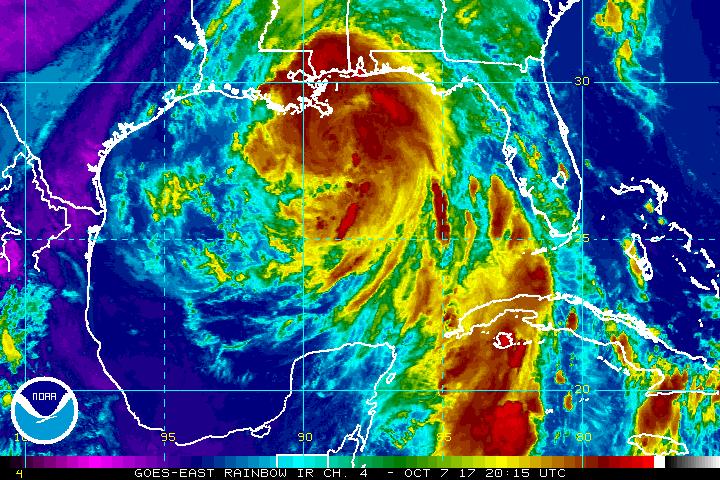 "This threat is for real in Alabama," she said.
Ivey said Alabamians must act quickly to prepare for the storm's effects before conditions worsen. "Once the storm makes landfall, conditions will be such that first responders will not be able to answer calls for help until it is safe to do so," she said. "So please, please, it's very important you decide what you're going to do, where you're going to go, and do so immediately."
Alabama Emergency Management Agency Director Brian Hastings echoed Ivey's warning.
"I cannot stress enough, Hurricane Nate is an Alabama storm. This is our storm and it's going to affect all of us," he said. "It's not a coastal issue, not a central issue, it's from one end to the other, and the window for getting prepared is quickly closing."
Ivey told Alabamians to make sure they have emergency kits stocked with food, water and medications for several days, to have batteries and to make sure their cellphones are fully charged. Also, she asked that they heed warnings form their local officials.
"Alabamians are resilient, determined, and when we're prepared, we can face whatever comes our way," the governor said. "Take action now."
State Meteorologist Jim Stefkovich said a tropical storm warning has been issued for 37 counties as far north as Cherokee County in northeast Alabama. He said to expect sustained winds inland of 30 to 40 mph, with gusts up to 70 mph as far north as Demopolis and Selma.
He said potential damage from Nate could be much worse than what Alabama suffered when Irma came through the state last month.
Major General Sheryl Gordon, adjutant general of the Alabama National Guard, said the Guard has activated its emergency operations center and has prepositioned some troops in advance of Hurricane Nate with the ability to surge more troops to assist where necessary.