Nate is expected to be a category two hurricane tonight at the time of landfall.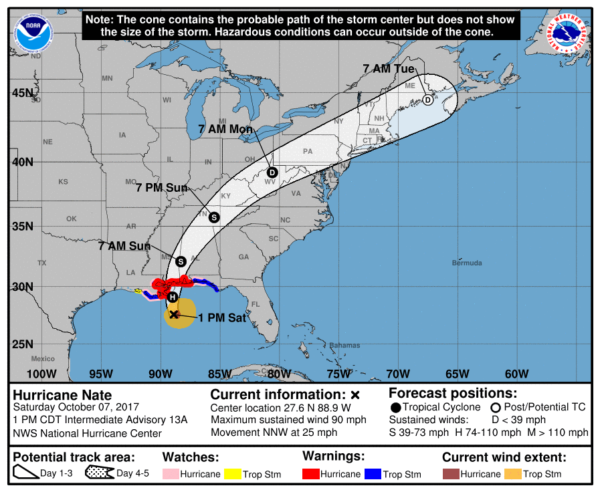 The first feeder bands associated with the hurricane are already on the coast, and conditions there will continue to deteriorate through tonight. A hurricane warning remains in effect for the Alabama Gulf Coast, where beachfront and low-lying areas will experience life-threatening storm surge of 6 to 9 feet above normally dry ground and hurricane force winds.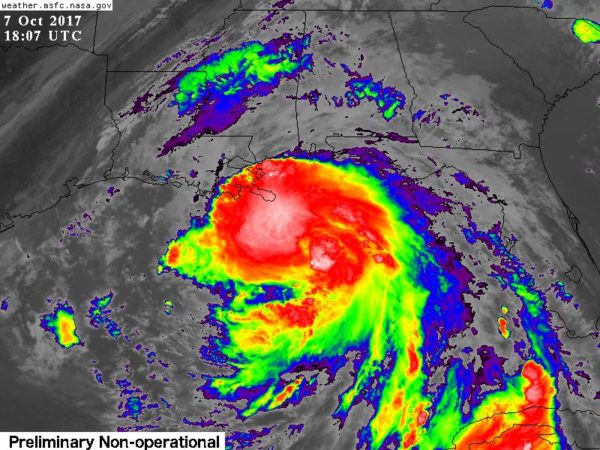 An evacuation order has been issued for West Beach in Gulf Shores. All access to the W.C. Holmes Bridge over the Intracoastal Waterway on State Highway 59 will be restricted once sustained winds reach 45 mph which is anticipated as early as 7 p.m. Anyone remaining in areas under evacuation orders should understand all emergency response will be suspended once conditions deteriorate to unsafe levels.
TOMORROW: Due to the rapid forward motion, strong winds will carry well inland into Alabama; tropical storm warnings are in effect as far north as Birmingham, Oneonta, Gadsden, and Centre tomorrow. Wind and rain will increase after midnight tonight, and during the pre-dawn hours tomorrow across Central Alabama.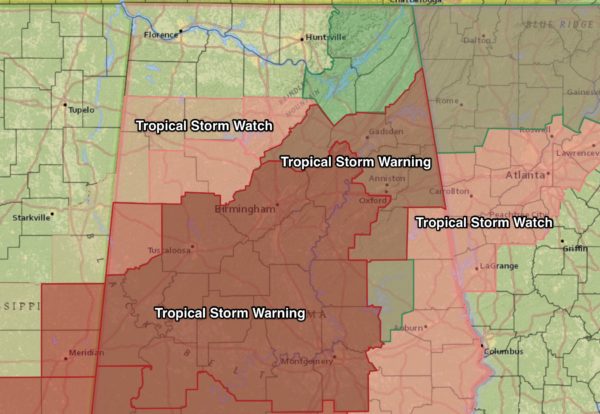 In the tropical storm warning counties, wind gusts will be in the 30-50 mph range, enough to knock down trees and power lines. Be prepared for power outages, and secure loose objects in your yard that might go airborne. Some places could see gusts over 65 mph, especially from Tuscaloosa south and west.
A few isolated tornadoes are possible tomorrow as well, and rain amounts of 2-4 inches are expected.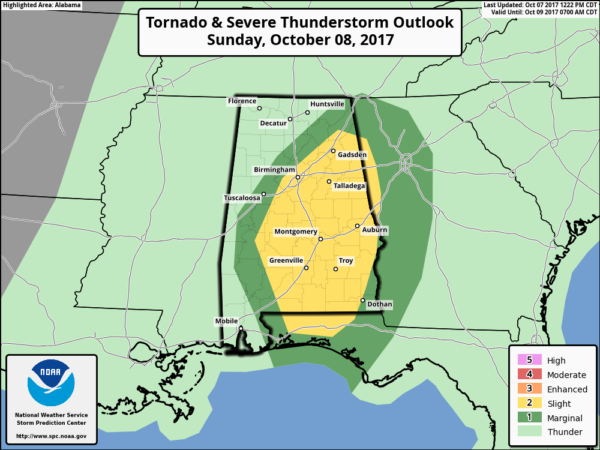 Expect lots of wind rain ALL through the day tomorrow across Central Alabama; conditions closely improve tomorrow night.
Stay tuned to the Alabama Wx blog for frequent updates…