The center of Tropical Storm Nate is currently approaching Sweet Water in southern Marengo County, and Thomasville in northern Clarke County. Nate continues to move off to the northeast rapidly at 23 MPH. Maximum sustained winds are at 45 MPH. The quick weakening trend in wind speeds will continue, but the quick forward motion will keep tropical storm force winds likely, even as the center passes through the Birmingham Metropolitan Area. The rain bands could intensify with the daytime heating, so winds could be even stronger and a few tornadoes could form east north and east of the center.
---
TIMING OF ARRIVAL OF STRONGEST WINDS
Strongest winds will start in the Tuscaloosa area by 8:00 AM and making it into the Birmingham area by 9:00 AM. We can expect sustained winds around 40-45 MPH with gusts up to 60 MPH possible by that time. Those stronger winds will move into the Gadsden and Anniston area at or just before noon, with sustained winds of 30-35 MPH and gusts up to 45 MPH possible.
We can still see a significant impact from the winds, especially with fallen trees and power lines, along with wind damage to residential buildings and various structures.
---
TORNADO THREAT
Throughout the day today, the higher threat for these tropical-type spin-up tornadoes will be mainly contained to the eastern half of the state, especially east of a line from just east of Selma to Columbiana to Ragland to just east of Cedar Bluff. There is a less likely threat just to the west that includes the cities of Tuscaloosa and Birmingham, but tornadoes cannot be completely ruled out for these locations.
---
RAINFALL POTENTIAL
Even with the fast forward motion of Tropical Storm Nate, I do believe rainfall totals for the locations north and east of the center will receive the greatest amounts. Nearest to the path of the center, we can see rainfall amounts of 3-5 inches with some localized higher amounts. I believe the amounts will probably drop off pretty close to what the NWS Birmingham office has in their graphic, with 1-3 inches possible on the outer fringes.
A Flash Flood Watch is in effect through Sunday evening for much of the Central Alabama area, including the counties of Blount, Etowah, Calhoun, Cherokee, Cleburne, Tuscaloosa, Jefferson, Shelby, St. Clair, Talladega, Clay, Sumter, Greene, Hale, Perry, Bibb, Chilton, Coosa, Tallapoosa, Marengo, Dallas, Autauga, Lowndes, Elmore, and Montgomery.
OTHER WATCHES & WARNINGS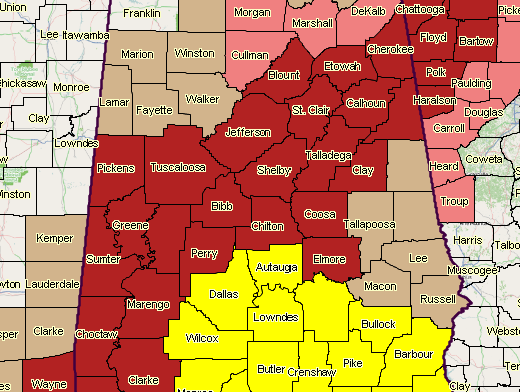 A Tornado Watch is in effect until 10:00 AM for Autauga, Barbour, Bullock, Dallas, Lowndes, Montgomery, and Pike counties.
A Tropical Storm Warning is in effect for Autauga, Bibb, Blount, Calhoun, Cherokee, Chilton, Clay, Cleburne, Coosa, Dallas, Elmore, Etowah, Greene, Hale, Jefferson, Lowndes, Marengo, Montgomery, Perry, Pickens, Shelby, St. Clair, Sumter, Talladega, Tuscaloosa, and Walker counties until further notice.
A Tropical Storm Watch is in effect for Bullock, Fayette, Lamar, Macon, Marion, Pike, Randolph, Tallapoosa, and Winston counties until further notice.
The Tropical Storm Watch has been cancelled for Barbour, Chambers, Lee, and Russell counties.
---
POWER OUTAGES
Alabama Power is reporting a total of approximately 59,000 that are currently without power statewide, with 56,000 of those in the Mobile area.
For more weather news and information from Scott Martin and the rest of the James Spann weather team, visit Alabama Wx.