The center of now Tropical Depression Nate was passing Birmingham with a barometric pressure of around 29.45 inches. Winds were averaging 9-18 mph across the area with gusts to 20-30 mph where heavy showers are able to mix upper level winds to the surface. So far, the peak gusts have been 35 mph at the Birmingham Airport, 40 mph at the Shelby County Airport in Calera where the National Weather Service is located, 25 mph at Tuscaloosa, 43 mph at Anniston and 29 mph at Gadsden. A cooperative observer at Poole's Crossroads in Chilton County measured a wind gust to 46 mph.
RAINFALL: With the wind came the rain. Most of the area has picked up 1.5 to 3 inches of rain with a swath of four plus inches from northwestern Autauga County across western Chilton and eastern Bibb Counties. Because of the recent dry weather, flash flooding has not been a problem across North Central Alabama. Flood advisories were issued for parts of South central Alabama, though, and some homes were threatened in Elba, a place steeped in Alabama flood lore. The rain will erase the recent dry spell we have been experiencing.
SEVERE WEATHER THREAT: The threat for severe weather has ended for ALL of Alabama. Here is the new SPC Day One Outlook, showing the low-level severe risk well to our east.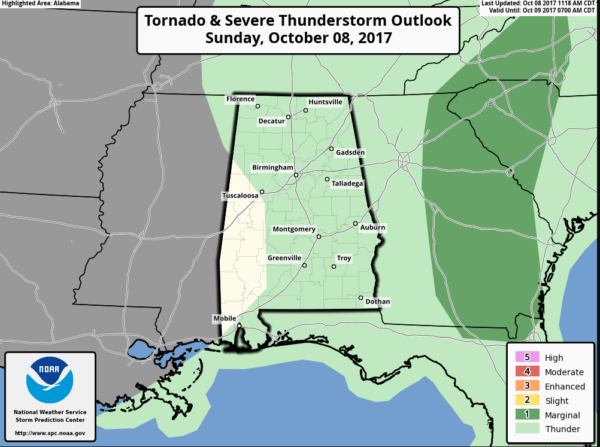 POWER OUTAGES: 31,300 Alabama Power customers are without power in the Mobile area. 26,100 are in the dark in the Birmingham area and another 15,300 across the rest of Central Alabama. 87,000 total are without power. Over 1,000 men and women are already out restoring power.
REST OF THE AFTERNOON: The center of Tropical Depression Nate will continue tracking just west of I-59. The highest winds will be over Northeast Alabama, where some gusts could reach 40-45 mph. Hillsides and ridgetops will see the highest winds and more trees will be downed. The rain was ending in the Birmingham Metro at noon and the heaviest rain will be out of the state by 3 p.m. But showers will continue through the evening hours, especially in the convergence zone in the I-59 Corridor from West Alabama up through the Birmingham area. The precip will be lessening in coverage with time.
BYE BYE NATE: The broadening center of Nate should be into southern Tennessee by 6 p.m. The National Hurricane Center has already written its final advisory on Nate.