The tornado watch for Alabama has been allowed to expire or has been canceled by the various NWS offices.
The center of tropical depression Nate is approaching the Birmingham Metro at this hour. the lowest pressure this hour in the state is at Demoplis where the barometer reads 29.44 and is rising. Tuscaloosa is reading 29.47 and falling. Birmingham is at 29.63 and is falling.
There is a surface map: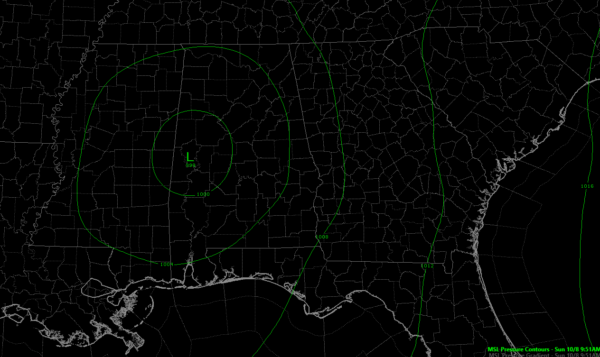 No severe weather has been associated with that main former eyewall of Nate. Here is the radar showing the core of the depression and the moderate to heavy rain.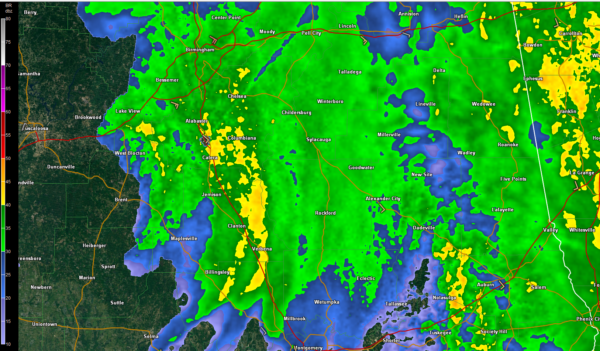 The state is totally socked in with clouds, so instability is going to be hard to come by. The only significant CAPE in the state now is right along the Georgia border moving into Georgia with that main large feeder band.
A new SPC day one severe weather outlook will be issued at 11:30 or so. For now, they outlook the eastern third of the state from about Cherokee County southward in a marginal risk associated with that main feeder band.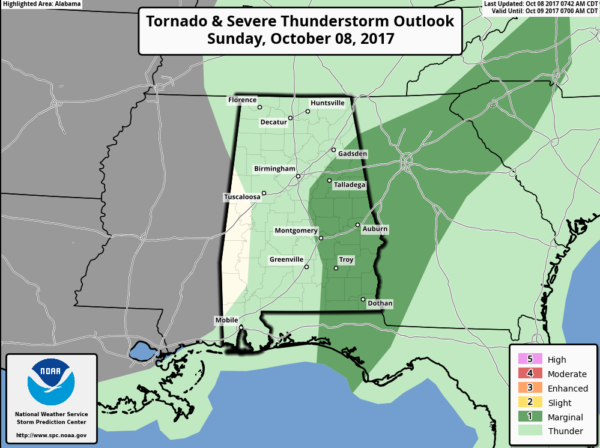 I think even more of the state will be dropped from the risk on that outlook issuance.
Winds are averaging 9-18 mph across the area with gusts of 25-30 mph generally. You can really pick out the location of the low with the wind directions: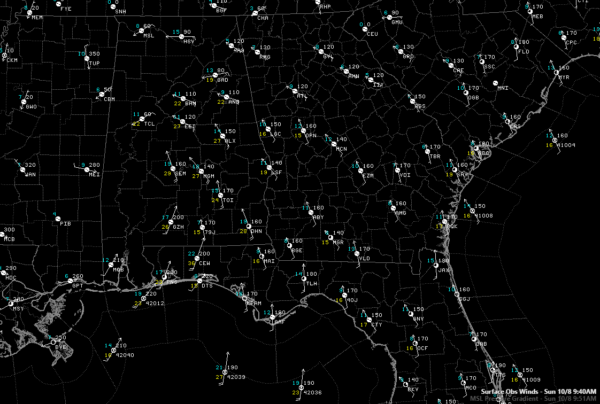 Rain has ended for Tuscaloosa and should end in the Birmingham Metro area completely by 12:30.
Strong winds will continue to affect northeast Alabama, especially on ridge tops and hillsides. Trees will continue to be downed.
A wind advisory now covers all of Central Alabama:
Across the area, the tropical storm watches and warnings have been dropped. Wind advisories are in effect.
Winds will continue to gust to 30 mph or higher to the northeast and southeast of the center. After 2 p.m., winds should begin to drop below 30 mph. Winds should drop below 20 mph west of I-65 by 6 p.m. and diminish through the evening hours over East Alabama.
Alabama Power reported approximately 81,600 outages statewide at 10:45 a.m., with the majority (46,200) in the Mobile area.
For more weather news an information from Bill Murray and the rest of the James Spann weather team, visit Alabama Wx.