More than 700 fifth graders, their teachers and parents swept through the learning labs of the Dothan Technology Center recently and got an engaging lesson about nuclear energy and technical careers available to them within miles of home. The event was part of National Nuclear Science Week, (NNSW).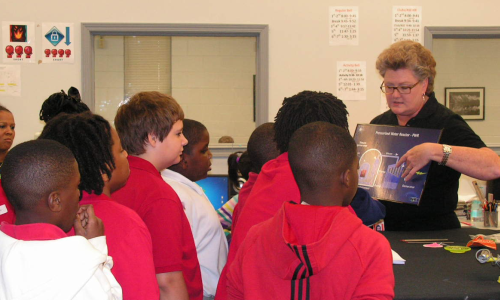 Farley Nuclear Plant and the staff of the plant's Visitors Center – located just a short drive from Dothan and from southwest Georgia – were actively involved in NNSW activities. Events included plant tours and off-site presentations, which offered students a path to better understanding about the vital role nuclear power plays in the nation's energy mix.
More than 100 eighth grade honor students and faculty from Thomas County Middle School in Georgia toured Plant Farley and witnessed demonstrations in the control room simulator.
School sponsor Clayton Woodfin learned about the Visitors Center during a Southwest Georgia Regional Educational Services workshop. "I was as excited as the students," he said of the tour. "It was really special to get the chance to see what a nuclear plant really looks like and to witness the experience of the control room operator in the operations simulator. The students obviously had fun, but they also learned a great deal."
Woodfin said the focus on safety was particularly impressive. "Many students mentioned how much better they feel about nuclear energy since learning about the safety and security measures the plant has in place."
Another 300 eighth graders from Thomas County Middle received presentations in their science classrooms as Visitors Center staff took the show on the road. By week's end, every eighth grader at the school had participated in hands-on activities and witnessed an interactive presentation of plant operations and current industry events.
Science Teacher Denise Heard was excited to supplement her course of study with a presentation from the Visitors Center. "Our students got the opportunity to learn about how electricity is generated through nuclear fission, all the safety precautions that go along with that production, as well as possible career opportunities. We are fortunate to have Plant Farley as an educational resource in our area."
In Dothan, at an event sponsored by the Dothan Education Foundation, a presentation about nuclear careers touched more than 1,000 area high school sophomores, juniors, and seniors. Foundation President Tami Culver said the event opened students' eyes about nuclear careers. "Our hope is that increased awareness will help students, parents, teachers, and counselors become more aware of the opportunities available to those who have the right skills."
By the end of the week, Farley's Visitors Center staff had engaged an estimated 2,000 students, parents, and teachers. Dothan Technology Center Director Terry Scott said: "We rely on our business partners to help us teach Dothan's young students about the wide variety of careers that are available in our area." He said the lessons about nuclear will help expand students' minds about opportunities in the field.
For more information about the Plant Farley Visitors Center, call 334-814-4899.