Global automaker Toyota brought its message of sustainability to Birmingham recently, announcing the donation of 22 Priuses to historically black colleges and universities, including a number of plug-in electric versions of the vehicle.
Toyota announced the donation to media at a news conference and forum at Alabama Power's corporate headquarters. Alabama Power's long record of advancing electric transportation made the company's headquarters a natural location to hold the event.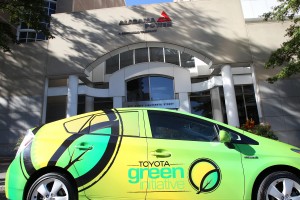 "Thank you to Alabama Power for being a great partner," said Jim Colon, vice president of product communications for Toyota Motor Sales U.S.A., Inc. Colon is the executive sponsor for the Toyota Green Initiative (TGI) the company's ongoing effort to empower the African-American community to adopt a more environmentally sustainable lifestyle.
Joining Colon at the event at Alabama Power were members of the TGI Coalition, a collection of celebrities and environmental experts who speak regularly to students at historically black colleges and universities – and to others – about ways to "go green." They include Tatyana Ali, a singer and actress on BET's Second Generation Wayan's, also known for her childhood role on the NBC hit show The Fresh Prince of Bel-Air. Also with the coalition is Birmingham native Jamal Ali, the Chicago-based author of Black and Green: Black Insights for the Green Movement.
The youngest of 11 children, Ali said his family and other black families "didn't call it green" when they were growing up in the Magic City, but almost everyone in the neighborhood had a vegetable garden. He said he is now trying to teach his children to be good stewards of the environment.
Zakiya Harris, an educator and member of the TGI coalition, and co-founder of California-based Earthseed Consulting, said historically black colleges and universities are not as well versed as some other institutions about sustainability. She said the coalition is helping young African-Americans reconnect to "the legacy of earth stewardship that we've always carried."


Birmingham Mayor William Bell also attended Toyota's event at Alabama Power. Bobbie Knight, vice president of Alabama Power's Birmingham Division, offered greetings and congratulated the automaker on its sustainability efforts. She noted Alabama Power's ongoing efforts to promote electric transportation, and its partnership with the city of Birmingham on a number of green initiatives.
Colon praised Alabama Power for its efforts to build the infrastructure for growing the electric vehicle market in Alabama. He said Alabama Power is among "the companies that will help drive how we behave in the future."