Like the phoenix that rises from the ashes, sometimes the greatest love – and the most caring and patience – is born from adversity. Such is the case with Jake Craft, a 26-year-old who daily shares his talents and caring spirit with children at the Burkett Center, which assists disabled students in Jefferson County. In honor of Craft's helping improve the lives of children, the Alabama Power Foundation in March awarded him a $1,000 New Teacher Grant.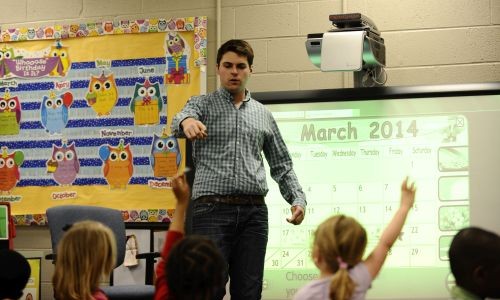 Craft has given back since he was 15, first serving as a teaching assistant for special needs children at the Rise School in Tuscaloosa. For Craft, the award is a culmination, of sorts, of the career and life that he daily fights to achieve. "I know how important early intervention programs are, because I attended special programs when I was younger," said Craft, who at six months was diagnosed with cerebral palsy and whose forward-thinking parents enrolled him in early intervention programs as a 1-year-old. "The earlier you receive the services, the bigger the impact."
Craft endures mild weakness on his left side, a byproduct of hemiplegic cerebral palsy. "The doctors thought I had a stroke in utero, before I was born, probably in the third trimester," Craft said. "I'm very right dominant – I do everything with my right side. I can still play sports, but it's harder."
Like the students he teaches, Craft deals with differences.
Trial by fire
Growing up in Aliceville, life was normal for Craft until November 2000, when he was 13. In a deep sleep, Craft was awakened by "tons of things crashing" – and incredible heat. "My house was engulfed in flames," Craft remembers. "I got out of bed and the heat knocked me back. I was trapped. The one window in my room had a window unit. I wasn't strong enough to get it out." In a panic, Craft pushed on the air-conditioning unit as hard as he could, to no avail.
Finally, when all seemed lost, the window unit came crashing down. "My dad had come around from the outside of the house and ripped the window unit out," Craft said. "He pulled me out the window."
Approximately 75 percent of Craft's body was burned. He spent the next 56 days at Children's Hospital of Birmingham. Enduring intense pain as well as many surgeries the next two years, his treatments were necessary to remove damaged skin and tissue. "It's an everyday struggle with burn issues," Craft said. "But, today I feel good. For me, I look at it as one of those things you go through. You have to keep a positive outlook."
Back to class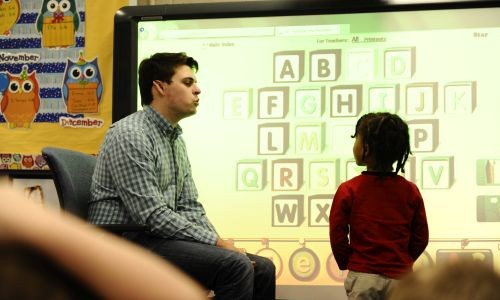 Following the surgeries, Craft got the idea to teach. In high school, he began assistant teaching at Rise School. He majored in early childhood special education at the University of Alabama. While working at Rise, Craft met Dr. Jennifer Kilgo, a professor in UAB's School of Education. Demonstrating much promise, Craft received a grant that covered his master's degree studies.
In the Transteam program, Craft had classes with occupational therapy and physical therapy students, collaborating with them in treating disabled youngsters. When Craft graduated from UAB's master's program in August 2013, Kilgo was determined to keep up with him. She was so impressed with Craft's work with Rise students, Kilgo nominated him for a New Teacher Grant through the Alabama Power Foundation.
"Jake has been so successful this year in his first year as a teacher, and he's as deserving of this award as anyone," Kilgo said, smiling. "Jake is committed, he is open to learning, he works hard, he never, ever stopped trying to be successful … he's just that kind of person." Craft never suspected a thing. "Mrs. Kilgo told me, 'Go look in the mail. There's something for you from Alabama Power,'" Craft said. "It was a little shock."
An early career boost
Earlier in March, Gardendale Office Manager Rasheeda Burton presented Craft with the award. The Alabama Power Foundation has awarded New Teacher Grants since 1995. "Our educators have a critical role in preparing leaders of tomorrow and we are honored to assist them by providing these grants," said Foundation President John Hudson.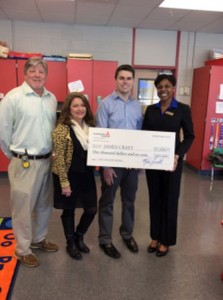 The award was icing on the cake for Craft. His positive view of the future emanates from watching his preschool students grow and advance. As a first-year teacher at the Burkett Center, Craft's focus is on students ages 3 to 5. His 21 students rotate each day, moving between various life-skills classes. He's a natural, lavishing encourager for students as they attempt new tasks. Burkett Center Principal Dan Roth said, "When I interviewed Jake, I didn't know he had a disability. Just his concern for kids, knowledge and experience through the Rise program was very appealing."
Craft's real excitement comes from watching his preschoolers achieve their goals as they ready for kindergarten. "I enjoy being able to see the progress my kids have made, and to feel that I have impacted them in a positive way," he said. "It's getting them comfortable with the process."
As for Craft's plans for the Alabama Power grant, he wants to buy language-building materials, furniture and sensory equipment to provide the students with sensory input to meet their needs. "It will help make my classroom feel complete," Craft explained. "We're a centers-based class, and my kids go through a rotation of sections for different skills, so I'm working at getting the room sectioned off for the various centers."
Easily discerning physical and mental hardships in others, Craft said the difficulties he has faced inspire him to help others. "The things I've gone through have impacted my life," he said. "It's made me who I am today." "My family has been amazing," Craft said. "From the constant care my parents gave and the things they gave up so I'd have what I'd need to succeed – things like doctor's appointments and special programs, my family never let me give up."
Craft said he hopes to continue working within the Jefferson County school system – and he appreciates the assistance he's receiving from the Alabama Power Foundation. "I was very grateful and honored to be chosen for this teacher grant," he said. "I am so grateful to Dr. Kilgo for nominating me, and so grateful to the Alabama Power Foundation."
Craft is among 14 teachers who received New Teacher Grants for $1,000 from the Alabama Power Foundation. Here are the other winners:
| | | |
| --- | --- | --- |
| Teacher | School | Degree from |
| James (Jake) Craft | Burkette Center | UAB |
| Jake Green | Piedmont High | Jacksonville State |
| Nicole Mitchell | WF Burns Middle | Auburn |
| Annette Chambers | Oliver Elementary | Troy |
| Alvin Wiggins | Jerry Lee Faine Elementary | Troy (Dothan) |
| Shannon Lee | Clanton Elementary | Montevallo |
| Bobby Jay Sparks | Payne Elementary | Alabama State |
| Ella Johnson | Marbury High | Auburn (Montgomery) |
| Christopher Johnson | Davis-Emerson Middle School | Alabama |
| Kristan Etheridge | Griggs Elementary | South Alabama |
| Reginald Pearson | Westlawn Middle | Alabama A&M |
| Sara Arsman | McDonnell Elementary | Athen State |
| Kristin Flannagan | Deshler High | University of North Alabama |
| Loryn Lemberg | Buckhorn High | University of Alabama in Huntsville |
To learn more about the Foundation and how to apply for a grant, visit http://powerofgood.com.