The Economic Development Partnership of Alabama awarded $250,387 to five of the six Alabama startup companies that spent Thursday morning pitching their ideas "Shark Tank"-style as part of the Alabama Launchpad competition.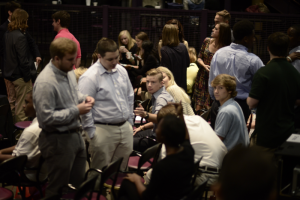 Companies with ideas ranging from cancer screening to car wheel alignment, and from personalized gift boxes for hospital patients to software to help nonprofits raise more money made 10-minute pitches to a five-judge panel at Birmingham's WorkPlay.
In the end, the panel awarded most of the $300,000 available through the EDPA Alabama Launchpad program. The funds will be used toward "proof of concept" to help five startup teams grow their businesses in Alabama.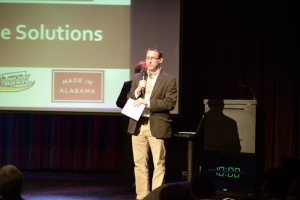 Greg Sheek, Alabama Launchpad programs director, said this year's competition brought a great variety of ideas among the startup companies.
"It's great to see so many different types of businesses taking part in Launchpad this year," he said. "I thought they all did a terrific job with their presentations."
Gov. Robert Bentley helped pass out checks to the five award winners at today's Fourth Annual Alabama Innovation and Entrepreneurship Conference at the Birmingham-Jefferson Convention Complex.
The judges made the awards based on the amount of funding the teams were seeking. All but one received at least a portion of their requested funding.
The companies to receive the awards are:
Smart Party provides a software tool for nonprofit organizations and educational institutions that can be used to host a live, peer-to-peer fundraising game during a fundraising event. It received $89,137, is led by Brooke T. Battle and is based in Birmingham.
SpectraCyte developed high-speed, low-cost spectral imaging solutions for research microscopy and clinical endoscopy that can provide high sensitivity and specificity molecular detention for cellular imaging and cancer screening. It received $87,000, is led by Silas Leavesley and is based in Mobile and affiliated with the University of South Alabama.
Cheeriodicals, which prepares and delivers personalized gift boxes containing magazines and other items to patients, received $43,250. The company is led by Mary Martha Parisher and is based in Birmingham.
Alignment Simple Solutions manufactures QuickTrick products, a portable and compact alignment measurement system anyone can use to increase automotive performance, highway safety and lengthen tire life. The company received $16,000, is led by Tess Winningham and is based in Birmingham.
Healthfundit, a crowd engagement platform for medical research and biotechnology, received $15,000. It is led by Larry Lawal and based in Birmingham.
Alabama Launchpad Competition, started as a pilot project in 2006, is financed by businesses, the state of Alabama and seven universities. Since its inception, more than 30 companies have been funded, splitting more than $1.3 million.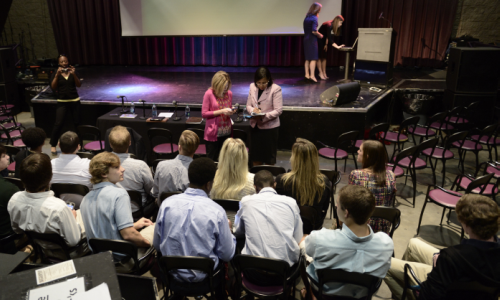 "By also providing mentoring, judges' feedback and valuable commercial assessments to the entrepreneurs in addition to funding, our goal is to help these companies go on to impact Alabama's economy and create future jobs," Sheek said.
— Mike Tomberlin