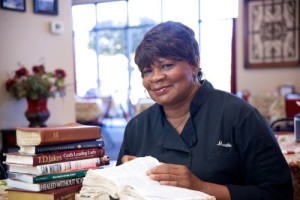 I met Martha at her restaurant in Montgomery. I was having one of the best Southern cooked meals I have ever had – greens, lima beans, scalloped potatoes, squash casserole, etc. But the best was her apple cobbler. While I savored my meal, I watched politicians, utility crews and groups of older ladies and businessmen enjoy their experience in an atmosphere of harmony and satisfaction.
After the rush calmed down, Martha and I sat down to talk. We were promptly interrupted by one of her staff with a question that she answered efficiently and followed with "I love you." And the employee responded "Thanks, I love you too." I am struck by this, but not surprised because of the things I have observed in the short time I have been there. Martha is kind to everyone, and everyone feels the good vibrations.
I read Martha's book at the suggestion of a good friend. Being from Montgomery he had heard her story, eaten the food in her restaurant and had read her book, "Martha's Place." She has spoken to groups all over the country, was featured in Oprah's magazine, and has had many other opportunities to tell her story.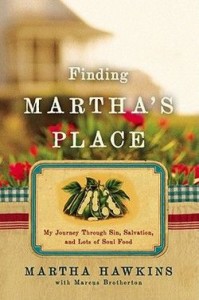 Unfortunately, Martha's childhood experience is not a unique one. One of twelve children, she grew up in public housing projects with good parents who worked hard, but struggled financially. As you can imagine, the cards were more than stacked against any kind of easy lifestyle. But somehow her mom and dad kept a sense of family joy flowing, surrounding their small apartment in love.
Martha had her first of four children when she was sixteen. The fathers had little to do with her or the children's lives. She found work, lived in and out of her parents' home, but the pressure of raising kids alone was more than she could handle.
She said, "I was always the happy one in the family on the outside, but dying on the inside. Deep depression followed. I thought the worst, I looked for the worst, so that's what I got. I had hit rock bottom in Greer Mental hospital and tried to commit suicide. I couldn't take care of my four sons. So for 10 years in and out of hospitals, sick, in bad relationships….I finally said If I gotta hurt like this, I don't want to live. I gave in to the depression of my life. Here I was trying to die and commit suicide, but I had never really lived, never really lived!"
Hope after trying times
After a long period of mental instability and eventual recovery through a great deal of introspection, lots of reading and prayer – she emerged with a new sense of Hope. While in Greer Mental Hospital she started doing for others by combing hair, reading to those who couldn't read, listening and laughing. Thus began her journey on helping others.
"The hard times make you stronger and builds character. It makes you tough and you really find out what you are made of. I realized for so long I wasn't tough because I gave in to the bad circumstances and temptations instead of fighting them. For the first time I had Hope."
She read a lot more, connected with the words in the bible and elsewhere, she looked in the mirror and said, "You know something girl, you're alright…you ain't so bad after all. You're OK. And you can cook!" After a long hard struggle she started her restaurant.
I suggest that many of my conversations slide back and forth between Hope, love and Faith. and she says
"You can't have one without the other. Especially to be successful at what you're doing and to be an all around person, it takes those three. If you don't have love you're empty and don't have meaning. And you have to have something to look forward to, or to hope for so you stay motivated and energized. And then you've got to have faith so you can believe that what you are hoping for is gonna come to pass."
I asked her what she would hope for.
"To let other Moms know how important it is to play the role in their children's life that holds the key to their destiny. I want to be able to unlock that in them to give them the Hope that doesn't focus on the life around them, but that sees the possibilities for their kids."
Thank you Martha for talking to me and everyone else you see.
–Hugh Hunter
To read more blog posts and/or subscribe, visit the Hope Project.