Negro Southern League from Alabama NewsCenter on Vimeo.
Dozens of former baseball players – and one heavyweight boxing champion – were on hand on July 4 to get an early look inside the Negro Southern League Museum.
While the official grand opening is weeks away, Birmingham Mayor William Bell said it took a team effort to bring the museum to fruition.
"All of us came together to make this day happen so that young people could come in here and see the legacy of these gentlemen … and a couple of ladies … could last for years to come," Bell said. "This facility is to honor all of those who played the game in Birmingham, Ala., throughout the South and all across America."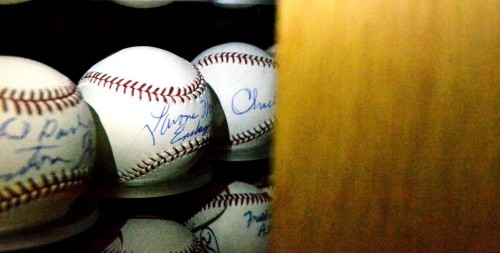 Prior to the program, former Birmingham Industrial League players Lester Berry and Lavone Thomas looked for their signed baseballs. Berry found his near the front door of the museum.
Thomas had to look longer but his search was rewarded when he found his signed baseball just behind a composite portrait of a Birmingham Black Barons player.
That portrait will move elsewhere in the museum to not obstruct the view of baseballs on display, and to make way for more.
Thomas said he prefers the Birmingham museum to the Negro Leagues Baseball Museum.
"The one in Kansas City doesn't have the Industrial League," he said. "When the Negro League folded, they came back home (to Birmingham) because they had to work. The Industrial League was established with the old Negro League ballplayers."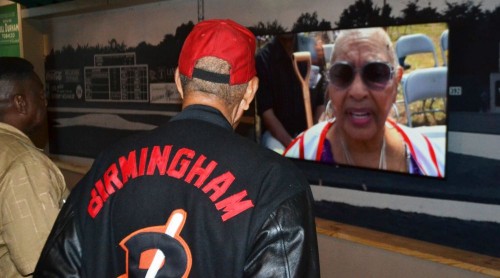 James "Jake" Sanders, a six-year veteran of Negro League Baseball, could hardly contain himself.
"I'm just tickled pink," he said. "Coming down here, I just couldn't stop laughing."
In all, 31 former players from the Negro Leagues and the Birmingham Industrial League attended the preview.
Birmingham Barons owner Don Logan was also on hand for the Fourth of July event. The museum, like neighboring Regions Field, was constructed rapidly to meet a desired deadline.
"Maybe there's something in the soil that causes them to do it this way," Logan joked. "We had a lot of construction to do in an 11-month period of time. Here, you're working in a very tight space with construction going on over there (at Third Avenue South and 16th Street), all the activity at B&A Warehouse 15 feet away and ballgames 70 times a year, they've got a lot of things to work around."
Bell also presented World Boxing Council heavyweight champion Deontay Wilder with a key to the city. Wilder, of Tuscaloosa, made the first defense of his title on June 13 a few blocks away at UAB's Bartow Arena with a ninth-round knockout of Eric Molina.