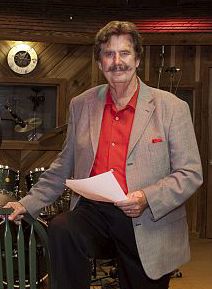 One of the stars of this year's W.C. Handy Music Festival isn't known for playing or singing. But his contribution to the world of popular music is enormous.
Rick Hall, 83, is a music producer and the creator of the "Muscle Shoals Sound." He and his musicians from the FAME (Florence Alabama Music Enterprises) Studios helped countless rock and R&B artists make hit records starting in the 1960s. The studio, located in Muscle Shoals, is on the Alabama Register of Landmarks and Heritage.
Born to a sharecropping family in Mississippi, Hall was raised in Franklin County, Alabama. As a young man he formed an R&B band, the Fairlanes, and wrote songs that were recorded by Brenda Lee, George Jones and Roy Orbison, among others.
Hall is married to Linda Kay Hall, and they have three sons: Gregory, Markus and Rodney. His story of overcoming poverty and abandonment is detailed in his new autobiography, "The Man from Muscle Shoals: My Journey from Shame to Fame," by Heritage Builders Publishing.
This interview occurred at a book-signing during the Handy Festival in Florence, Ala.
---
What does the Handy Music Festival mean to you? I'm sure this isn't your first one.
It's not, no. It means a lot to me because W.C. Handy is the father of the blues, so I want to participate as much as I can. Although he left when he was six years old and moved to Memphis, Tennessee and never came back here, I still respect him. I stayed here in Muscle Shoals and made it in Muscle Shoals, nobody else did. (laughs)
It's just amazing, the diversity of the songs from your studio, just every style of musician. Do you think that's possible again today? Or is that era dead?
I think that's gone for the next million years. I think two million years from now it may come back, but I doubt it. Because you've got to have somebody to start that flower to bloom.
And get that cross-pollination.
Cross-pollination, yeah. That's exactly right.
How important is it to get kids involved in music?
Well, if they're serious about it, it's important. If they're not serious about it, tell them to go take a hike. Because we don't need people in the music business who don't have the work ethic and are not willing to work hard and never say die and take it from here to the next level.

But kids today, they're not into our kind of music. They don't know what a melody is, they don't know what a beat is. They're very unschooled. They think by going to college they will learn how to be a record producer, but it's not so. It was never so….

I don't think that 20 years from now there will be any music unless it changes, unless something changes. It's gone forever.
What is your all-time favorite instrumental?
Theme from "A Summer Place" by the Percy Faith Orchestra. (hums song) They don't write music like that anymore.