Kamtek unveils $530 million Birmingham expansion plans from Alabama NewsCenter on Vimeo.
Kamtek officials went to the Birmingham City Council ostensibly to buy land for an $80 million plant with 120 new jobs – the kind of economic development announcement that would get any elected official's motor running.
Then, the automotive supplier kicked it into another gear.
Kamtek leaders said the new plant is only part of a larger five-year growth plan in which the company plans to invest $530 million and add 354 jobs between now and 2019 through multiple expansions in Birmingham's Valley East Industrial Park.
Jefferson County Commissioner David Carrington summed it up.
"Half a billion dollars – that's a lot of money!"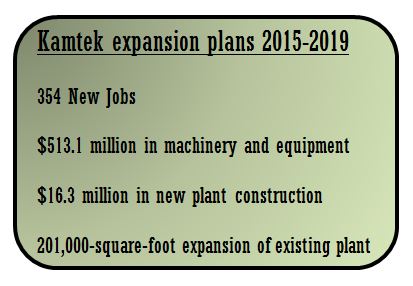 It is a significant investment and a sizeable number of jobs – more than the metro area has seen with a single announcement in quite some time.
Kamtek officials told Alabama NewsCenter it is adding BMW in South Carolina as a customer with its new plant and its expansion plans are tied to work with new vehicles in the coming years.
The 148,000-square-foot high-pressure aluminum casting plant initially will produce vacuum die cast shock towers for the Mercedes-Benz plant in Vance and the BMW plant in South Carolina, according to John Hackett, general manager of Kamtek in Birmingham.
The new aluminum plant is also expected to produce rear-rail structural components for other automakers, he said.
"This is a new technology for this area," Hackett said. "We do have this technology within our company, Magna, in Europe as well as in Michigan."
Greg Canfield, secretary of the Alabama Department of Commerce, told members of the Birmingham City Council Kamtek's expansion is "one of the largest and most significant by an auto supplier in Alabama."
Canfield said the aluminum casting facility to produce lightweight parts reflects an important trend in the industry.
"This technology is absolutely critical to automakers," he said. "That bodes well for this investment."
The expansion of the existing facilities will be tied to more work with current customers on future models, Hackett said.
"We're currently working through that to understand the total scope of it, but we expect to see that also in the late 2017-2018 time frame," he said.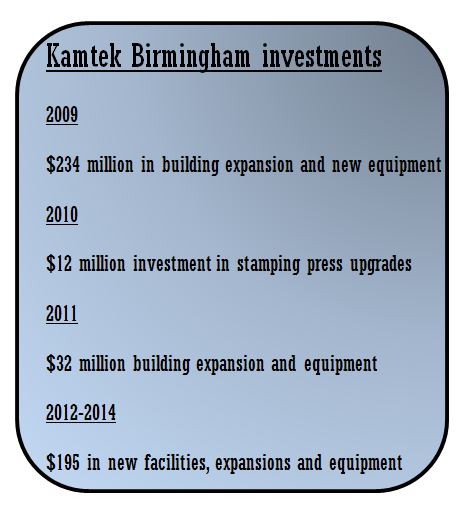 The expanded campus will put Kamtek in a position to pursue other customers, Hackett said.
"Currently we supply Mercedes-Benz, Volkswagen in Chattanooga, Kia in LaGrange, Georgia; Nissan and Freightliner truck," he said. "We are always looking to expand our customer base."
Hackett said the 354 new workers will be trained using the state's AIDT program for workforce development.
"We have to train these people in this new technology," he said.
Those new workers and their new quality of life are the ultimate goal of economic development, said Brian Hilson, CEO of the Birmingham Business Alliance.
"We spent some time today thanking the company, as we should, and thanking the individuals and the organizations that played roles in helping to make this day a reality," Hilson said. "But I think we should also be mindful of the employees – the 354 workers who will be added to the payroll, become part of the Kamtek family, the Kamtek team and will take home a paycheck and raise a family here in Birmingham that will be better enabled because of the investment and the commitment that Kamtek is making to our community."
The Birmingham City Council agreed to a deal to sell 78 acres in Valley East Industrial Park between the city and Jefferson County and Kamtek to allow for the construction of the new plant.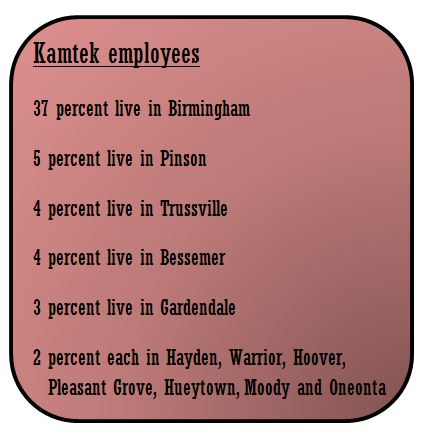 That plant is set to be completed by July 1, 2016, and could grow to 400,000 square feet by 2025.
The subsidiary of Canadian-based automotive supplier Magna Ltd. has operated and expanded its stamping and assembly operations in the industrial park multiple times since locating there as the former Ogihara in 1997 to supply Mercedes. Magna purchased Ogihara in 2008.
Since the purchase, Kamtek has invested $473 million in its Birmingham campus, including the purchase of the then-vacant Del Monte warehouse and its 36 acres three years ago. Employment at the facilities has bloomed from 293 employees at the time of the Ogihara purchase to 922 today.
But the most rapid growth is yet to come.
By 2019, Kamtek will have more than $1 billion invested in Birmingham and have close to 1,300 workers.
"Kamtek's manufacturing operation in Alabama has grown through several expansions over the years, and I am honored that the company has picked Birmingham for another major investment," Alabama Gov. Robert Bentley said. "Not only will this project create 350 new jobs, but it also shows that Alabama remains very attractive to manufacturers and suppliers in the auto industry that are looking for the right place to expand. We look forward to continuing our partnership with Kamtek."
The Alabama Department of Commerce, the City of Birmingham Mayor's Office of Economic Development, the Jefferson County Commission, Jefferson County Economic and Industrial Development Authority, the Birmingham Business Alliance and Alabama Power worked closely with Kamtek to finalize expansion plans.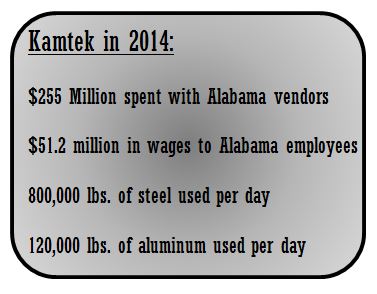 "This means jobs. This means economic growth and opportunity for the city of Birmingham, Jefferson County and the state of Alabama," Birmingham Mayor William Bell said. "It's been a long time coming. It's been a methodical process."
Carrington concurred.
"Projects like this don't just happen," the county commissioner said. "This has been something that's been worked on diligently, at least from the county's point of view, since the end of last year."
Automotive is one of the industries the BBA is targeting in its economic development strategy, Hilson said.
"This project fits Birmingham like a glove," he said. "We're the center of the South in terms of automotive production. We're a global leader. This just adds to that. This was already a very large company by anyone's measure and it's now even larger, rapidly growing towards 1,500 employees. This is a major employer for the state of Alabama."