John Cross was among dozens taking in the exhibits during the grand opening last Friday of the Negro Southern League Museum. But while other patrons looked at old uniforms and autographed baseballs, Cross focused on the hologram depicting legendary pitcher Satchel Paige.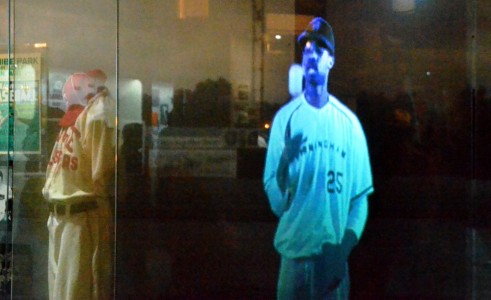 The University of Alabama at Birmingham math major seemed to study the pitcher's every move even though he was already pretty familiar with them. Had other museum visitors looked closely, they would have realized that Cross is the pitcher who portrayed Paige in the display.
Patrons can stand as far from the hologram as they would if they faced Paige on the mound. They can push buttons on a panel to select one of his famous offerings – including Bat Dodger, Wobbly Ball and Midnight Rider – and imagine the challenge players of his day had in trying to hit them.
Stewart Knox of Method-1 Interiors, a division of ExpoDisplays, was the project manager in charge of the layout and look of the museum. He was also Cross' baseball coach at Woodlawn High School.
"His stature and body build were similar to the way that Satchel Paige was," Knox said. "It was just a matter of working with his mechanics and making it kind of replicate what Satchel Paige did.
"He's an excellent kid," Knox continued. "He and I have always stayed in touch even after he graduated. It was natural to select him to do it."
There was one challenge. Cross is left-handed and Satchel Paige was a righty. Knox overcame that situation by flipping the video so that Cross would appear right-handed.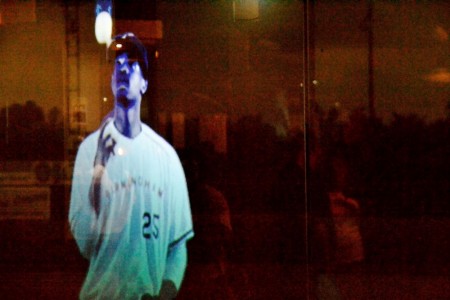 "I had the jersey and the hat fabricated backward," Knox said, "so that when we shot the video and then flipped it, it would be the right way."
Cross, the 2014 valedictorian at Woodlawn, had to do his homework to portray Paige, since there is little video of the Negro League legend.
"I just knew of his pitching but once the project started and I did some research, I found out he played for more teams than I actually knew about," the 19-year-old said. "I learned about his mentality so I had to mimic some of it on the mound."
Cross' baseball career is over. He is a UAB student but not a member of the Blazers baseball team.
"I play just for fun now," he said, "but I'll live forever here."
See Satchel Paige, er, John Cross deliver a pitch in the video below courtesy of Jay Roberson.

Staring down Satchel Paige from the plate at Birmingham's Negro Southern League Museum from Alabama NewsCenter on Vimeo.